GLOVERS NEWS: Yeovil Town stalwart Maurice O'Donnell passes away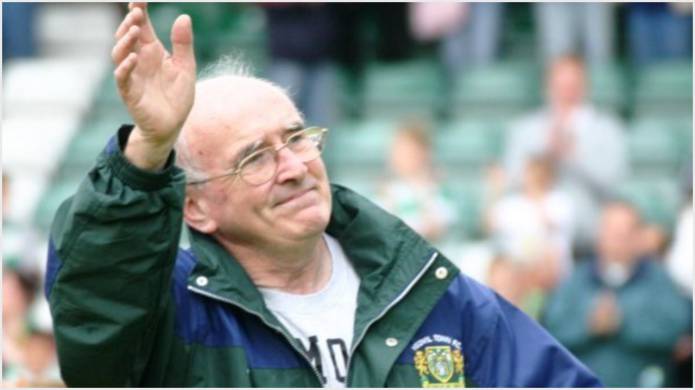 TRIBUTES are being paid in memory of one of Yeovil Town's greatest-ever club stalwarts – Maurice O'Donnell – who has sadly passed away.
Maurice's time with the Glovers spanned nearly 50 years over three period as a player, coach and manager – including seven (yes, seven) spells as caretaker manager of the first-team.
It is understood that Maurice, who was in his late 80s and had been living with ill health in recent years, died on Wednesday (February 7, 2018).
Proud Scotsman Maurice first arrived at Yeovil in 1958 as a player having previously turned out for Stockport County in the Football.
He got a job at the helicopter manufacturers Westland in Yeovil and remained living locally after his playing days with the Glovers were over.
He continued playing Western League football before the then Yeovil player-manager Mike Hughes invited him back to Huish in 1968 to work with the youths and then become coach – he position he held up until 1984.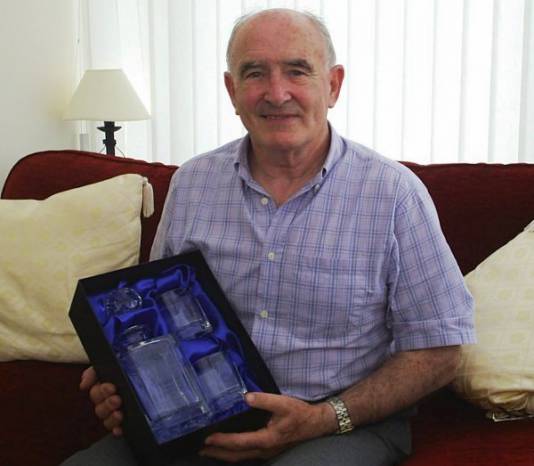 PHOTO – TOP: Maurice O'Donnell. Photo courtesy of Ciderspace – www.ciderspace.co.uk .
PHOTO – RIGHT: Maurice O'Donnell with a gift presented to him by supporters on his retirement from Yeovil Town in May 2006. Photo courtesy of Mark Kelly & Ciderspace.
Maurice departed Huish in the summer of 1984 when new manager Ian McFarlane took over. Later managers Gerry Gow and Brian Hall invited him back, but Maurice declined their invitations and instead led Sherborne Town.
But it was in the mid-1990s when club chairman John Fry persuaded Maurice to return and he became an important member of the backroom staff and his delight at seeing the club's successes in the FA Trophy, Nationwide Conference and League Two between 2002-05 summed-up his passion for the club.
He retired in 2006 and received many messages of best wishes from supporters and club officials and players, past and present, in honour of a man who had given about 35 years' worth of accumulated service.
Steve Thompson, who was manager at the time of Maurice's retirement, said at the time: "This club has got a lot of loyal hardworking people and Maurice is one of them that has been there a long time."
A group of Yeovil Town fans visited Maurice soon after his retirement to present him with a specially engraved decanter set to thank him for his service to the club.
One of those fans was well-known Yeovil supporter Mark Kelly who said: "News of Maurice's death is really upsetting – he was a true Yeovil Town man."
And he quipped: "Although he'd been in Yeovil for many years he still kept his broad Scottish accent – I couldn't understand a word he said!"
But Mark added: "He will be greatly missed and my condolences to all his family. Maurice's name will be forever remembered I'm sure at Yeovil Town and by the supporters."
NOTE: Many thanks to the Ciderspace website for photos and information.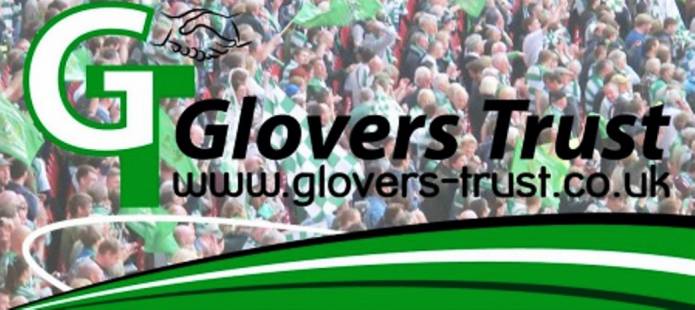 YEOVIL Town coverage is sponsored on this website by the Glovers Trust.  The Yeovil Town Supporters' Society Ltd – known as the Glovers Trust – is a democratic, not for profit organisation, committed to giving supporters a strong unified voice in the decision making process at Yeovil Town FC and strengthening the links between the club and the community that it serves.
Adult membership to join the Glovers Trust is just £10 per year, while it is just £1 per year for those aged Under-16; and £100 per year for a corporate membership.
For more details – go to the Glovers' Trust website at http://www.glovers-trust.co.uk/ .
Tags:
Yeovil Town FC.