GLOVERS NEWS - COLUMN: Steve Sowden Writes - Part 1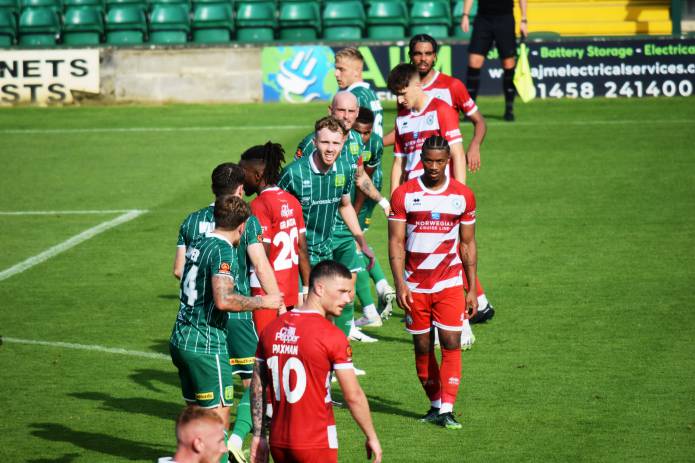 YEOVIL Press editor Steve Sowden and long-time Yeovil Town fan gives his thoughts on the opening weeks of the new season.
NINE games into the new 2023-24 campaign in National League South and Yeovil Town find themselves in sixth place with 17 points from nine games.
Five wins and two draws from those opening games have given the Glovers a pretty good start, but looking at the table and it already looks like being an exciting season ahead.
Former Yeovil Town boss Gary Johnson used to say that if you are averaging two points a game, you'll be there or thereabouts in the mix at the top of the table come the end of the season. He also used to go by the yard stick of evaluating things in ten-match periods.
Yeovil are next in National League South action on September 23 when they visit Hampton & Richmond in what will be the tenth league outing this season. And a Yeovil win will put them on 20 points from ten games. Now I'm not brilliant at maths, but by my reckoning that is pretty much bang on Mr Johnson's theory.
It has not been pretty at times and fans have been left watching nervously come the end of several of the games so far, but I reckon this new and promising side is still finding itself and yet to click into top gear.
CONGRATULATIONS to new Yeovil Town owner/chairman Martin Hellier and everyone at the club for improving the facilities at Huish Park.
I know that a lot of work has gone on at the ground ever since Mr Hellier took ownership of Huish Park at the end of last season.
I'm sure the work has been greatly appreciated by many supporters and I'm sure that there are plans in the pipeline to make Huish Park a place to go more often than just on a matchday and make it a destination for social occasions.
Talking of Mr Hellier – check out our Coffee Break Chat feature on Pages 6-7 of the September 2023 edition of Yeovil Press!
THE 2023-24 season marks the 75th anniversary of the 1948-49 campaign – arguably the most famous in Yeovil Town's history when the Glovers became the talk of the football world because of its FA Cup giant-killing success.
Yeovil, then of the Southern League, went all the way to the Fifth Round of the FA Cup where they were beaten 8-0 away at Manchester United.
But in the Fourth Round they defeated Sunderland 2-1 at a packed Huish. Sunderland were one of the biggest clubs in the country back then and known as the Bank of England team because of its wealth, but little Yeovil – with player-manager Alec Stock at the helm – pulled off one of the biggest giant-killing victories in the history of the FA Cup.
The sloping pitch of Huish became legendary, Stock went on to have a great career as Football League manager and the Boys of 1948-49 wrote themselves into Yeovil Town's history books forever.
The Yeovil Press would like to hear from anyone who may have seen some of those games of the 1948-49 cup run – particularly the Sunderland match and did you travel to Manchester for the Fifth Round?
Do you have any photos or memorabilia from 75 years ago? Or are you related to one of Yeovil's famous giant-killing players from back then?
Sadly, none of the team of 1948-49 are still with us – but we know there are people out there who will remember those golden times.
We look forward to hearing from you. Please drop us a line at yeovilpress@gmail.com or phone 077 731 98081 and leave a message.
AND, finally, many thanks to Yeovil Press reader Keith Waddleton for spotting a mistake in the Yeovil Town 2023-24 fixtures/results page we've printed the past few months in the Yeovil Press community newspaper.
We'd like to say it was a deliberate mistake, but we'd be fibbing. But thank you to Keith for being the first one to point out that we had in error got Yeovil Town away at Torquay United twice in the season.
We've now amended that and although there is no prize for eagle-eyed Keith for pointing out the blooper, he can take the glory!
Keep the Faith!
Steve
PHOTO - TOP: Match action from Yeovil Town's 3-2 National League South victory over Eastbourne Borough at Huish Park on September 9, 2023. Photo by Yeovil Press photographer Christine Jones.
Tags:
Yeovil Town FC.