GLOVERS NEWS: Remembering Alec Stock – the mastermind of Yeovil Town's greatest cup giant-killing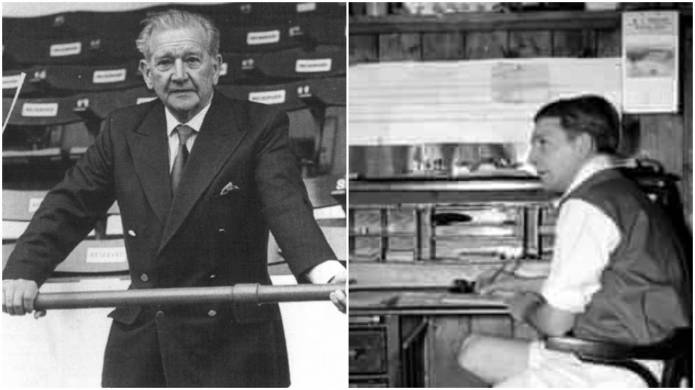 IT does not seem possible that it was 20 years ago this month when the new roof over the home terrace at Huish Park was officially opened when Yeovil Town played host to Nationwide Conference title rivals Rushden and Diamonds (writes Yeovil Press editor Steve Sowden).
It does not seem possible that it is now 20 years since Yeovil Town fans thought their best hopes of ever winning the Conference and with it promotion to the Football League were fading fast.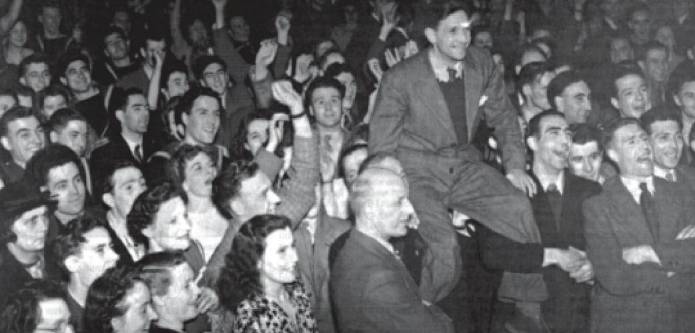 The memories are still fresh as if they were only yesterday and yet those events all took place two decades ago.
And it was back on April 16, 2001, when those championship aspirations started to dim with a 2-0 defeat at Dagenham and Redbridge – a result which fell into insignificance for a moment when it was announced after the game that Yeovil Town's most famous son, Alec Stock, the man who had put the Glovers on the footballing map some 52 years earlier, had passed away at the age of 84.
PHOTO – TOP: Alec Stock back at Huish many years after helping the club become the talk of the football world for FA Cup giant-killing heroics (top left) and Yeovil Town's player-manager Alec Stock in his office at Huish in the late 1940s (top right).
PHOTO ABOVE: The party went long into the night after Yeovil Town's famous win over Sunderland and here is player-manager Alec Stock being hoisted aloft by players and fans.
How Alec Stock would have loved watching his beloved Yeovil Town in the following years go from being the bridesmaid to the bride with a quick succession of success in the FA Trophy, Nationwide Conference and League Two under the tutorship of Gary Johnson at the helm. What wondrous conversations Alec Stock and Gary Johnson would have had over a cuppa.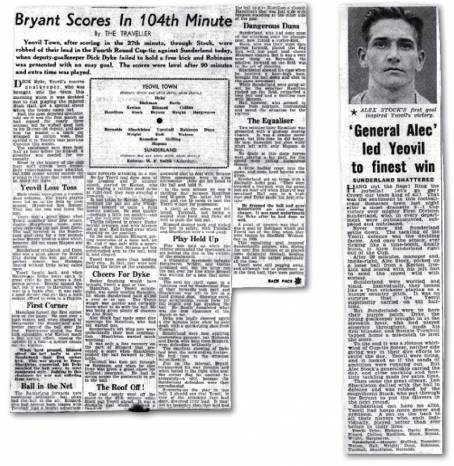 But while Gary Johnson may take the title of being Yeovil's Greatest Ever Manager, there is no question whatsoever that had it not been for Alec Stock then the Yeovil Town Football Club we all love today might never have materialised.
PHOTO - RIGHT: Press cuttings of the time from Yeovil Town's victory over Sunderland.
Alec Stock made Yeovil Town the talk of the football world; people who might not really care two hoots about 22 men kicking a bag of wind about on a Saturday afternoon would know about Yeovil Town Football Club. And that was down to Alec Stock.
He was only with Yeovil Town three years, but his legacy has lasted generations.
He was born in Peasedown St John near Bath in 1917 and went on to play as an inside-forward for Charlton Athletic and Queens Park Rangers before the Second World War.
Following the war he joined Yeovil Town as player-manager in 1946 and he put the club on the map in the famous FA Cup run of 1948-49 which saw a famous Fourth Round giant-killing victory over Sunderland – which is still talked about today with such pride by the Glovers faithful – and made the old sloping pitch of Huish legendary. Admittedly, Yeovil were soundly beaten away at Manchester United in the Fifth Round, but the club had already etched its name in FA Cup folklore for evermore.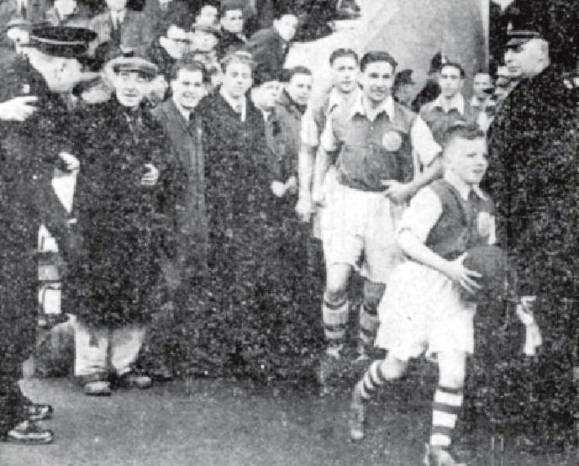 PHOTO - RIGHT: Alec Stock follows the Yeovil Town mascot out onto the pitch at Maine Road ahead of the FA Cup Fifth Round match with Manchester United. United used Maine Road – home of arch rivals Manchester City – back then because their own Old Trafford ground was out of action because of bomb damage sustained during the Second World War.
He left Yeovil soon after and went on to manage Leyton Orient, AS Roma in Italy, Queens Park Rangers, Luton Town, Fulham and Bournemouth in a managerial career which lasted until 1980.
He enjoyed great success at QPR and won consecutive promotions in 1967 and 1968 to reach the old First Division for the first time, while they were also the first Third Division team to ever win the Football League Cup in 1967.
Stock had success with Luton Town who he helped to promotion from the Third Division, while he led Fulham to the 1975 FA Cup Final which they lost 2-0 to West Ham United. The Fulham team that day included 1966 England World Cup winning captain Bobby Moore, while on the bench was Barry Lloyd who would later go on to manage Yeovil Town.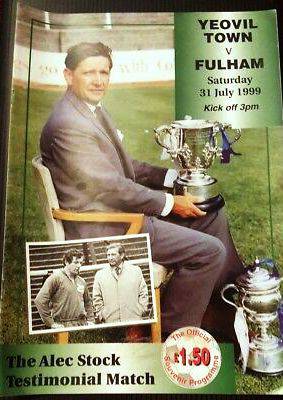 But despite all his success in the professional game in which he became regarded as one of the elder statesmen of English football, he always loved returning to his non-league roots and Yeovil Town.
PHOTO - RIGHT: The programme cover for Alec Stock's testimonial game in 1999.
I was honoured to attend Alec Stock's funeral service at Poole Crematorium in Dorset back in 2001 which was attended by around 200 mourners.
Among the mourners was Ralph Davis who played in that Yeovil giant-killing cup side of 1948-49. Audrey Hamilton, the wife of the late Bobby Hamilton, who too played in the giant-killing team, was also present.
The Yeovil playing staff of 2001 was represented by striker Warren Patmore, while former Yeovil managers David Webb and Barry Lloyd were also present.
Yeovil Town officials were led by the then club chairman John Fry, while director Norman Hayward, a close friend of Mr Stock, was also there along with executives Brian Moore and Melvin Stroud.
Alec Stock was a legend of the game and will always be remembered at Yeovil Town FC.
PHOTO - ABOVE: Alec Stock being interviewed by TV football commentator Martin Tyler at Huish ahead of Yeovil Town's FA Cup Third Round match with Queen's Park Rangers in 1988.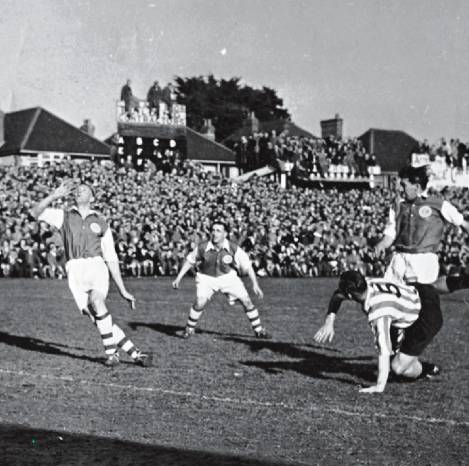 PHOTO - ABOVE: Match action from Yeovil Town's famous giant-killing FA Cup Fourth Round victory Sunderland at Huish in 1949.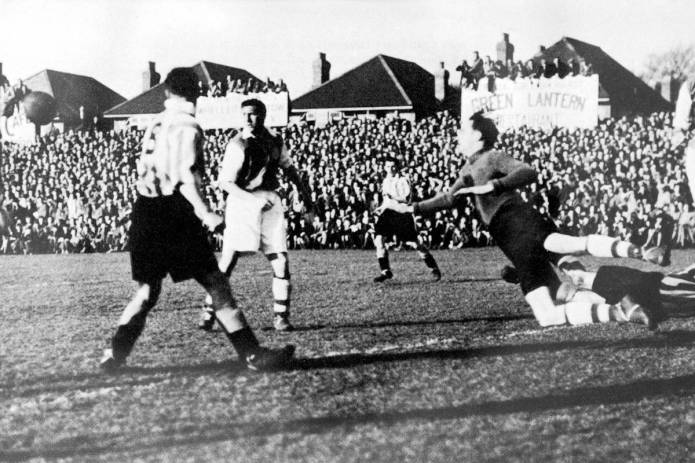 PHOTO - ABOVE: Yeovil Town's legendary goalkeeper Dickie Dyke (right) pulls off another memorable save in the FA Cup victory over Sunderland in 1949.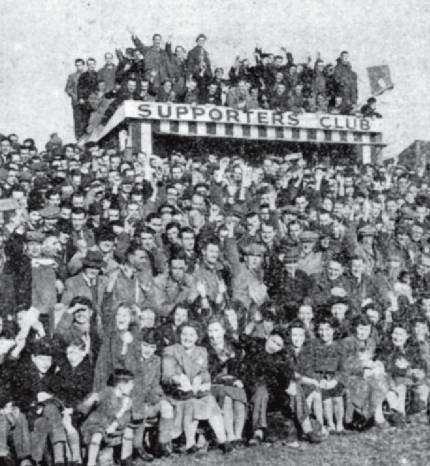 PHOTO - ABOVE: Supporters crammed into Huish to watch Alec Stock's Yeovil team defeat the giants of Sunderland.
Tags:
Yeovil Town FC.