GLOVERS NEWS: Yeovil Town fans to fund grave restoration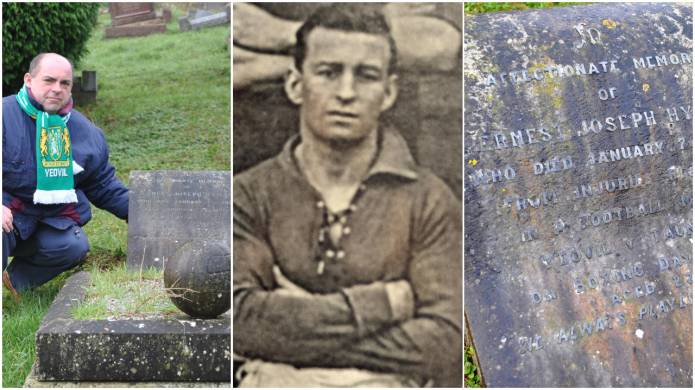 YEOVIL Town supporters have clubbed together and raised enough money to have the final resting place of a former player – who died as a result of an injury he received in a match nearly 100 years ago – completely restored.
The Yeovil Press community newspaper ran a story in its January 2021 edition about Ernest Hyman who died on January 7, 1927, following an injury he sustained in a match while playing for Yeovil & Petters United against Taunton on Boxing Day 1926.
Yeovil Press editor Steve Sowden visited Ernest's grave – tucked away in the churchyard of St Nicholas' Church in Radstock – just before Christmas.
"The final resting spot of Ernest Hyman was easy to find – the solitary laced stone football at the bottom of the grave was a unique feature in comparison to the others dotted about the churchyard," said Steve.
"But other than that his grave was fairly unremarkable and did not reflect the remarkably tragic way in which he died as a result of an injury he sustained in a game while playing for Yeovil against Taunton United at the old sloping pitch of Huish on Boxing Day 1926.
"I commented that the lettering on the headstone had faded over the years, but the memory of Ernest Hyman should burn brightly in the history of Yeovil Town FC."
The story was picked-up on by supporters Michael West and Mark Kelly and they felt that perhaps something should be done to give Ernest's grave a much-needed and deserved tidy-up - especially with Yeovil Town FC in its 125th anniversary.
They launched an appeal on social media and supporters were quick to offer financial support to meet the project costs of £700.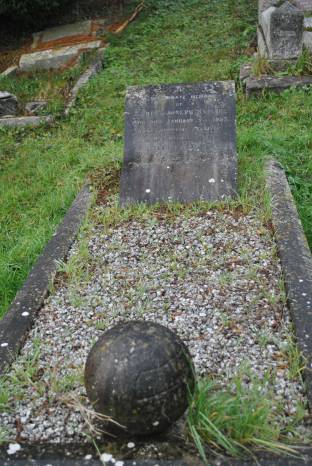 PHOTO – TOP: Yeovil Press editor Steve Sowden (left) at the grave of Ernest Hyman just before Christmas; Ernest Hyman (centre) who died in January 1927 at the age of just 22; and Ernest's faded gravestone at St Nicholas' Church in Radstock.
PHOTO – RIGHT: Ernest Hyman's grave at St Nicholas' Church in Radstock. Photo: Steve Sowden.
Michael West, who provides the editorial for the Glovers Glory feature in the Yeovil Press each month which delves into Yeovil Town's history, said: "If anyone doubted that The Glovers have the biggest hearted and best supporters in the land - then doubt no more!
"Thanks to their incredible generosity we have raised the necessary funds to have the last resting place of Ernest Hyman completely cleaned up and restored to its original 1927 state."
Michael added: "We would also like to thank the Glovers Trust, Green & Whites Supporters' Club and Yeovil Town chairman Scott Priestnall for their incredible contributions; also a special mention to Sheryll Powell and Paul Henbury, thank you for their amazing generosity.
"In fact, we even have enough left over to lay a plaque commemorating Ernest and to purchase a wreath to lay on his grave."
Work will start early in March with the grave stone being dismantled and thoroughly cleaned, the writing on the headstone being redone and all being put back to its original state with new chippings being placed on top.
"When Ernest died, 50 fans travelled to Radstock and attended the funeral in 1927," added Michael.
"It became an annual pilgrimage on the anniversary of his death to go and remember him. So with this mind, we are hoping – Covid-19 permitting - to have a ceremony which will be attended by members of Ernest's family who are extremely grateful and touched by Yeovil fans for their amazing kindness.
"I think we would all agree, that in the 125th year of Yeovil Town FC, there is no better way to commemorate it than by restoring Ernest's last resting place so future Glovers fans can remember a man who literally gave his life for the team we all love."
REMEMBERING YEOVIL TOWN'S ERNEST HYMAN: GLOVERS GLORY: Remembering Yeovil Town's Ernest Hyman - Yeovil Press with Christine Jones Event Photography .
ERNEST HYMAN – THE PLAYER WHO GAVE HIS LIFE TO YEOVIL TOWN: GLOVERS GLORY: Ernest Hyman – the player who gave his life to Yeovil Town - Yeovil Press with Christine Jones Event Photography .
Tags:
Yeovil Town FC.