GLOVERS NEWS: Adam Stansfield was the catalyst for Yeovil Town's glory days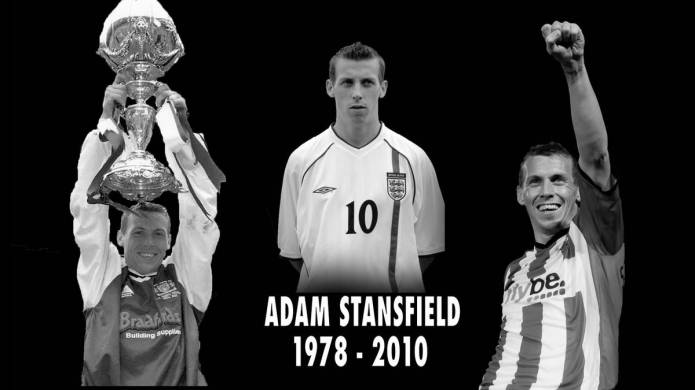 MANY words were written about former Yeovil Town footballer Adam Stansfield in the immediate weeks following his tragic and untimely death in August 2010 from bowel cancer at the age of just 31.
Yeovil Press owner STEVE SOWDEN made his own tribute to Stanno at the time and still truly believes that had it not been for the striker then the Glovers would not have gone on to enjoy the subsequent success in the Nationwide Conference and Football League.
I THINK every single Yeovil Town fan who was at Villa Park on that glorious day in May 2002 will remember 'that' goal by Adam Stansfield which clinched the FA Trophy.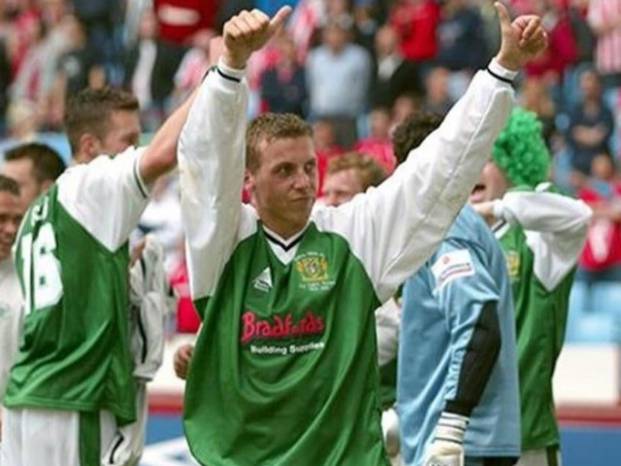 I am sure that all the supporters have reminisced about that occasion down the years and even more so in the days since it was first announced on the night of Tuesday, August 10, 2010, that Adam had tragically lost his battle against cancer.
I was fortunate to have watched Stanno make all of his 67 appearances and 27 goals for Yeovil during his time at Huish Park from 2001-04.
On paper a record of 67 games and 27 goals is not all that impressive, but there have been many Yeovil fans who have labelled Stanno a Glovers' legend and I tend to share that view.
Adam was brought to Yeovil by the then manager Gary Johnson who had obviously spotted something he liked in the young lad from Elmore FC.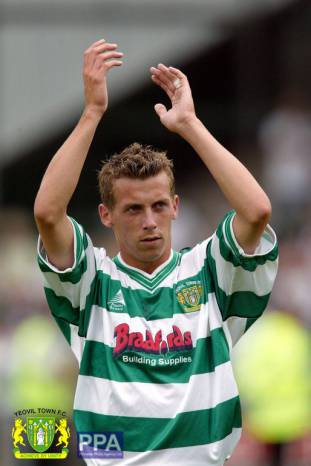 He made his debut for the Glovers on a cold Friday night at Southport and Yeovil fell to a 3-0 defeat in the Nationwide Conference. It was hardly a dramatic entrance for Stanno – but I remember that I was impressed by his terrific turn of pace.
He quickly settled into the side; scoring his first goal for the Glovers in a 3-1 win at Northwich Victoria on December 1, 2001.
But it was in the following five months which became Stanno's and helped to etch his name in Yeovil Town folklore.
Yeovil's glorious FA Trophy run started at Tiverton Town, just down the road from Stanno's old stomping ground of Elmore, and he netted two in a 3-1 win in the Third Round.
The following round saw Yeovil given a tough draw at home to Doncaster Rovers at Huish Park and the Glovers were heading out of the competition before Stanno equalised with a 79th minute goal to take the game to a replay.
The Fourth Round replay on February 23, 2001, is a game that any Yeovil fan who was there will never forget.
Yeovil found themselves 3-0 down with little more than half-an-hour to go before they launched an incredible fightback. Colin Pluck, now known to everyone by the name of Colin Miles, made it 3-1 and then substitute Carl Alford made it 3-2.
Stanno then scored twice in the 79th and 86th minutes to give Yeovil an astonishing 4-3 lead only for Doncaster to hit back and equalise.
The game was heading for extra-time before Yeovil captain Terry Skiverton blasted home a winner in the 89th minute.
It was an incredible match and with hindsight you could say that Yeovil's name was probably already on the Trophy that season.
Stanno scored again in the Fifth Round as Yeovil beat Canvey Island 2-1 at Huish Park and then netted the first in a 2-0 Sixth Round win at Northwich Victoria.
Seven goals from Stanno and Yeovil were through to the Semi-Finals of the Trophy for the first time in 30 years. Yeovil clinched a place at Villa Park for the Final with a 5-2 aggregate win over Burton Albion, although Stanno failed to score in those two matches.
But he saved his best until last and the final itself when he sent thousands of Yeovil fans in the Holte End wild with delight when he scored a wonderfully-taken goal to put the Glovers 2-0 up against Stevenage Borough. It led to Stanno being named man-of-the-match and him giving a rather 'excitable' interview live on Sky just moments after the final whistle.
It was Stanno's day.
A few days before the Villa Park match, I and other members of the media had joined up with the Yeovil players for a tour of the stadium.
Sports psychologist Mark Layder had told the players to 'visualise' about what it would be like on the day of the final itself; Stanno had visualised scoring in front of the Holte End.
It was during that day that I coined the phrase 'Keep the Faith Brothers' with regards to the Glovers and having visualised what it would be like to win the Trophy, I was never more certain that Yeovil were going to be victorious when the big day arrived.
Stanno's goal at Villa Park in the final is, without question, and will always be, one of those real iconic moments in Yeovil Town's history.
News of Stanno's death back in August 2010 was hard to take. It felt almost surreal that a player you could still visualise in your mind scoring that goal at Villa Park was now no longer with us and to have died so young was just so very tragic.
The biggest tribute I could pay Stanno is the fact that had it not been for his goals in that FA Trophy run of 2001-02, Yeovil might not gone on to more great days in the Conference or Football League. The Trophy win, launched by that terrific comeback at Doncaster Rovers, was the catalyst for further success to come the Glovers way.
But I remember when news of Stanno's passing was announced and thinking the phrase 'keep the faith' did not really seem appropriate any longer when life can, all so often, be so terribly unfair.
Rest in peace Adam.
Tags:
Yeovil Town FC.