GLOVERS NEWS: Three cheers for Brucie – a fitting send-off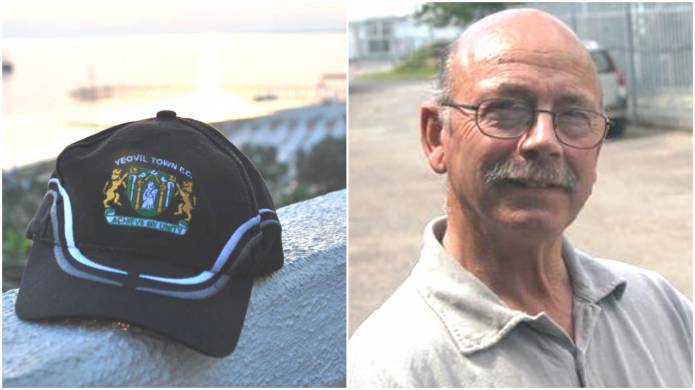 YEOVIL Town favourites past and present united as one on Monday (January 15, 2018) for the funeral service for Glovers' handyman Bruce James.
Bruce, aged 76, died on Christmas Eve 2017 after a bravely fought battle with the lung condition pulmonary fibrosis (writes Steve Sowden, of Yeovil Press).
He had held various jobs throughout his life, but became involved with Yeovil Town FC in 2000 when called in to do some odd jobs around the stadium.
But those few odd jobs around the stadium grew into a full-time job with the club's success on the pitch and it was testament to Bruce's popularity that people involved in those glory years of FA Trophy, Nationwide Conference and League Two successes from 2002-2005 were at his funeral held at St John's Church in the centre of Yeovil.
Former Yeovil Town manager Gary Johnson was in attendance along with his then assistant Steve Thompson along with current management duo Darren Way and Terry Skiverton.
Crowd favourite Gavin Williams, now manager at Merthyr Town, and Bristol City boss Lee Johnson were also among those who were in the church.
Luton Town manager Nathan Jones, another ex-Yeovil player, was also in attendance as were members of the present day Yeovil Town squad some of whom acted as pall bearers and carried Bruce's coffin in and out of the church.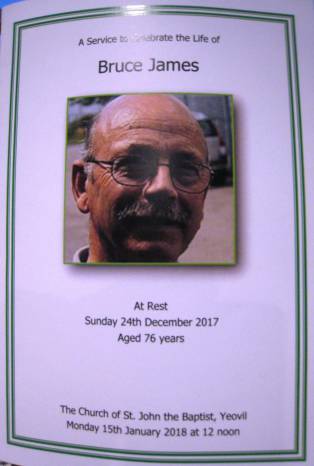 Club personnel were also in attendance including chairman John Fry, stadium manager James Hillier, supporter director David Mills, commercial manager Dave Linney and Nick Crittenden, of the accounts team, who is also best remembered for his playing days with Yeovil.
PHOTOS - TOP: Bruce James and a photo of the Yeovil Town FC baseball cap Bruce gave me when I went on holiday to Turkey in 2013. The photo of the hat was taken on that holiday.
PHOTO - RIGHT: The front cover of the order of service for Bruce's funeral service held on Monday, January 15, 2018, at St John's Church in Yeovil.
Older former players at the funeral included Stuart Housley, a close friend of Bruce's going back many years and who had recommended Bruce for the handyman job at Huish Park, and others including John Clancy, Terry Cotton and Brian Grey.
There were other mourners as well  including members of Bruce's family and friends from other walks of his life.
Bruce's coffin was carried into church with mourners standing and listening to the music of Albatross by Fleetwood Mac. The service was conducted by Revd Tom Putt and Yeovil Town FC's Pastor Jim Pearce.
A tribute to Bruce, written by his son Len, was read out by Pastor Jim Pearce.
Yeovil Town manager Darren Way, who was involved in a serious traffic accident with Bruce back in 2008, made an emotional tribute to Bruce on behalf of everyone connected with the Glovers, but also a very personal one in reference to the horrific events of ten years ago.
And Bruce's lifelong friend Morgan Giles also paid tribute to his pal and led a rousing "three cheers to Brucie" in the church as well as reminiscing over some of the fun times and laughs they had shared since the 1950s.
Hymns sung at the funeral service were Abide With Me and Morning Has Broken, while mourners were able to make donations in aid of the Action for Pulmonary Fibrosis charity.
Bruce's coffin was carried out of the church with the Queen anthem, We Are The Champions, playing and was followed by a private burial at Yeovil Cemetery attended by family members.
The family then joined other mourners for refreshments at Yeovil Town FC's Huish Park.
Bruce had fulfilled many roles at Yeovil Town FC rather than just doing important bits of DIY including, more recently, the club's players' liaison officer and disabled liaison officer.
But it was his job as handyman that he will be best remembered and it was said that Bruce was climbing a ladder for the final time, but he would be looking down on Huish Park for the Glovers' forthcoming FA Cup Fourth Round tie with Manchester United. How he would have loved to have been there for that.
On a personal note I will always remember Bruce's cheeky grin and the chats we had when I bumped into him at Huish Park or in town.
Back in 2013 I had inadvertently booked a holiday to Turkey which coincided with both legs of Yeovil Town's League One play-off semi-final with Sheffield United. I was looking for a hat for the holiday and when I mentioned it to Bruce he very kindly gave me his Yeovil Town baseball cap and during the trip to Turkey I set up a fun Facebook page called Bruce the Hat – the Adventures of a Yeovil Town FC Baseball Cap.
I have still got that baseball cap - perhaps I will wear it more often.
Deepest condolences to all of Bruce's family and friends.
Tags:
Yeovil Town FC.