GLOVERS NEWS: Yeovil Town legend Stuart Housley fights leukaemia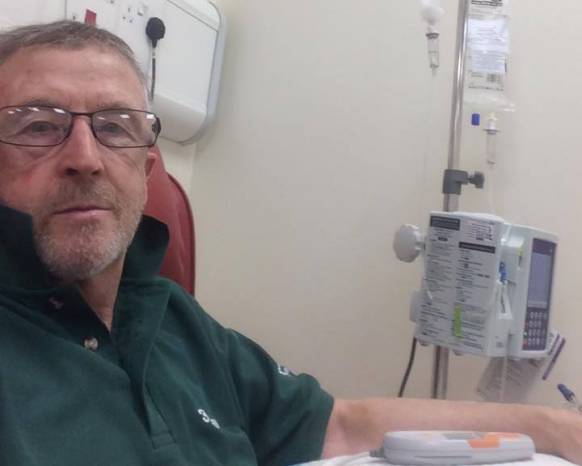 ONE of Yeovil Town Football Club's greatest-ever players has been facing his biggest match for the past five years – a battle with leukaemia.
It is only recently that Stuart Housley has decided to speak publicly about living with the disease and comes having just started a course of chemotherapy and beginning a medical trial.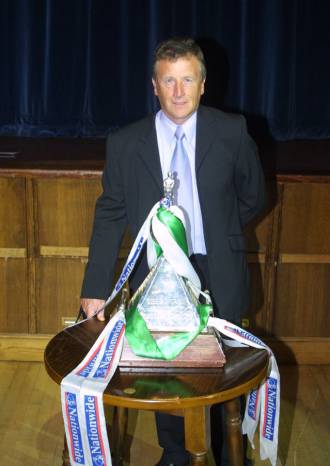 Stuart made a total of 383 appearances for the Glovers from 1969-76 and then again from 1979-80 and was also part of the backroom staff involved with Yeovil Town's glory years of FA Trophy, Nationwide Conference and League Two success from 2001-05 and the later Play-Off Final success at Wembley in 2013 and the following 2013-14 season in The Championship.
PHOTO - TOP: Stuart Housley undergoing chemotherapy at the Beacon Centre at Musgrove Park Hospital on Monday (October 17, 2016).
PHOTO - RIGHT: Stuart Housley with the Nationwide Conference championship trophy won by Yeovil Town in 2003.
But Stuart, who is ninth in the chart of the all-time leading appearance makers for the Glovers and who also scored 58 goals for the club, does not want to receive sympathy from people – he wants to try and help those who find themselves in the same situation.
"It came as a bolt out of the blue when I was told the news – it was very scary," he said.
It was around five years ago when Stuart – who had always been fit and healthy - realised something was not right. He had been out running with a friend when suddenly he found himself lagging behind and out of breath.
"That wasn't like me," he said. "But I noticed that my glands in my neck were up and I thought I was coming down with a virus, so I went and saw the doctor."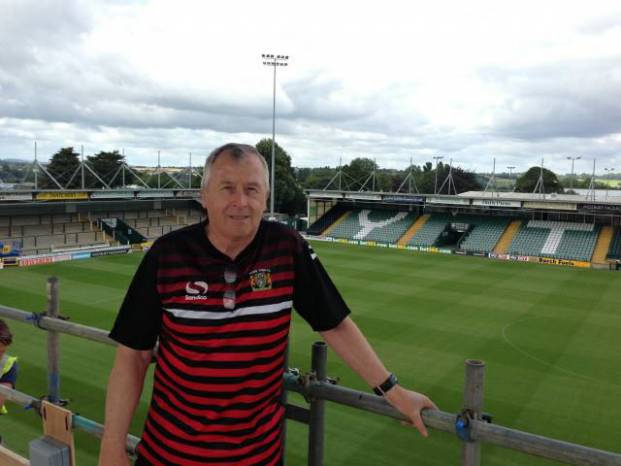 Tests were taken and he was given the news that he had been diagnosed with chronic lymphocytic leukaemia – known as CLL and a cancer of the white blood cells which develop from the lymphoid stem cells.
PHOTO - RIGHT: Stuart Housley at Huish Park ahead of Yeovil Town's 2013-14 season in The Championship.
The white blood cells and the lymphatic system help the body fight infection and disease, but symptoms of CLL can include tiredness, repeated infections or a swelling in the neck, armpit or groin.
In people with CLL, the bone marrow makes too many abnormal white blood cells called lymphocytes. When these cells are examined under a microscope, they look normal - but they are not fully developed and do not work properly.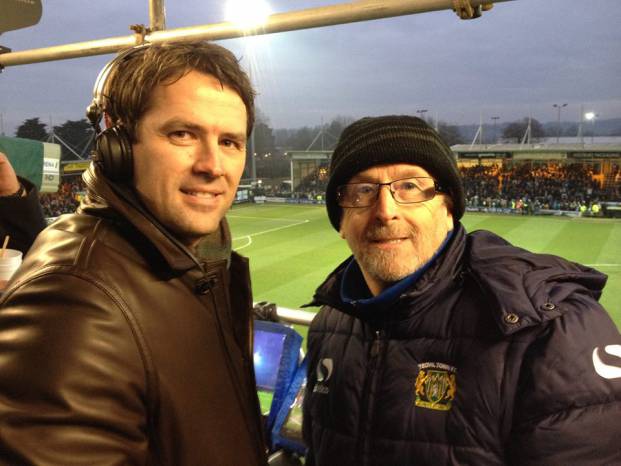 PHOTO - RIGHT: Stuart Housley (right) with former England striker Michael Owen at Huish Park ahead of Yeovil Town's FA Cup Fourth Round match with Manchester United in January 2015.
Over time, these abnormal lymphocytes build up in the lymphatic system and may cause large, swollen lymph nodes.
CLL is the most common type of leukaemia and around 3,200 people in the UK are diagnosed with it each year.
But it usually develops very slowly which is why it's called a chronic leukaemia and many people do not need treatment for months of years.
Stuart said it was about four years from when he was diagnosed to when they started treatment as his haematologist and GP carried out the "watch and wait" approach.
He said he found it strange that nothing was done even though he had been diagnosed with leukaemia.
But he had regular blood checks and examinations until the CLL had progressed far enough for the doctors to think that Stuart needed treatment.
Stuart explained that he been told about a new trial – called the Flair Trial – which would compare a drug called ibrutinib alongside other drugs including rituximab.
After a series of tests Stuart was invited onto the trial and he was pleased with the news as researchers believe that ibrutinib with rituximab might work well for people with CLL who had not yet had treatment such as himself.
PHOTO - RIGHT: Stuart Housley during his playing days with Yeovil Town at the old sloping pitch of Huish.
He has to take the ibrutinib tablets on a daily basis plus a six-course of chemotherapy once a month at Musgrove Park Hospital's Beacon Centre in Taunton.
"My first course of chemo was on June 21, 2016, and I've now had five lots," he said. "So it's five down and just one to go.
"It wasn't until earlier this summer when I posted something on Facebook for the first time about the leukaemia and the chemo. I haven't really gone public about it before because I don't want people feeling sorry for me or giving me sympathy.
"But I feel now is the right time to let people know and to try and help others who may find themselves in a similar situation. The first thing I would tell anyone who feels a bit under the weather or not their normal self – get to the doctor and get checked out."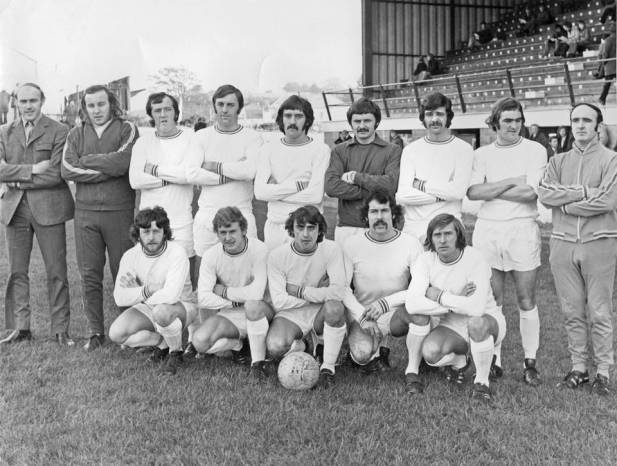 PHOTO - RIGHT: Stuart Housley (front row, far left) with some of his old Yeovil Town team-mates of the 1970s at Huish.
Stuart has praised staff at the Beacon Centre at Musgrove Park Hospital in Taunton  who have been keeping an eye on him during the treatment.
"My specialist is Dr Belinda Austen and she really is superb and anyone who has got CLL is in good hands with the team at Musgrove," he added.
He also thanked former Yeovil Town manager Gary Johnson, plus the current managerial duo at Huish Park, Darren Way and Terry Skiverton, for getting him involved in the club again just after he was diagnosed with leukaemia.
"They really did help me a lot by getting me involved in the club again and helped me through a bit of a depression and stopped me from thinking about the disease," he said.
But Stuart said he still had "down days" where he did not feel too good and would sit about and let his mind wander to things "you don't really want to be thinking about when you have got leukaemia."
But, thankfully, Stuart has got a wonderful and supportive family who are very quick to make sure that he does not feel down for too long.
PHOTOS: Courtesy of Stuart Housley and Facebook.
Tags:
Yeovil Town FC.