LEISURE: Moving on up with Heather Small of M People at Flashback Festival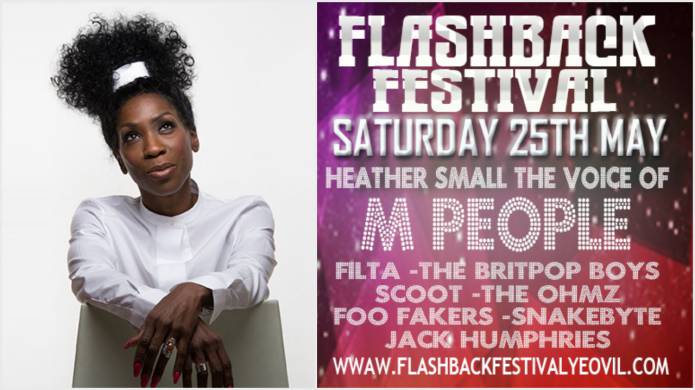 THE amazing Heather Small – the voice of hit band M People – will headline the Flashback Music Festival later this month at the Yeovil Showground.
Flashback will be held in the open air at the showground site off Dorchester Road on Saturday, May 25, and will feature a host of fantastic bands including Filta, Scott, The Britpop Boys, Snakebyte, Foo Fakers and Jack Humphries. Unfortunaately OHMZ will not be – contrary to the poster line-up – be able to perform at Flashback.
New to his year's festival there will be a fun-filled silent disco with DJs playing classic hits from the decades throughout the entire day.
But it will be Heather Small who will headline the festival. She had a string of hits in the 1980s with her band M People including the likes of Moving On Up, One Night in Heaven and Search for the Hero.
She performed on the Perfect Day record – which became the official Children in Need charity song in 1997 - alongside a wide range of artists including Tom Jones and Lou Reed.
While in 2000 she released her debut solo album Proud and a single of the same name became closely affiliated with the British Olympics team of the time.
There will also be plenty of food stalls for refreshments at Flashback and the festival bar will keep people refreshed and hydrated.
For further information visit the website www.flashbackfestivalyeovil.com or look at the advert on this page.
Tickets are available now and are priced £30 per person – although it is stressed that the Flashback Music Festival is for Over-18s only.
Camping facilities will be available for those wanting to sleep over on the Saturday night.
Main public gates to the festival will open at midday on Saturday, May 25, with the music finishing at midnight.
It is going to be a fantastic day of music.
PHOTO – TOP: Heather Small – The Voice of M People. Courtesy of www.heathersmall-mpeople.com .
Tags:
Leisure.