YEOVIL NEWS: Summer solstice inspires runner to battle the distance in Maria-thon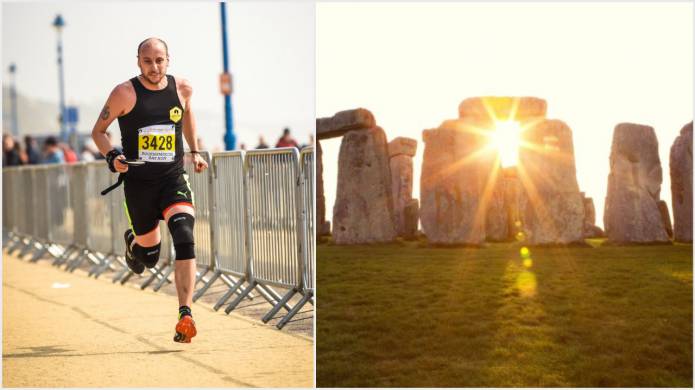 A RUNNER has set himself the challenge to run the distance of 47 miles in one evening in order to arrive at Stonehenge in time to see the sunrise for the summer solstice all in memory of Yeovil District Hospital staff nurse Maria George!
Kevin Aston, 36, will be setting off from the Holy Ghost Church at Higher Kingston, on the junction with The Avenue, just a stone's throw away from the hospital at 7pm on Thursday, June 20, and would welcome anyone who knew Maria to join him at the start.
"I came up with the idea to run to Stonehenge as part of a series of running challenges I have set myself as part of my New Year's resolution," he said.
"I have already run 100 miles in January, covered 30km in one go in February and I have covered a full marathon distance in March."
Kevin explained the reasoning behind his Summer Solstice Maria-thon.
"In December my friend's wife Maria, who worked at Yeovil Hospital, sadly passed away," he said. "I really wanted this challenge to have a real meaning behind it and after speaking to Maria's husband, I decided I would do this challenge in memory of Maria.
"As Maria worked at Yeovil Hospital, it really made sense to fundraise for the hospital that not only she worked at, but who took care of her throughout her illness."
The Yeovil Hospital Charity community fundraiser, Sarah Cherry, said: "We are really grateful to Kevin for his support with his amazing Mariathon - running 47 miles is no easy challenge.
"But I know that Kevin will give this challenge everything he can for Maria. Maria was well respected within the Yeovil District Hospital NHS Foundation Trust, so it really means a lot that he is supporting us with his fundraising".
If you would like to sponsor Kevin, you can donate online at www.justgiving.com/fundraising/mariathon. 
Yeovil Hospital Charity is raising £2 million to build a dedicated breast cancer unit at Yeovil Hospital. To find out more about this appeal - please go to https://yeovilhospital.co.uk/get-involved/support-us-yeovil-hospital-charity/breast-cancer-unit-appeal/ .
Tags:
News.