LEISURE: Castaways congratulated by Downton Abbey creator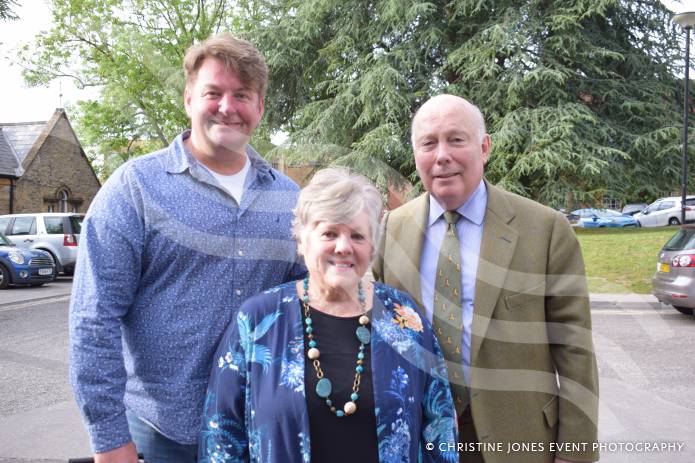 OSCAR-winning screenwriter and Downton Abbey creator Julian Fellowes has congratulated the Yeovil-based Castaway Theatre Group on its musical production of The Wind in the Willows.
Lord Fellowes and his wife attended the opening night of the production at the Octagon Theatre in Yeovil on Thursday (May 30, 2019) and he said he was delighted to watch a talented group.
The Wind in the Willows musical is based on the classic Kenneth Grahame novel about the thrill-seeking, loveable menace Mr Toad.
But the story has come to life in a brand new West End musical with a book by the highly-acclaimed Lord Fellowes and music and lyrics from Olivier Award-winning duo George Stiles and Anthony Drewe.
The Castaway group – which is celebrating its 15th anniversary this year – is led by Lynn Lee Brown and she wrote off to see if he would be interested in coming along to watch.
So she was thrilled when the couple said they would be delighted to accept the invitation to travel to Yeovil for the opening night of the show.
Lynn, who admitted she was a "little bit nervous" while waiting to welcome their distinguished guests, said they were a lovely couple and so proud that they came and watched.
The opening night was a fantastic success for Castaways and director Jeremy Tustin with a standing ovation at the end.
And Lynn said: "The children even had Lord and Lady Fellowes on their feet."
The young Castaways were joined on stage by Lord Fellowes at the end of the show who congratulated them all on their success and wished them well for the future – especially those who have stage careers in mind for the future.
"Lord and Lady Fellowes were blown away by the talent," said Lynn. "And it was so lovely for Lord Fellowes to join them all on stage at the end. What a truly lovely man."
The couple then joined performers at the front of the theatre for photos and to speak to the children further.
Wind in the Willows is on at the Octagon Theatre from Thursday, May 30, through to Saturday, June 1, with nightly performances at 7pm and a Saturday matinee at 2pm.
Tickets for Wind in the Willows are still available now and are priced from £12 to £16. Go to www.octagon-theatre.co.uk for more details or phone the Octagon box office on 01935-422884.
PHOTO – TOP: Lord Julian Fellowes (right) with The Wind in the Willows director Jeremy Tustin and Castaway Theatre Group founder Lynn Lee Brown outside the Octagon Theatre in Yeovil.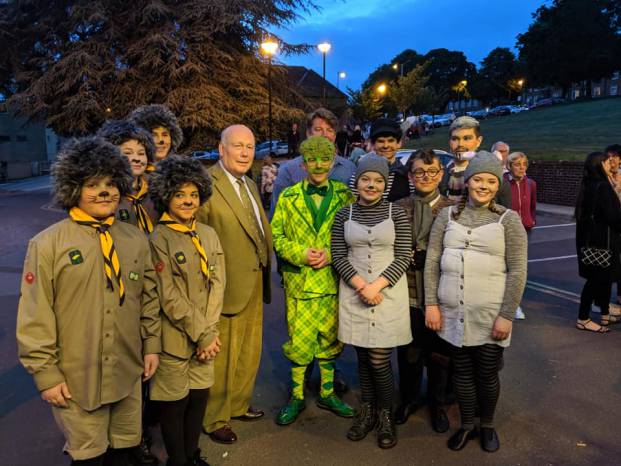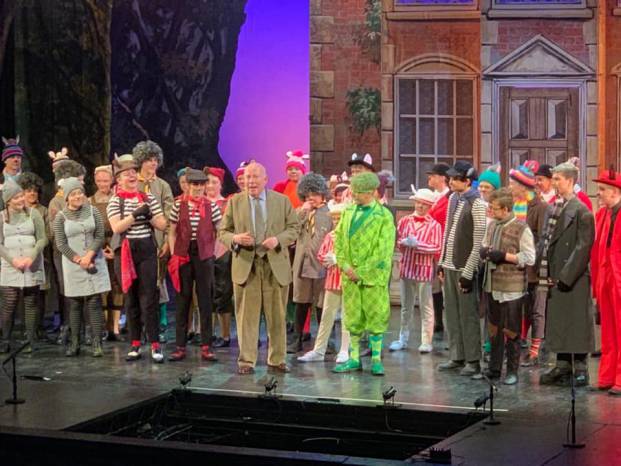 PHOTOS – ABOVE: Lord Julian Fellowes with cast members from the Castaways following the performance of The Wind in the Willows. Photos courtesy of Castaway Theatre Group.
Tags:
Leisure.