GLOVERS NEWS: Ticket prices and how to get them – Yeovil Town v Man Utd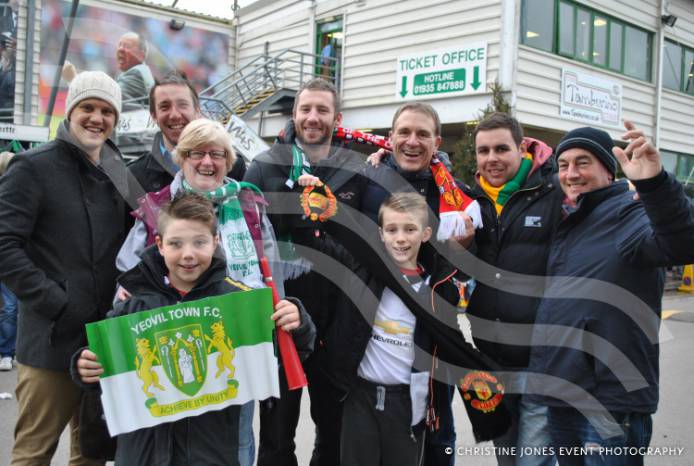 TICKET prices and the purchase process have been confirmed for Yeovil Town's FA Cup Fourth Round tie with Manchester United at Huish Park.
Awaiting confirmation of the date of the fixture from the FA, the club understands the excitement surrounding the tie and has worked as quickly as possible to release ticket details.
Prices for the fourth-ever encounter between the two sides have been agreed by both clubs, with Yeovil Town's purchase policy aimed at ensuring as many Yeovil fans as possible can enjoy the glamour tie and soak up the atmosphere.
Reaching the Fourth Round for just the fourth time in the club's history and bidding to take a step further to the Fifth Round for only the second time, everything considered possible has been done to allow Town supporters who have been at Huish Park throughout the season the chance to be a part of the historical cup fixture.
Manchester United have been given the same allocation within Huish Park offered to all travelling teams, allowing the capacity of home supporters to be maximised. 
Wanting to accommodate for as many of the Green & White Army as possible, tickets will be sold across four bandings, aimed at looking after those who have supported the club closest.
Replaying the third round tie from 2015, the club have also chosen to recycle the pricing structure from three years ago.
PRICES: Seated (Tamburino & Screwfix Stand): Premium - £50 (Tamburino Stand only); Adult - £35;
Senior - £30; Junior - £10. Terrace (Thatchers Gold Terrace): Adult: £30; Senior: £25; Junior: £10.
PURCHASE POLICY: Priority One: Season ticket holders 2017/18; Bundle ticket holders 2017/18; On sale from Thursday, January 11, 2018, or Friday, January 12, 2018, subject to communication of fixture date. 
Season ticket holders can purchase TWO tickets, including their own seat which will be reserved until close of play (5pm) on Monday, January 15, 2018.
Bundle ticket holders have the option to purchase one ticket.
Priority Two: Supporters with stubs from four or more home games (in league or cup) this season. The stubs need to be from four separate matches (excluding pre-season) and will qualify each supporter to buy one FA Cup ticket in the same price banding (e.g. four senior stubs will equal one senior FA Cup ticket).  Sales will run from Tuesday, January 16, 2018, from 9am.
Priority Three: On sale to all who bought a ticket for Yeovil Town's League Two match with Chesterfield at Huish Park on Saturday, January 20, 2018, 3pm kick-off. 
One ticket will be available per person, where you can exchange your Chesterfield stub for an FA Cup ticket from Monday, January 22, 2018.
Tickets for the match against Chesterfield can be purchased online, by contacting the ticket office on 01935 847888 or by visiting in person.
Priority Four: Should any remain, tickets will go on general sale from 9am on Wednesday, January 24, 2018. 
TICKET OFFICE OPENING HOURS:
The ticket office will be open at the following times: Thursday 11th January: 9am to 5pm; Friday 12th January: 9am to 5pm; Saturday 13th January: 9am to midday; Sunday 14th January: CLOSED (online only); Monday 15th January - Friday 19th January: 9am to 5pm; Saturday 20th January - 0900 - 1500 (Home matchday - FA Cup sales suspended between midday and 3pm; Sunday 21st January - CLOSED (online only); Monday 22nd January: 9am to 5pm; Tuesday 23rd January: 9am to  5pm; Wednesday 24th January: 9am to 5pm; Thursday 25th January: 9am to 5pm. Friday 26th January: TBC; Saturday 27th January:  TBC; Sunday 28th January: TBC; Monday 29th January: TBC.
Tags:
Yeovil Town FC.