GLOVERS NEWS: Who would YOU select in your Yeovil Town All-Star FA Cup XI?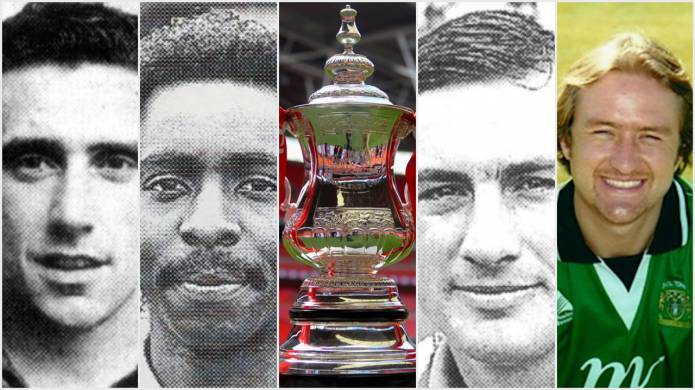 YEOVIL Town take on Bradford City at Huish Park on Saturday (January 6, 2018) afternoon in the FA Cup Third Round – the most famous club knockout cup competition in the world and one which the Glovers have enjoyed so many good memories down the years.
The Glovers were the most feared of all non-league clubs in the FA Cup before they entered the Football League in 2003.
And even after that they have enjoyed some decent runs in the FA Cup where they have been able to pit their wits against the likes of Liverpool and Manchester United.
But as the Glovers hope to reach the Fourth Round of the competition for just the fourth time in the club's history – who would you pick to represent the club in a Yeovil Town All-Star FA Cup XI.
Here is our team of FA Cup heroes for the Glovers in a 4-4-2 formation.
GOALKEEPER: It would have to be the legendary Dickie Dyke who played an absolute blinder for Yeovil Town against Sunderland in the famous 2-1 Fourth Round victory in 1948-49 at the old sloping pitch of Huish.
Dyke had only been called into the team at the last-minute due to an injury to regular keeper Stan Hall and he produced a real Boy's Own story by pulling off a string of super saves to help Yeovil enjoy their most coveted giant-killing scalp.
DEFENCE: The full-backs would be Dave Piper and Neil Coates. Piper  was a mainstay in Yeovil's epic FA Cup runs of 1998-99 and 2000-01 which saw them reach the Third Round before defeats against Cardiff City and Bolton Wanderers respectively. He also chipped in with some cup goals including one in the 3-1 Fourth Qualifying Round victory at Farnborough in 1998 and then a brace in a Fourth Qualifying Round 2-0 victory at Horsham in 2000.
Coates, meanwhile, will be best remembered for seemingly taking an absolute eternity to score arguably one of Yeovil's most famous FA Cup goals of all-time. He netted the winner in a 2-1 success at Hereford United in a Second Round replay which set-up a prized Third Round clash with Arsenal at Huish Park. The Arsenal game and the financial gains that came with it probably saved the Glovers from going out of business.
Our two centre-halves would be Al-James Hannigan and Terry Cotton. Hannigan played a monumental part in Yeovil's FA Cup run of 1998-99. He scored in the 3-0 success over Hastings Town in the Third Qualifying Round and then netted a last-gasp equaliser at Huish Park for Yeovil in a 2-2 draw with West Auckland Town. He then became the hero in the replay at West Auckland when he netted the winning penalty in a dramatic spot-kick shoot-out which Yeovil won 5-3 after extra-time.
Cotton, meanwhile, is very much a Yeovil Town legend. He is one of the club's top FA Cup goal-scorers with ten goals although he was converted from a centre-forward to a centre-half in the autumn of the 1972-73 season – hence why he is in our FA Cup team defence. He made 415 appearances for the Glovers from 1971-77 and 1978-80 and netted 84 goals in the process.
His most prolific in the FA Cup came in the 1978-79 season with seven goals in the qualifying rounds against Andover, Hungerford Town and Dorchester Town.
He also scored in a 2-2 First Round Replay along with Stuart Housley against Millwall which Yeovil ultimately lost 1-0 in a second replay in the 1975-76 season – a series of games which will be well-remembered by supporters.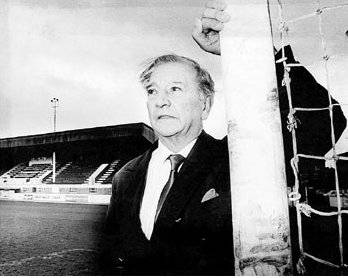 PHOTO – TOP: Pictured (from left) are Dave Taylor, Andy Wallace, Neil Coates and Warren Patmore.
PHOTO – RIGHT: Legendary player-manager Alec Stock who masterminded the 1948-49 FA Cup run which saw Yeovil Town reach the Fifth Round.
MIDFIELD: The four men in our Yeovil Town FA Cup XI would be Paul Batty, Alec Stock, Andy Wallace and John McGinlay.
Stock needs no introducing really. One of Yeovil's most legendary figures in years gone by – he really did play a leading part in putting the Glovers on the football map. He masterminded Yeovil's famous 1948-49 FA Cup giant-killing run as player-manager which saw them reach the Fifth Round for the first and, so far, only time in the club's history. He also scored Yeovil's opener in the 2-1 success over Sunderland at Huish in the Fourth Round in 1949.
McGinlay was a fans' favourite for the Glovers in the 1980s with his no-nonsense attitude and the rapport he had with the supporters. He netted 11 goals for Yeovil in FA Cup matches during his time at Huish – nine of which came in the 1987-88 season where the Glovers reached the Third Round only to be beaten by Queens Park Rangers. Two of those goals came in a well-remembered 3-1 success at old rivals Weymouth in the Fourth Qualifying Round – the first time Weymouth had lost at their new ground.
Wallace was one of McGinlay's team-mates from that time and he too scored some important goals for the club – including the winner in a 1-0 success at Cambridge United in the Second Round of the 1987-88 run and then a last-gasp winner at Huish Park in another 1-0 win over Fulham, which was screened live on television. Admittedly, he did not have a good time in 1993 in the Third Round match with Arsenal at Huish Park where he had to play out-of-position as centre-half and try and mark the brilliant Ian Wright.
And, finally, we have Paul Batty in midfield who scored five goals in the FA Cup run of 1992-93 which ended at the Third Round stage with Arsenal.
He scored in the 2-1 success at Crawley Town at the Fourth Qualifying Round and then bagged a hat-trick in a 5-2 win at Torquay United in the First Round before netting a consolation penalty in the 3-1 defeat to Arsenal at Huish Park.
STRIKERS: Our two-man attack would consist of two Yeovil Town legends – Dave Taylor and Warren Patmore.
Taylor is the club's leading goalscorer of all-time with 284 goals from 436 appearances from 1960-69. He scored 11 FA Cup goals for Yeovil including some in giant-killing victories over Walsall in 1960 and Crystal Palace in 1963.
Patmore, meanwhile, is a modern day Yeovil Town legend and is the club's leading scorer in the FA Cup with 14 goals from 1995 to 2001 in which he played 290 matches and scored 140 goals.
He scored four in the 1998-99 cup run which ended in a Third Round replay defeat against Cardiff City, while he scored twice in the 5-1 demolition of Colchester United in the First Round of 2000-01 and put Yeovil ahead at Bolton Wanderers in the Third Round before the Glovers eventually lost 2-1.
You could not find a better strike duo than Taylor and Patmore for Yeovil.
And so that completes the team: 1 Dickie Dyke; 2 Dave Piper; 3 Neil Coates; 4 Al-James Hannigan; 5 Terry Cotton; 6 Paul Batty; 7 Alec Stock (player-manager); 8 Andy Wallace; 9 Dave Taylor; 10 Warren Patmore; 11 John McGinlay.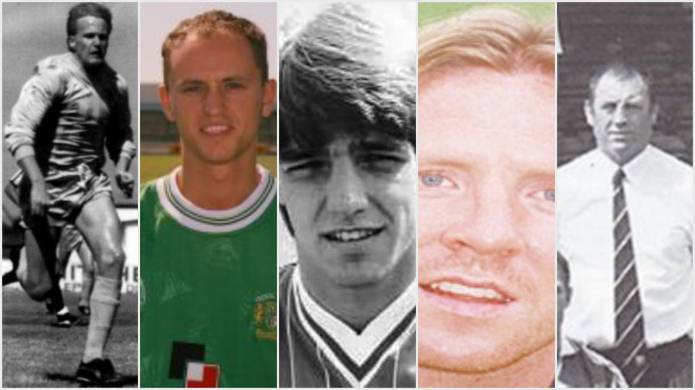 PHOTO – ABOVE: Pictured (from left) are John McGinlay, Dave Piper, Paul Batty, Al-James Hannigan and Terry Cotton.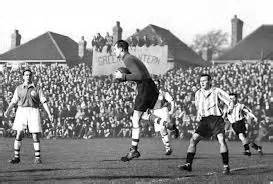 PHOTO – ABOVE: Reserve goalkeeper Dickie Dyke produces an amazing display to help Yeovil Town to their most famous FA Cup giant-killing act of all-time and the 2-1 Fourth Round success over Sunderland at Huish in the 1948-49 season.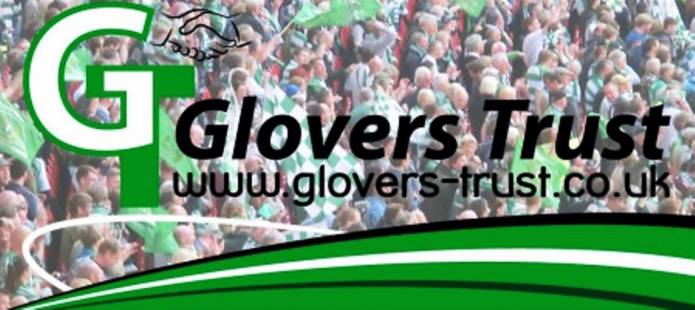 YEOVIL Town coverage is sponsored on this website by the Glovers Trust.  The Yeovil Town Supporters' Society Ltd – known as the Glovers Trust – is a democratic, not for profit organisation, committed to giving supporters a strong unified voice in the decision making process at Yeovil Town FC and strengthening the links between the club and the community that it serves.
Adult membership to join the Glovers Trust is just £10 per year, while it is just £1 per year for those aged Under-16; and £100 per year for a corporate membership.
For more details – go to the Glovers' Trust website at http://www.glovers-trust.co.uk/ .
Tags:
Yeovil Town FC.