LEISURE: Masquerade Ball to support School in a Bag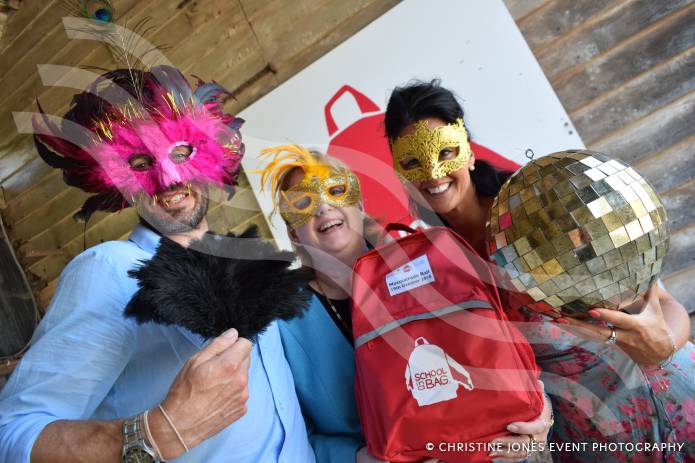 THE School in a Bag charity is excited to be partnering with Red Berry Recruitment Ltd and Stokes Partners Solicitors to host its first Masquerade Ball later this year.
The evening – being held at Haselbury Mill on October 19 - will consist of a three-course meal, live music (both classical and a band), a caricaturist and a magician, as well as an auction and raffle and a few other surprises along the way!
The theme of masquerade will give an air of clandestine to the event, plus giving people the chance to don their fineries and spend the evening raising money for School in a Bag.
Luke Simon, founder and chief executive of School in a Bag, said: "We are delighted to be working with both Red Berry Recruitment Ltd and Stokes Partners Solicitors for this event.
"Their support in making it happen, as well as spreading the School in a Bag word to their own contacts to bring more people along is fantastic.
"We're really looking forward to running a new type of event for us, and is exciting to have a major event in October to raise more much-needed funds for our charity."
School in a Bag has grown out of the Piers Simon Appeal which was first formed following the Boxing Day Asian Tsunami of 2004 which claimed thousands of lives – including that of former Yeovil College student Piers Simon, of Chilthorne Domer.
Helen Lacey, managing director for Red Berry Recruitment Ltd, said: "I met Luke about five years ago in which when I heard the story about his brother and I was brought to tears.
"I wondered how I would feel if that was my brother and if I could be so strong to do what he has done."
She added: "What Luke has set-up with School in a Bag is phenomenal. There are so many amazing charities out there, but to be able to support a charity that offers so much to those with so little is a fantastic opportunity.
"I am proud that Red Berry Recruitment Ltd is supporting SIAB with the Masquerade Ball – it's one not to be missed on your social calendar."
Kit O'Brien, partner for Stokes Partners Solicitors, said: "School in a Bag is our official firm charity for this year, chosen by our staff.
"Everyone was keen to support SIAB because we were so impressed by how a small local charity can achieve so much – it punches well above its weight."
She added: "2018 is Stokes Partners' 20th birthday so we wanted to do something special to celebrate and supporting SIAB with the Masquerade Ball is definitely something special. We hope that it will raise a great deal of money for a fantastic cause; it definitely promises to be THE social event of the autumn!"
Tickets cost £50 per person and there are tables of 10, 12 and 14 available (although a whole table doesn't have to be bought). Tickets can be bought by emailing: events@schoolinabag.org or by phoning the School in a Bag office on 01935-849160.
Tickets are already selling fast! They are limited and will be sold on a first come, first served basis.
School in a Bag provides rucksacks of everyday school equipment such as pens, paper and colouring pencils to orphaned and poor children in developing countries around the globe which have been hit by natural disaster and war.
PHOTO: They are already for the ball (from left) Luke Simon, of School in a Bag; Kit O'Brien, of Stokes Partners Solicitors; and Helen Lacey, of Red Berry Recruitment.
Tags:
Leisure.