YEOVIL NEWS: Yeovil Amateur Operatic Society hits right note with Yeovil Freewheelers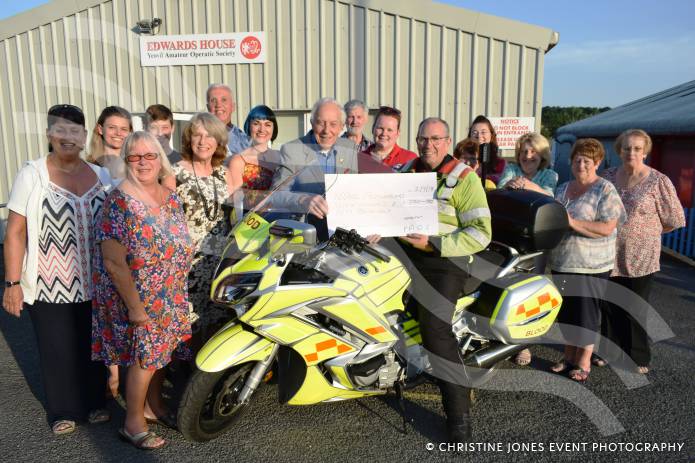 MEMBERS of the Yeovil Amateur Operatic Society have presented the Yeovil Freewheelers charity with a fantastic donation of £750.
The money was raised during the run of the Irving Berlin musical Top Hat which was performed by YAOS at the Octagon Theatre in Yeovil from March 13-20, 2018.
Next up for YAOS will be the amazing musical adaptation of the bloodthirsty tale of Sweeney Todd which will be performed from October 9-13, 2018, at the Octagon.
Tickets for Sweeney Todd are now on sale at the Octagon Theatre box office on 01935-422884 or online at www.octagon-theatre.co.uk .
Motorcyclist Simon Weait, of Yeovil Freewheelers, and committee members Abi Weait went along to the YAOS headquarters on the Pen Mill Trading Estate to receive the cheque.
YAOS president John Curry was delighted to be joined by society members as he presented the cheque to their visitors.
Yeovil Freewheelers have been serving the community for 40 years having been first established in 1978.
It provides a unique out-of-hours free courier service between different hospitals and patients in their homes across the whole South Somerset and North Dorset area.
Having been founded in 1978 by Cecil Turner it is the oldest operational blood bike group in the country and a registered charity.
A Freewheelers spokesman said: "We currently operate a fleet of three motorcycles to carry urgently needed medical items such as blood, biological samples, medical notes, x-rays and medicines.
"The service is provided completely free of charge to the NHS and all members of Yeovil Freewheelers are unpaid volunteers."
The Freewheelers save the NHS and Yeovil Hospital a minimum of £85,000 – based upon the cost of using private couriers and taxis.
Considering the plot of Yeovil Amateur Operatic Society's forthcoming production of Sweeney Todd revolves around "blood" it seems apt the group should choose the Yeovil Freewheelers to be the beneficiary of its latest charitable donation.
Tags:
News.