GLOVERS NEWS: Former players pay tribute to Yeovil Town stalwart Maurice O'Donnell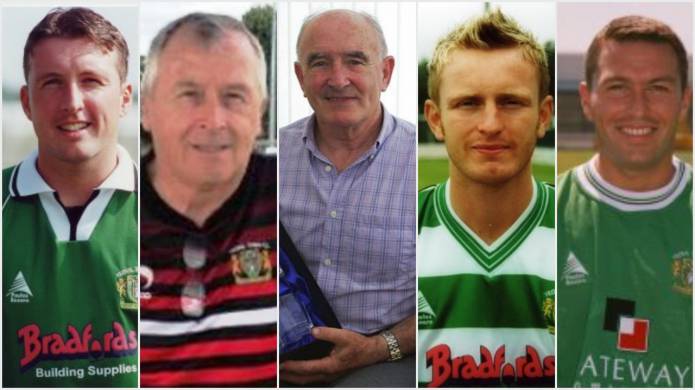 YEOVIL Town's most successful ever club captain, Terry Skiverton, has led tributes to the passing of Glovers' stalwart Maurice O'Donnell by saying he played a "massive part" in getting the club into the Football League.
Maurice, 86, died on Wednesday (February 7, 2018) and many tributes have been paid to him on social media in memory of someone whose time with Yeovil Town FC spanned nearly 50 years over three periods as a player, coach and manager.
He first arrived at Yeovil as a player in 1958, but it was long after his playing days had finished that he savoured probably his most cherished time with the club from 2002-05 when the Glovers won the FA Trophy, Nationwide Conference title and with it promotion to the Football League, and then the League Two championship.
While Captain Marvel, Terry Skiverton, was leading that fantastic team on the pitch during Gary Johnson's success-strewn first term of office in the managerial hot seat at Huish Park, the ever-popular Maurice – who during his time with Yeovil was first-team caretaker manager on a whopping seven occasions - was playing a key part behind the scenes as part of the backroom team.
Skiverton, now assistant manager at Huish Park, writing on social networking Facebook, said: "It's so sad. He was a massive part of us going from non-league to league football.
"Mo was a man's man who kept of all of us young players humble and reminded us of the past and what Yeovil stood for."
Skiverton quipped: "I loved it when Mo would threaten us with the hills at Ninesprings every time we got beat.
"There are many people I have met in Yeovil who think they know football, but Mo walked the walk and talked the talk.
"I for one will miss him," said Skiverton who played 382 matches for the Glovers from 1999 to 2009.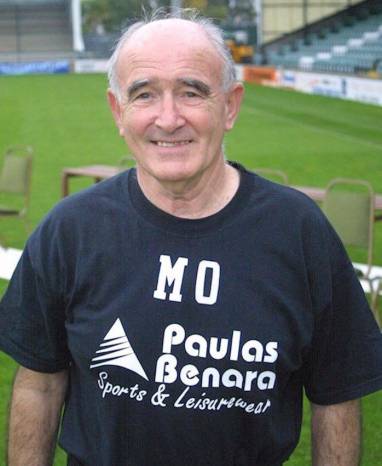 PHOTO - TOP: Maurice O'Donnell (centre) with (from left) former Yeovil Town players Carl Alford, Stuart Housley, Terry Skiverton and Rob Cousins.
PHOTO - RIGHT: Maurice O'Donnell.
He made his tribute on a Facebook comment about Maurice's death posted by another former player Stuart Housley who played 383 games for the Glovers from 1969-76 and 1979-80. "Sad news – Maurice was a great man," he wrote.
Former Yeovil Town football writer, Chris Sweet, wrote on Twitter: "Such sad news – a real YTFC legend.
"Worked tirelessly when coach and was effectively third in command behind Gary Johnson and Steve Thompson as the club won the FA Trophy and climbed to League One – his influence should not be underplayed."
Former Yeovil striker Kirk Jackson, who hit 20 goals in the Glovers' Nationwide Conference winning season of 2002-03, said: "Really sad news – great bloke."
Another old Yeovil striker Abdoulai Demba, who made 22 appearances in the Conference title season and scored ten goals including a hat-trick in a 6-0 thrashing of Southport on October 5, 2002, said: "RIP Maurice – I remember him as being a very good guy."
Another former Yeovil striker, Carl Alford, who scored the first goal in the Glovers' 2-0 success over Stevenage Borough in the FA Trophy Final in 2002, said: "RIP Maurice – a true gentleman and an amazing man."
Ex-Yeovil defender Tom White, another integral player of the FA Trophy winning team of 2001-02, added: "Loved Mo – RIP."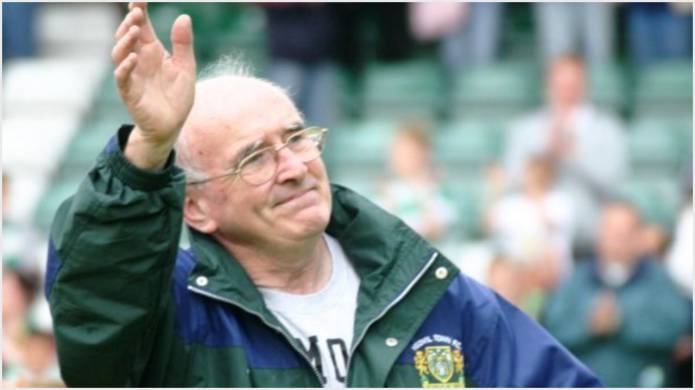 PHOTO - RIGHT: RIP Maurice O'Donnell.
Former Yeovil midfielder Paul Terry, who made 154 appearances for the Glovers during their first four seasons in the Football League, brother of ex-England and Chelsea defender John Terry, said: "Such sad news. What a great man he was and he will be sadly missed. RIP Mo."
Another old Yeovil striker, Dean Birkby, who was at Huish Park during the mid-1990s, said: "He told me off on numerous occasions – but a man I respected and listened to. A true legend of a man."
And former Yeovil defender/midfielder Rob Cousins, who was highly regarded by the Huish Park faithful during the 1990s, added: "A lovely man."
Former Yeovil physio Glen Schmidt said: "Very sad to hear this news. Mo was a great guy. My thoughts are with his family."
Yeovil Town's former media manager, Adrian Hopper, said: "A great loss to the club and the town."
Two of Yeovil's unsung heroes from the Conference-winning season, Andy Lindegaard and Roy O'Brien, also paid tribute to Maurice.
Lindegaard said: "RIP Maurice. Hands down the best whistler I have ever met. An absolute gem has sadly left us. Thoughts are with the O'Donnell family. God Bless."
O'Brien added: "RIP Mo. Sad day for all. A great man – he looked after me and I will miss our chats. Love to the O'Donnell family and I will have a whiskey for you Mo."
Popular former Yeovil defender Dave Piper, who was at the club during the late 1990s and early 2000s,  added: "RIP Maurice."
Such was Maurice's popularity and influence – you did not have to be at Yeovil Town for long to respect and remember him.
Former Yeovil midfielder Gareth Risbridger, who played just a handful of games for Yeovil in the 2000-01 season before moving to Southend United, said: "Sending my love to his family. A lovely man."
Nick Marshall, who played as a striker for Yeovil Town Reserves in the early 1980s, said: "Very sad news. He always made training interesting."
And attacking midfielder Glenn Poole, who made 33 appearances for Yeovil from 1999 to 2001, said: "What a top guy – he was my taxi around the South West! He will be missed. Condolences to his family."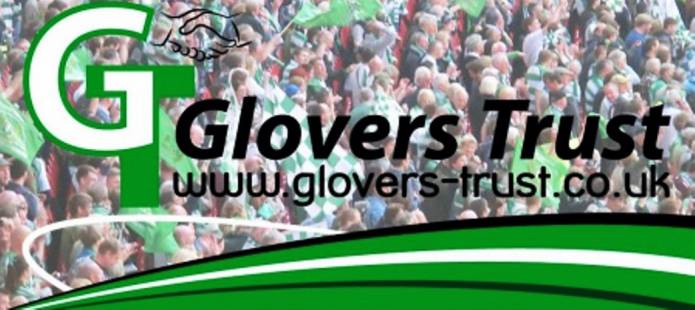 YEOVIL Town coverage is sponsored on this website by the Glovers Trust.  The Yeovil Town Supporters' Society Ltd – known as the Glovers Trust – is a democratic, not for profit organisation, committed to giving supporters a strong unified voice in the decision making process at Yeovil Town FC and strengthening the links between the club and the community that it serves.
Adult membership to join the Glovers Trust is just £10 per year, while it is just £1 per year for those aged Under-16; and £100 per year for a corporate membership.
For more details – go to the Glovers' Trust website at http://www.glovers-trust.co.uk/ .
Tags:
Yeovil Town FC.