GLOVERS NEWS: Yeovil Town v Man Utd: Heartbroken Khan appeals to referee to drop red card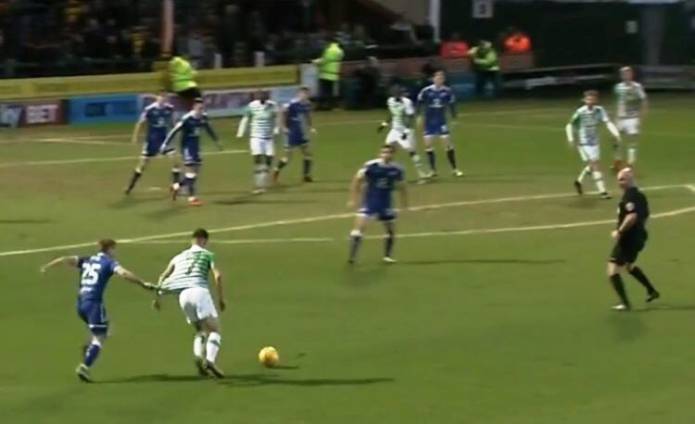 YEOVIL Town attacker Otis Khan has pleaded with referee Kevin Johnson to rescind a red card dished out to him on Saturday (January 20, 2018) – so he can play for the Glovers in their FA Cup Fourth Round clash with Manchester United.
Khan was sent-off near the end of Yeovil's 2-1 defeat at home to Chesterfield on Saturday after appearing to barge into the match official after the visitors had scored their match-winning goal.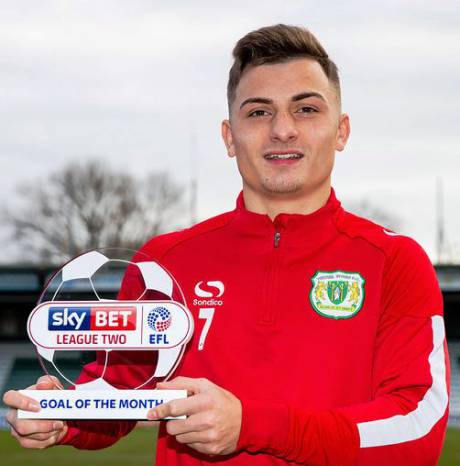 Only moments before that goal Khan definitely appeared to have been fouled by opponent Louis Reed, but Mr Johnson – who could not have seen the incident – allowed play to continue and Chesterfield went on and scored.
PHOTO - TOP: TV replays show that Otis Khan was pulled back by Chesterfield's Louis Reed, but play was allowed to continue.
PHOTO - RIGHT: Otis Khan was named winner of the League Two Goal of the Month for December competition.
Khan was furious and went to remonstrate with the referee and appeared to barge into him which saw Mr Johnson immediately reach for a red card – which will mean the player being suspended for when Manchester United arrive at Huish Park on Friday (January 26, 2018) for the live televised FA Cup Fourth Round clash.
But Khan has taken to social media and said that he did not deliberately barge into the referee, but actually "tripped" and fell into him.
"I ran towards the referee and upon doing so I tripped and fell towards him making contact," said Khan.
"There was absolutely no intention to make contact with Kevin Johnson."
Khan, then writing directly to the referee, pleads: "Mr Johnson, I am deeply sorry for falling into you. In all my time playing football I have always had the upmost respect for referees and officials.
"So once again Mr Johnson I'm sorry for falling into you.
"I hope this incident can be analysed again so you can clearly see it wasn't intentional and some form of leniency be given as I am absolutely heartbroken at this time because my dreams of playing against my boyhood team are in doubt.
"It's the worst time of my life at this moment."
There is also continued speculation that Khan is about to leave Huish Park for pastures new with a number of clubs having made enquiries about him.
Fans appear to have little sympathy for Khan, however, and have said that he should have "played to the whistle." There also appears to be no video evidence to back up his claims that he "tripped" into the referee.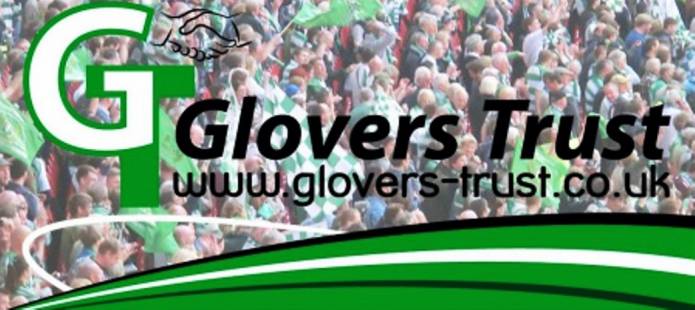 YEOVIL Town coverage is sponsored on this website by the Glovers Trust.  The Yeovil Town Supporters' Society Ltd – known as the Glovers Trust – is a democratic, not for profit organisation, committed to giving supporters a strong unified voice in the decision making process at Yeovil Town FC and strengthening the links between the club and the community that it serves.
Adult membership to join the Glovers Trust is just £10 per year, while it is just £1 per year for those aged Under-16; and £100 per year for a corporate membership.
For more details – go to the Glovers' Trust website at http://www.glovers-trust.co.uk/ .
Tags:
Yeovil Town FC.