YEOVIL NEWS: Envelope dated 1931 turns up at Yeovil Sorting Office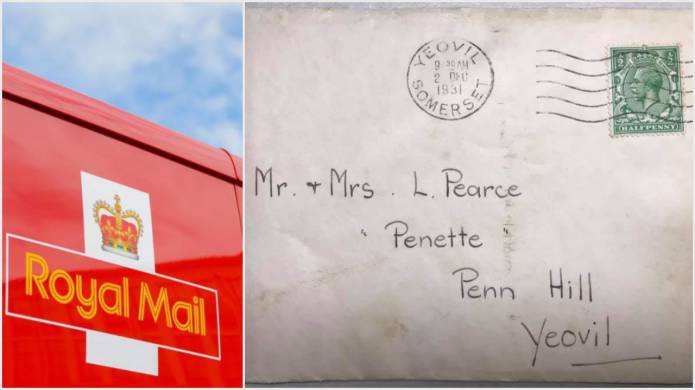 POSTIES at Royal Mail's Sorting Office in Yeovil have been scratching their heads after coming across a letter which was posted nearly 90 years ago.
Nick Dawson, who is a well-known local postman based at the Sorting Office in Huish, took to social media to see if anyone knew anything about an envelope marked for Mr and Mrs L. Pearce of "Penette", Penn Hill, Yeovil, dated December 2, 1931.
"It came in with our normal mail this morning (Thursday, August 1, 2019," he told the Yeovil Press.
"It's not been in our building or even in Bristol as we have both moved depots a few times since 1931.
"We thought maybe it was in an old mail sack, but we changed to nylon ones in 1990 and the only ones in circulation now."
Nick added: "I think it must have been cleared out of a house or with piles of old paperwork that a member of the public was going through and it somehow found its way back into the system.
"Not sure where the house is as there's nothing with that name. We're hoping that somebody might be able to shed light on where this address might be or any relatives of the addressee?"
Out of interest …. back in 1931 the UK Prime Minister was Ramsay MacDonald, George V was on the throne, Arsenal won the First Division championship, Sidney Wood won the Wimbledon men's singles championship after his compatriot Frank Shields withdrew from the final due to injury, and the American President was Herbert Hoover.
PHOTO – TOP: The mystery envelope which has surfaced at Yeovil Sorting Office in Huish.
Tags:
Schools and Colleges.