SCHOOL NEWS: Milford pupils join battle against waste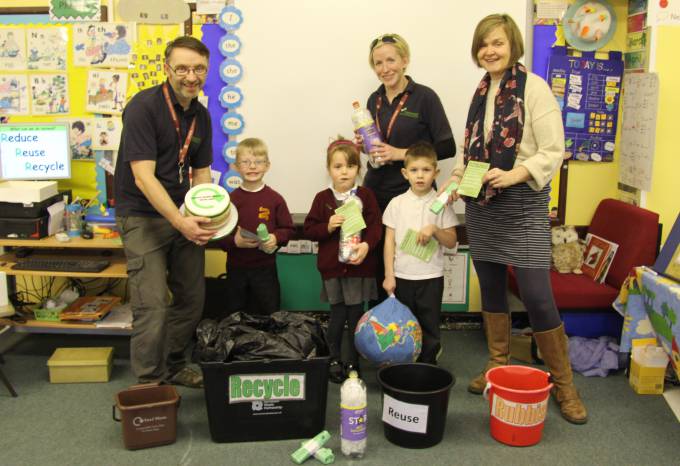 MILFORD Infants School in Yeovil has become the 100th school to join a dynamic campaign of young warriors against waste.
Backed by the six council partners in Somerset Waste Partnership (SWP), Schools Against Waste has seen thousands of pupils learning about everything from plastics to composting.
The campaign of school visits and student activities is led by eco-education charity Carymoor Environmental Trust and has reached primary schools in every part of the county.
Launched at Wellsprings Primary School in Taunton last February, Schools Against Waste visited its 100th school - Milford Infants in Yeovil – on Tuesday, January 22, 2019.
Milford has an active Eco-Council, a growing range of materials being recycled, and a compost bin in its Forest School area.
As well as "Talking Rubbish" assemblies, schools have classroom activities linked to curriculum key stages, from turning food waste into compost through to exploring the impact of plastics.
And the Carymoor experts have spent time with staff to review the school's current recycling and offer practical advice to help each school waste less and recycle more.
Schools Against Waste marked the tenth anniversary of SWP's founding and is a key part of the build-up to Somerset's 2020 transformation of waste services.
That transformation includes next year's start of the roll-out of Recycle More collections of extra plastics and other materials each week and three-weekly pick-ups of shrinking levels of rubbish.
And Schools Against Waste will also support SWP's efforts to help residents cut back on unnecessary plastic and explore better options and materials.
Cllr Derek Yeomans, chairman of SWP's governing board, said: "As they step up to make this world their own in the future, it is vital that young people understand the key environmental issues of the day, such as the crisis of plastics, and what they can do about them."
SWP managing director Mickey Green added: "Given the important role schools play in their communities, school students play their part in ensuring that their families, friends and neighbours all take steps to waste far less, recycle much more and save money while improving their environment."
PHOTO: Milford Eco-Council pupil members and, from left, Carymoor's Schools Against Waste leaders Gary Hunt and Karen Boswell, and Milford teacher Karen Bratcher.
Tags:
Schools and Colleges.