COLLEGE NEWS: Students pass A-Levels with flying colours at Yeovil College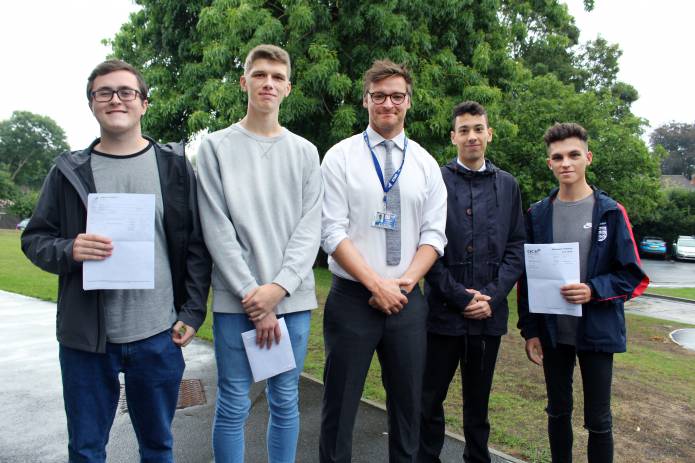 YEOVIL College's Kingston Sixth Form Centre has celebrating after achieving outstanding A-Level results with a pass rate of 100% - marking its third successive year of a 100% pass rate.
Students and staff have a lot to celebrate after 100% of learners passed their A-Level examinations with flying colours.
A 100% pass rate has been achieved in all 18 subjects: Art and Design, Photography, Chemistry, Biology, Physics, Maths, Computer Science, Geography, Government and Politics, English Language, English Literature, Sociology, Psychology, Accounting, Business, Economics, History, and Law.
Yeovil College has secured A*-C grades in all science and maths subjects, with 75% of maths students achieving an A* or A grade, making it the best year yet.
Two Yeovil College students have realised their dreams of becoming Oxford University students. Jordan Welsh and Luke Miles have been offered places at Oxford University to study Chemistry and Computer Engineering respectively.
Jordan, formerly of Buckler's Mead Academy, is the first in his family to go to university. He achieved an A* in Biology, A* in Chemistry and A* in Maths at the Kingston Sixth Form Centre at Yeovil College.
"I'm really pleased with my results and I could not have done it without the fantastic Teachers at Yeovil College," he said.
Luke, also previously of Buckler's Mead Academy, achieved A* in maths, A* in Further maths, A in Physics and A* in Computer Science.
"The results are the best I could have hoped for and I'm truly delighted that I've got into Oxford University," he said.
Oliver Page, formerly of Preston School, achieved A* in Chemistry, A* in Maths and A in Physics and has secured his place at the University of St Andrew's where he will study Chemistry.
"You love, you learn, you win, you gain confidence," he said. "I've loved my time at Yeovil College. I've had excellent teaching from day one and will miss it a lot."
Mark Bolton, vice principal at Yeovil College, said: "Our results are incredible. To achieve a 100% pass rate for three consecutive years is true testament of the energy, commitment and hard-work demonstrated by both students and staff.
"It's very uplifting to be part of the journey for so many of our successful young people and we are proud of everything our learners have achieved. We wish all our learners the very best of luck for the future. So many now have the grades they required to progress to university and being with them today is such a privilege, we wish them every success in their exciting futures.
"Our Maths and Science results have been truly outstanding, seeing students progressing to Oxford and University of St Andrews and many other Russel Group Universities."
John Evans, principal of Yeovil College, said: "This academic year has been our 130th Birthday and what an incredible way to end it with this outstanding achievements.
"Our successful students come from our local Yeovil Schools and from across Somerset, Dorset and the South West to study with us. We must also recognise and acknowledge all the work the schools put into the students before they reach us. Parents, teachers, family and friends have all played important roles in our students' successes and we thank them for their support."
Faye Purbrick, lead county councillor for education in Somerset and county councillor for Yeovil South, and formerly an A-Level student at Yeovil College, joined the students at the college to enjoy the unveiling of many results.
"I am so delighted to see the fantastic results at Yeovil College today," she said. "Not sure if it's the students or staff who are smiling more! Congratulations to everyone, the hard work seems to have paid off. Good luck for whatever you do next."
Both Maths and Further maths have achieved the very highest results they have ever experienced.
Programme leader, Michael Wragg, said: "I am absolutely delighted with the A Level maths and Further Maths. Luke Miles and Jordan Welsh secured their places at Oxford University with stellar results! All the A Level maths students achieved high grades – an amazing outcome and the best ever!"
The college is pushing its success to new levels by developing even further the quality, offering and success of its current A-Level Academy.
The dedicated Kingston Sixth Form Centre will provide its students with not just high quality teaching and incredible pass rates, but will broaden and enhance the student experience through its 'Elevate' programme and study visits.
Tags:
Schools and Colleges.