SCHOOL NEWS: Children go bananas over waste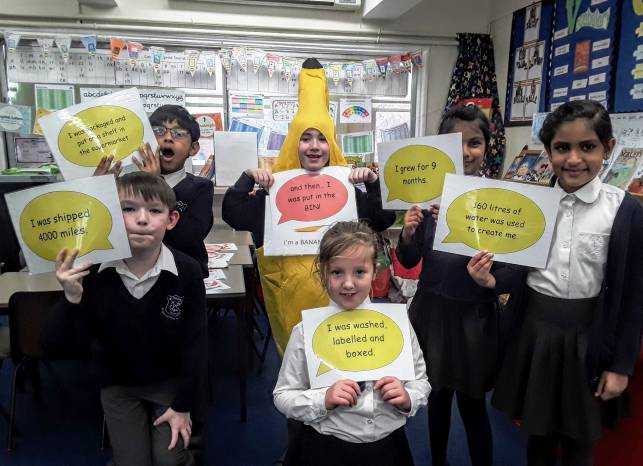 THE waste of food that has travelled around the world to reach our plates has sent Yeovil schoolchildren bananas.
Pupils at St Gilda's Catholic Primary School in Mary Street, Yeovil, were among the first to join the Schools Against Waste programme backed by the six council partners in Somerset Waste Partnership (SWP).
Schools Against Waste will see thousands of pupils learning about everything from plastics to composting in a programme of 90 school visits over the next year by Somerset's eco-education charity the Carymoor Environmental Trust.
Pupils will explore how the next generation can help their families and communities "reduce, reuse and recycle" to tackle issues of concern, such as plastics polluting their world.
Carymoor's Karen Boswell ran the waste session with the St Gilda's children that focused on food miles and packaging.
She said that the children looked at the example of bananas and considered the amount of energy and water that goes into growing, harvesting, transportation and packaging, and how this can all be wasted if it is then thrown away in the UK.
The UK throws away 1.4 million bananas a day, according to the national Love Food Hate Waste campaign. Karen added: "One of the children was dressed up in a banana costume, which certainly adds something!"
Schools Against Waste offers "Talking Rubbish" assemblies and classroom activities linked to the curriculum key stages, such as turning food waste into compost, learning about actions to prevent future environmental problems, and exploring the impact of plastics.
As well as engaging an army of young warriors against waste in Somerset, the Carymoor experts will also spend time with staff to review the school's current recycling and offer practical advice and support to help it waste less and recycle more.
Schools Against Waste marks the 10th anniversary of SWP's founding, and is a key part of the build-up to Somerset's 2020 realignment of waste services, such as the roll-out of Recycle More collections of more plastics each week and three-weekly pick-ups of shrinking levels of rubbish.
Tags:
Schools and Colleges.