COLLEGE NEWS: Congratulations to Yeovil College's A-Level students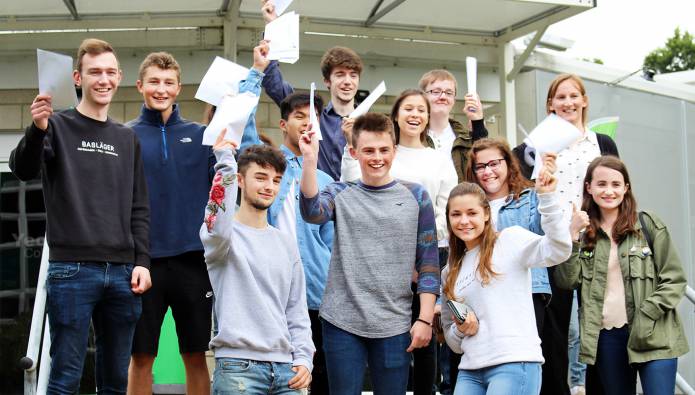 YEOVIL College's Kingston Sixth Form Centre celebrated after achieving fantastic A-Level results yet again with 100% pass rate in 19 out of 20 subject areas.
Students and staff had a lot to smile about on results day on Thursday (August 17, 2017) after 99.3% of learners passed their A-Level examinations with flying colours.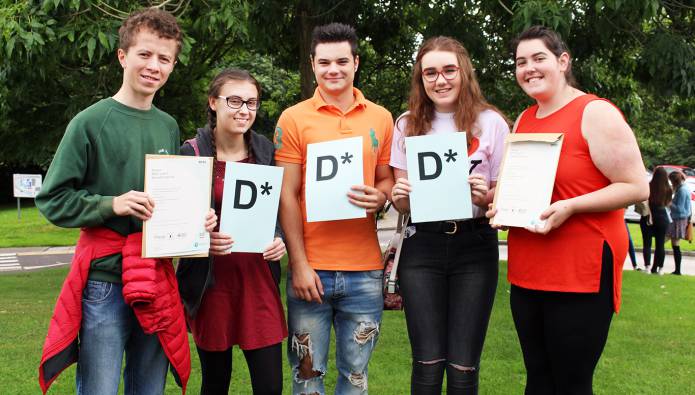 Some of the stand-out successes included Katie-Louise Canning, 19, formerly of Wadham School who studied communication and culture (A*), extended project qualification (A*), psychology (A) and sociology (B).
Katie-Louise said: "I'm going to relax now for a couple of weeks before going to Exeter University to study sociology. I'm speechless and totally amazed with how well I've done.
"Coming to Yeovil College was the best thing I've ever done and I've enjoyed college so much over the last 2 years."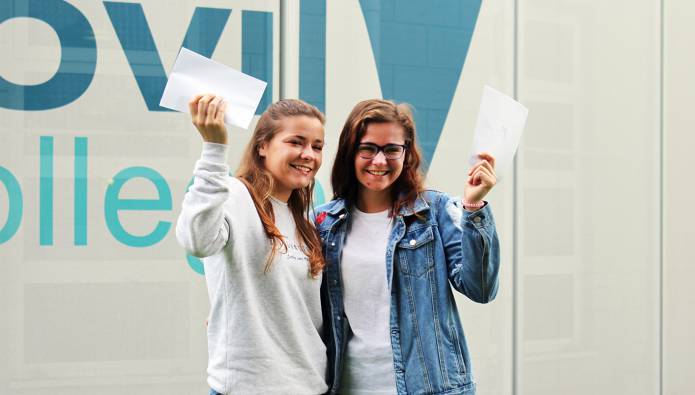 Katie was joined by her hugely proud mum and dog Fang for the celebrations.
Michal Wrobel, 18, formerly of Buckler's Mead Academy, spoke of his new found confidence that his maths lecturer Michael Wragg had given him.
Michal achieved maths (A*), chemistry (A), physics (B) and further maths (B) which has seen him secure a place at the University of East Anglia. "I've studied so hard and had great support from my lecturers. I'm looking forward to the future," he said.
Smitten couple Paige Smith, formerly of Preston School and Tom Underhill, formerly of Buckler's Mead Academy spoke of their excitement for their future together at Plymouth University.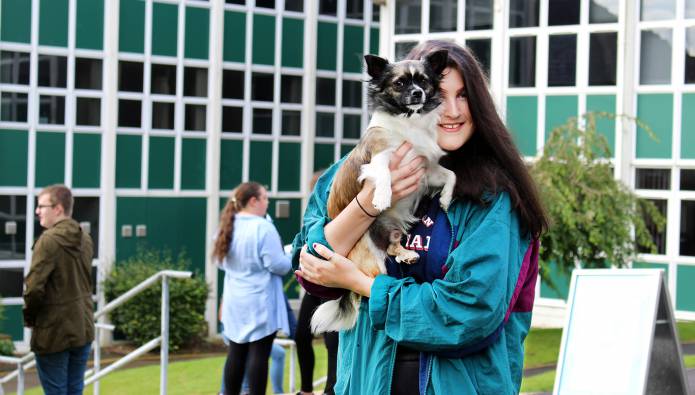 Tom said: "I'm so happy all the waiting is over. We're both really happy and excited for the big move and what's to come."
Katie Lawless, head of Kingston Sixth Form Centre at Yeovil College, described the successful AS learners as 'Rising Stars'.
Oliver Page, formerly of Preston School, achieved chemistry (A), maths (A), physics (A) and business (C) and explained how his mind is set on "getting ahead of the game" so he can secure a place at the University of St Andrews next year.
"My first year at Yeovil College was so much better than I expected it to be," he said. "I have the best Maths lecturer who keeps me motivated," said Oli.
Another Rising Star, Jordan Welsh, formerly of Buckler's Mead Academy, achieved straight As in psychology, chemistry, maths and biology and is aiming for the University of Oxford.
Jordan said: "Yeovil College is really good fun and although I've not thought too far into the future, I'm aiming high."
"The 100% pass rate in maths and sciences that our AS learners have achieved demonstrates that our Sixth Form is a strong Centre for developing and nurturing future mathematicians and scientists," explained Katie.
Nikki Sendell, vice principal, added: "This is a fantastic result, reflective of all the time and effort our learners and staff have put into their studies; we're so proud of everything they've achieved. We wish all our learners the very best of luck for the future.
"These results will have given them a tremendous stepping stone towards university, an apprenticeship or employment.
"We are delighted that the vast majority of our learners who are going onto university have been able to secure their first choice and in addition, we have our own university centre here, which we hope will see some familiar faces returning to take up the facilities right here on their doorsteps!"
Tags:
Schools and Colleges.