YEOVIL NEWS: Cat rescued from clothes recycling bin at Morrisons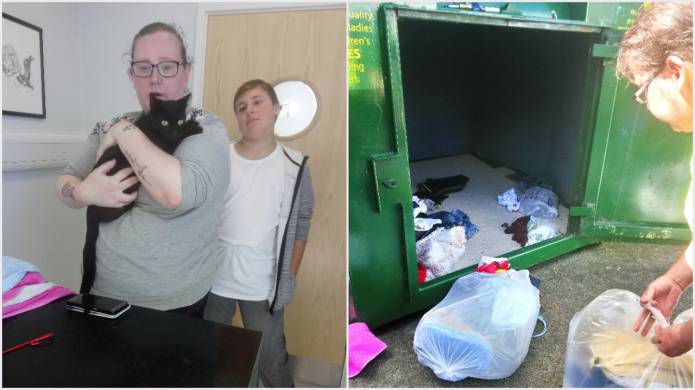 A YOUNG cat which was discovered in a recycling bin in the car park of a Yeovil supermarket has been rescued thanks to the kindness of local residents.
The six-month-old black cat was rescued from a Salvation Army clothes recycling bin in the car park of Morrisons supermarket in Yeovil on Tuesday (August 15, 2017) after members of the public who were walking nearby heard the cat crying and followed the sound to the bin.
The RSPCA is now investigating how the cat came to be in the bin and has appealed for anyone with information to get in touch or anyone who recognises the cat to get in touch.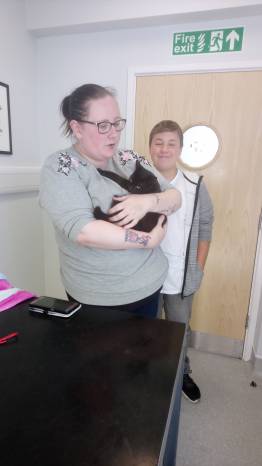 Maggie Baker, from the RSPCA South East Somerset Branch, joined local people who stayed with the cat as they waited for the bin to be unlocked.
Maggie, who is also a national trustee for the RSPCA, thanked the local people who had helped rescue the cat and praised the support provided by the Salvation Army who rushed over to Somerset to open their bin to help free the cat.
She said: "It is horrible to think someone could abandon this cat and just throw this poor cat out like rubbish.
"I don't believe she could have entered the bin on her own so it would appear as though she was dumped there by someone.
"A huge thank you must go to all the people who have helped her, she was even offered a food parcel from the manager of the supermarket.
"When I arrived this morning there had been people who kindly stayed with the cat overnight and through this morning until the bin was unlocked. They are brilliant and I can't thank them enough.
"One of the people who stayed with her overnight is even going to foster the cat while we investigate further."
The animal welfare charity is appealing for anyone who may have information on how the cat came to be in the bin to contact the inspectorate appeal line on 0300 123 8018.
Sadly the summer months are the busiest time for calls the charity about unwanted cats and abandoned litters.
RSPCA cat welfare expert Alice Potter said: "Sadly we do see many kittens being abandoned at this time of year when most kittens are born.
"We strongly believe the answer to tackling kitten abandonments lies in loving cat owners neutering their cats before they can get pregnant, so avoiding unplanned pregnancies. We urge people to do the responsible thing as soon as possible and avoid unwanted litters."
To help the RSPCA continue rescuing, rehabilitating and rehoming animals in desperate need of care please visit: www.rspca.org.uk/give or text LOVE to 87023 to give £3 (Text costs £3 + one standard network rate message).
Tags:
News.