CLUBS AND SOCIETIES: Former Yeovil Town favourite is new chairman of Lions Club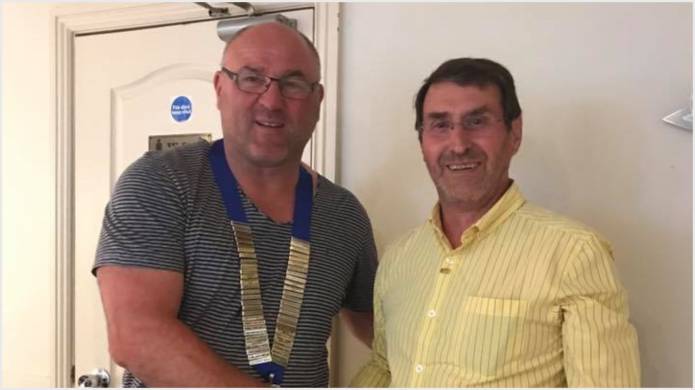 FORMER Yeovil Town defender Paul Thorpe has been elected as the new chairman of the Yeovil Lions Club.
Paul, a real fans' favourite for his no-nonsense approach to the game and his never-say-never will-to-win, played around 150 games for the Glovers in the 1980s and scored more than a dozen goals for the club.
Supporters will remember him as a tough-tackling defender who was not afraid to get stuck in – a trait which made him even more popular with the fans and possibly not so popular with referees!
But off-the-pitch Paul is a genuinely "good bloke" and having settled in Yeovil with his family he is now looking forward to his newly-elected role as chairman of the fundraising Lions Club.
A Yeovil Lions Club spokesman said: "Paul is looking forward to the year ahead and if anyone wants to get involved with helping us raise money for local charities then please get in touch."
He was presented with the chain of office by Peter Lunn.
PHOTO – TOP: Paul Thorpe (left) with Peter Lunn. Photo courtesy of Yeovil Lions Club.
Tags:
Clubs and Societies.