CLUBS AND SOCIETIES: Yeovil Lions Club members receive top award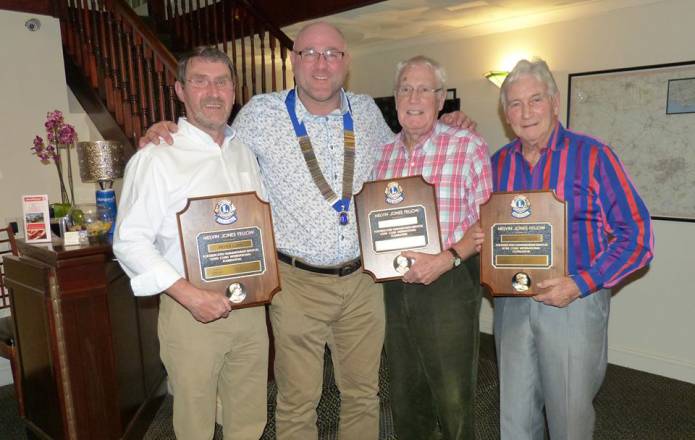 THREE long-standing members of the Yeovil Lions Club have been presented with a prestigious award during the fundraising group's annual Christmas meal.
The Melvin Jones Fellowship Award is the highest award given to any members of Lions International around the globe.
The awards are presented in recognition of dedication, contribution, service to the community, fundraising through numerous events, social and other work to ensure the organisation can continue to support causes within the local community.
Yeovil Lions Club president Paul was delighted to present the award to Peter Lunn, David Shorey and Stuart Loder who have all demonstrated those qualities over a combined total of 120 years' service to the club which was first formed in 1965.
"Over that period many hundreds of thousands of pounds have been raised and used to help numerous causes and individuals within the Yeovil area whilst also giving some aid to developing countries through Water Wells, Sight First and other international projects and disasters," said a club spokesman.
PHOTO – TOP: Yeovil Lions Club president Paul Thorpe (second left) with (from left) award recipients Peter Lunn, David Shorey and Stuart Loder. Photo courtesy of Yeovil Lions Club.
Tags:
Clubs and Societies.