CLUBS AND SOCIETIES: Yeovil Round Table goes snooker loopy with Dennis Taylor
SNOOKER legend Dennis Taylor was the guest speaker at the annual Yeovil Round Table charity luncheon.
The luncheon – held at the Manor Hotel in Yeovil on Friday (November 18, 2016) – saw around £20,000 raised for local charities.
The Round Table members earlier gave out cheques to nine charitable organisations – Fiveways School £5,000; The Lord's Larder £1,000; Yeovil Opportunity Group £3,500; School in a Bag £3,000; SOS Yeovil £3,000; St Margaret's Somerset Hospice £6,500; Yeovil Day Centre £3,500; Children's Wish £3,000; and Children's Ward £2,500.
Former Yeovil Round Table chairman Ashley Helyar thanked everyone for their support during his year in office and for those who had helped with the fundraising which amounted to thousands of pounds being donated to a string of good causes.
Around 120 people attended the luncheon and were entertained by the former professional snooker player Dennis Taylor who famously won the World Championship in 1985 with an epic 18-17 victory over Steve Davis which went down to the final black ball.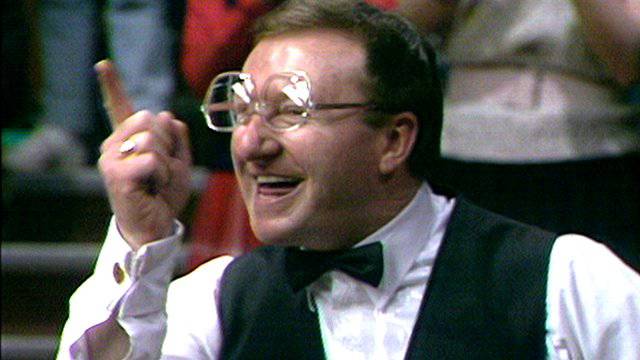 VIDEO - TOP: Relive that golden sporting moment when Dennis Taylor won the World Snooker Championship in 1985.
PHOTO - RIGHT: The famous finger-wagging moment when Dennis Taylor won the championship. 
He gave an amusing talk about his career and some of snooker's players such as Davis, Stephen Hendry and Ronnie O'Sullivan, who he named as his greatest player of all-time.
Other than that never-to-be-forgotten final of 1985, Dennis Taylor is also well-remembered for the large glasses he used to wear, plus being a member of the hit Chas & Dave record Snooker Loopy featuring himself and his green baize colleagues.
An auction – conducted by auctioneer Henry Simon of the Piers Simon Appeal and the School in a Bag charity – was another big success. Among the lots were rugby tickets to England matches in the Six Nations; golfing days out; theatre tickets; London trips; a Yeovil Town FC executive box hire for a match; and a helicopter tour with a number of winning bids being generously price-matched by Lloyds Bank.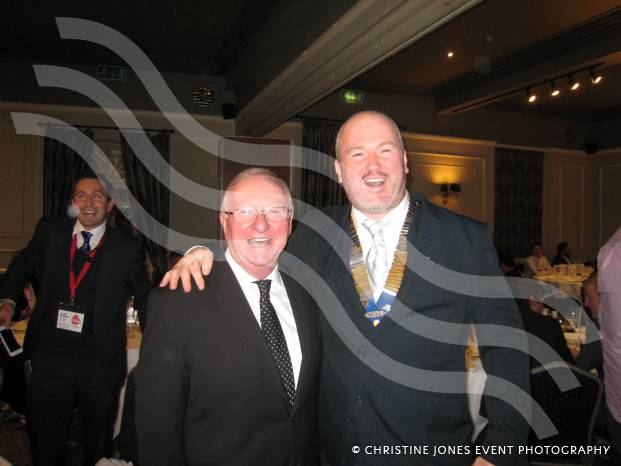 PHOTO - RIGHT: Dennis Taylor with Yeovil Round Table chairman Gareth Jones and a bit of photo-bombing from School in a Bag chief executive Luke Simon.
Organisers would like to thank the auction lot sponsors – Jones Building Group; Simon Pryor; Dan Farrant of First Class Improvements; Symonds Forecourt; Yeovil Mayor and Simply Bathrooms and Bedrooms; Yeovil Hire Company; Rowsell Roofing; Turner Windows; S&S Sheet Metal Ltd; Resolution Interiors; Old Mill Group; Funtasia Entertainment; Clive Barford; Solicitors Title.
Yeovil Round Table chairman Gareth Jones said: "Our membership has been steady over the years, but we are always looking for new members aged between 18 and 45.
"If making a difference to people's lives, having a great social time and making friends for life sound like the thing for you then please get in touch."
The main charities being supported by Yeovil Round Table this year are the Yeovil Special Care Baby Unit, St Margaret's Somerset Hospice, Round Table Children's Wish, Yeovil Opportunity Group and the Lord's Larder, along with other smaller locally-based good causes and groups.
More details about Yeovil Round Table can be found on www.yeovilroundtable.co.uk .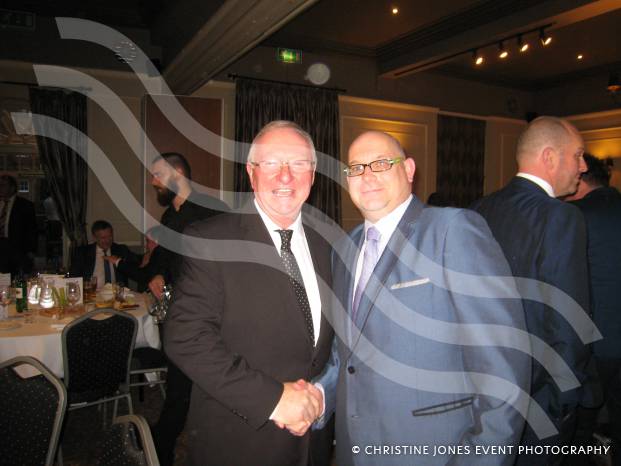 PHOTO - ABOVE: The Mayor of Yeovil, Cllr Darren Shutler (right), with former world snooker champion Dennis Taylor at the Manor Hotel on Friday (November 18, 2016).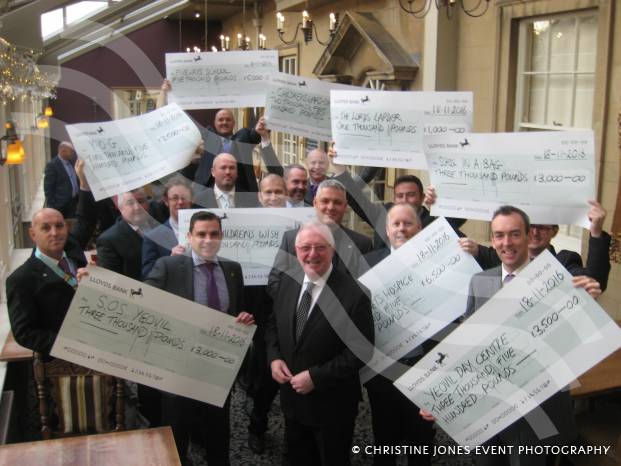 PHOTO - ABOVE: The 1985 world snooker champion Dennis Taylor (front centre) with Yeovil Round Table members showing off the cheques they were giving away to various charities at the group's annual charity luncheon on Friday (November 18, 2016) at the Manor Hotel in Yeovil.
Tags:
Clubs and Societies.