CLUBS AND SOCIETIES: Rockets and bangers sparkle for local good causes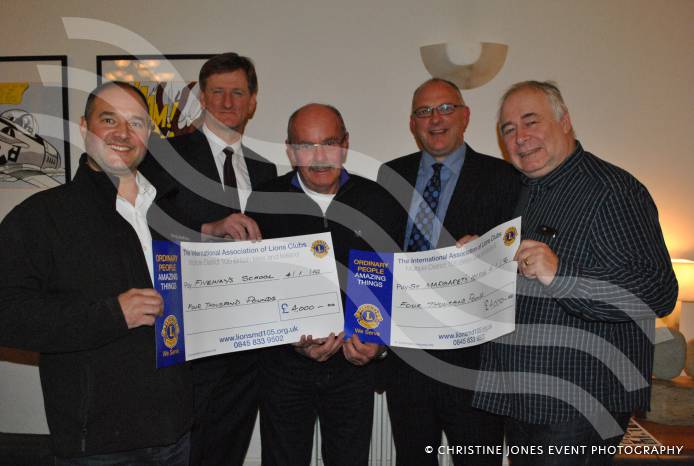 CHEQUES totalling £8,000 were presented this evening (Monday, January 4, 2016) to two deserving good causes – thanks to the proceeds of a spectacular fireworks display in Yeovil.
Members of the hard-working Yeovil Round Table and Yeovil Lions Club charitable organisations raised the money by holding their annual fireworks event in November last year at Yeovil Showground.
St Margaret's Somerset Hospice and Yeovil's Fiveways School were the beneficiaries of the fundraising night and representatives were on hand tonight to receive £4,000 each.
The cheques were presented by the fireworks event committee chairman Ian Pilbeam with support from Round Table chairman Ashley Helyar and the Lions chairman John Nicholas.
Representing Fiveways School was headteacher Mark Collis and Mark Flower was on hand to receive the cheque for St Margaret's.
Organisers would like to thank – once again – everyone who went along to the fireworks event and helped to raise such a terrific amount of money.
PHOTO - TOP: Fireworks event committee chairman Ian Pilbeam (centre) is pictured with (from left) Ashley Helyar, Mark Collis, Mark Flower and John Nicholas during the cheque presentation at Lanes Hotel in West Coker on Monday, January 4, 2016.
Tags:
Clubs and Societies.