SCHOOL NEWS: Bake Off star Val helps celebrate harvest at Milford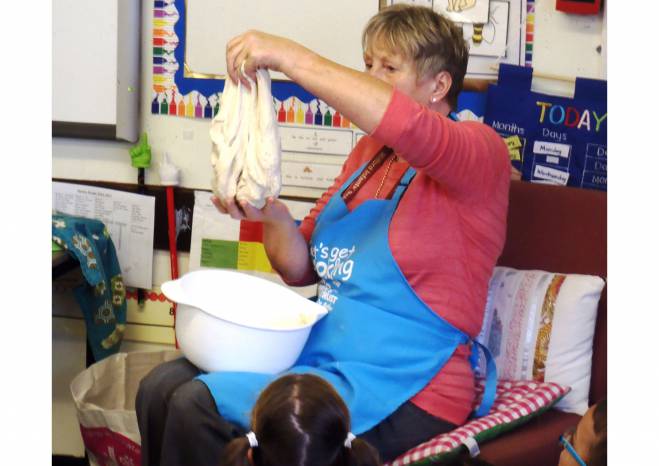 CHILDREN and staff at Milford Infants' School in Yeovil have been celebrating the autumn festival of harvest – with the help of Great British Bake Off TV show contestant Val Stones.
As part of the school's celebrations they took part in Farm Africa's campaign to "Give Hunger the Boot" by holding a Welly Walk.
Farm Africa has been asking schools to register the miles walked by the children in a bid to walk 16,000 miles in total - the equivalent of walking all the way around Africa.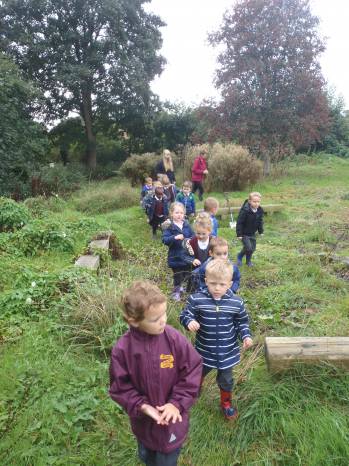 The children and adults walked around the school grounds looking out for animals and plants found in Africa. Adding up the distance walked by each child and adult, as a school they walked 89 miles and so far have raised £205 to support families and farmers in Africa.
PHOTO – TOP: Great British Bake Off star Val Stones at Milford Infants School making some dough.
PHOTO – RIGHT: Children on their Welly Walk for East Africa's Give Hunger the Boot campaign.
Each year during Harvest Week at Milford Infants' the children learn about the significance of crops grown and, in particular, bread loaves to harvest celebrations.
A school spokesman said: "This year we were very excited and lucky to have some extra help with our baking from Great British Bake Off star Val Stones.
"Val very kindly demonstrated the best way to make and shape dough as well as showing the children some of her dough creations from her time in the Bake Off. The school smelt lovely for a few days whilst each class made, shaped and baked their own bread creations."
Val, herself a retired school teacher, entertained audiences on the ever-popular Great British Bake Off until she got eliminated from the show a couple of weeks ago.
PHOTOS: Courtesy of Milford Infants' School.
Tags:
Schools and Colleges.