YEOVIL NEWS: Crazy golf centre coming to a refreshed Yeovil?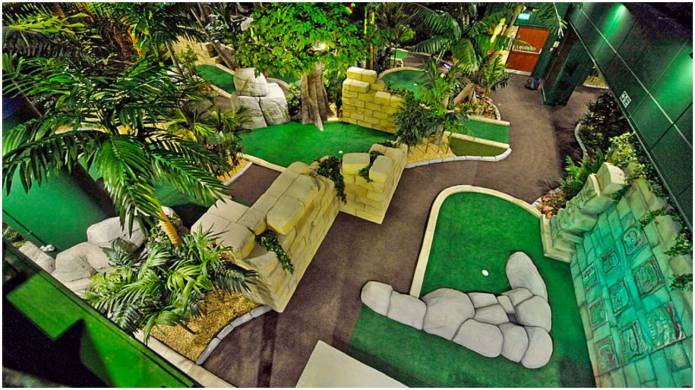 AN INDOOR crazy golf centre could be part of new leisure facilities to be created in the town centre as part of the Yeovil Refresh project.
Ian Timms, the Yeovil Refresh project manager for South Somerset District Council, spoke with members of the Yeovil Chamber of Commerce on July 8 at a business leaders breakfast briefing held on the Zoom conferencing technology.
Mr Timms said that Yeovil Refresh was aimed at making the town a more pleasant environment and explained that the plans included concentrating retail in the top half of town and leisure outlets in the bottom half of the town.
He explained that the Old Cattle Market, Glovers Walk and some of the council-owned car parks were key sites for development.
Mr Timms said that included in the plans were "health facilities, hotels, 500-plus residential properties, leisure activities you see in other places such as indoor crazy golf, more cinema screens, work space, a little bit of retail and food and beverage opportunities."
During his presentation he said that a new junction could be introduced onto the Reckleford dual-carriageway as part of the scheme in the years ahead.
Plans to make the town centre look more visually attractive should be completed by 2023 and follow a schedule of Westminster Street, The Triangle and Wine Street, Middle Street back towards The Borough, The Borough and High Street, Lower Middle Street and Wyndham Street.
Mr Timms said it was envisaged The Triangle area would become something similar to Brewery Square in Dorchester.
He said the plans to kick-off the multi-million-pound project in Westminster Street had been delayed by a "slight hitch" because of a sewer.
More news available in the August edition of the Yeovil Press community newspaper - available now in various outlets in the town including the Tesco Extra store, Morrisons store, No5 Cafe Diner on the Lynx Trading Estate, Iceland store in the Quedam Shopping Centre, and Palmers Garden Centre.
PHOTO: An example of an indoor crazy golf course facility – perhaps something like this might open in the town centre as part of the Yeovil Refresh project?
Tags:
News.