YEOVIL NEWS: Volunteers wanted to support Westfield Community Garden in Yeovil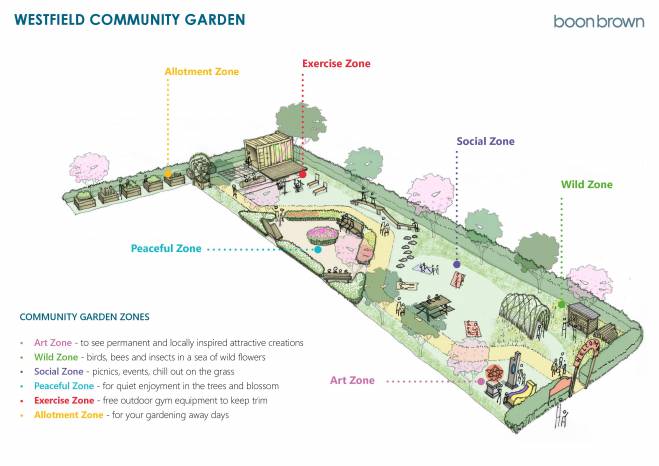 THE new Westfield Community Garden in Yeovil - due to open this summer - is looking for volunteers to support work in the coming months, and help maintain the garden in the future.
From muddy boots activities to help with social media and creating wildlife homes, there will be a role for everyone.
Work is well underway to transform the once derelict site in Stiby Road on the Westfield estate into a calm, inviting oasis for local residents to enjoy.
The garden will contain:
A Wildlife Zone, featuring wildflowers in a sea of colours, insects and birds, with birdhouse, bee and insect hotel.
An Art Zone, with locally made creations to enhance the attractiveness of the environment.
A Social Zone, an area for picnics, for chilling out on the grass, summer fetes and outdoor events.
An Allotment Zone for growing fruit and veg.
An Exercise Zone, with outdoor gym equipment.
A Peaceful Zone, for reflection, and with seasonal blossom to make the heart sing.
The garden project is being led by the Westfield Community Association supported by government and council grants, Abri, and lots of local organisations including: Jones Building Group, Spark Somerset, YMCA, South Somerset District Council, Wessex Water, Bradfords, Westfield Academy, Creation Generation, Ryalls Park Medical Centre, Westfield Co-op, St Peter's Community Centre, and Yeovil College.
The aim for the garden is to become a place where people of all abilities and backgrounds can come together, promote health and wellbeing, and sustainability.
Sophie Clark, community development officer at Abri, said: "We're proud to support this project, as part of our five-year £15m investment to create thriving communities and empower lives, making sure we're driving change where it's needed most."
If you're interested in getting involved, sign up on the Spark a Change website here - https://bit.ly/3cedO5V .
Join the Westfield Community Association Facebook page to follow the progress of the garden and find out more. You can also email communitygarden.westfield@gmail.com.
The Westfield Community Garden sits next to the Co-op store in Stiby Road – an outlet for the monthly Yeovil Press community newspaper.
Tags:
News.