YEOVIL HISTORY FILES Part 11: When Yeovil fans watched the Blue Brazil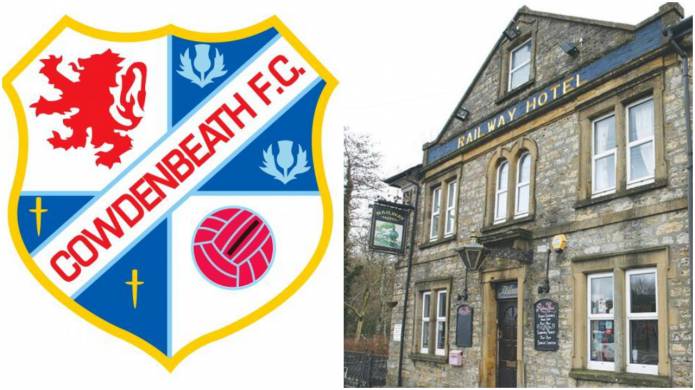 IT is now nearly 30 years since a coach-load of people from the Railway Hotel pub in Yeovil made a bizarre 460-mile trip north to watch Scottish football side Cowdenbeath in action.
The trip could have been described as "slightly weird" or "somewhat crazy" – but it was certainly memorable nevertheless for all those who made that long trek to Scotland including Yeovil Press editor Steve Sowden.
It was over the weekend of April 25-26, 1992, that the group from Yeovil were made to feel most welcome in Cowdenbeath, a town about 18 miles north of Edinburgh, and today has a population of just under 17,000.
But why did the Yeovil party make that 920-mile round-trip to watch Cowdenbeath, a lowly Scottish League side, who have hardly set the football world alight with glory-strewn success?
It happened because of a passing comment made by the then landlord of the Railway Hotel, Alan Crowe, during a nightly conversation about football amongst his regulars.
"Local footballers used to come in every night and were always asking for the results of teams like Liverpool and Arsenal," said Alan at the time of the trip. "One day they started coming out with obscure ones and I said 'you'll be asking me next how Cowdenbeath got on!'
"Things snowballed after that and we decided to travel up from Somerset to Cowdenbeath to watch the last game of the season."
The coach set off from the Railway Hotel, which sits at the bottom of Hendford Hill in Yeovil, at midnight as the pub closed on the Friday night and travelled north.
By the time the dawn of Saturday had emerged, the Yeovil group was heading into Scotland.
And Steve, looking back on the trip, said: "With most of the group having had a few beers the night before, there were some pretty groggy blokes on the coach – I seem to remember one chap had staggered from the pub and stepped onto the coach with no idea of where he was going!
"Just outside of Cowdenbeath we pulled in and were met by a chap called Frank, who was from their club's supporters' group. He was very passionate about Cowdenbeath – who are nicknamed the Blue Brazil, tongue-in-cheek I am sure – and he gave us all blue and white scarves.
"We got into Cowdenbeath very early and were just wandering around aimlessly – we must have stuck out like sore thumbs because all the locals were saying 'hello' to us; they knew we were coming!"
And then it was onto the pub.
Steve continued: "The game is all a bit of a blur to be honest! Cowdenbeath won 3-1 and with it they were champions of the Scottish League Division Two.
"There was a big party afterwards where our Scottish hosts were very gracious – until we started a rendition of the well-known English rugby song Swing Low, Sweet Chariot!"
Steve added: "I'd only gone along after being roped-in by Nibs Montgomery, the landlord of my then local The Armoury, after he'd heard about the trip and a few of us went from there to make up the numbers.
"It was a long old way to go, but it was heck of a weekend! And, funnily enough, I've always looked out for Cowdenbeath's results ever since!"
PHOTO: Cowdenbeath FC in Scotland is 460 miles away from Yeovil Town FC, while the Railway Hotel at the bottom of Hendford Hill in Yeovil is just 2.59 miles from the Glovers' Huish Park stadium. That did not stop a bunch of pub-goers from making the long trip north for a Cowdenbeath match back in 1992.
Tags:
News.