YEOVIL NEWS: People still take notice of what's on a council notice board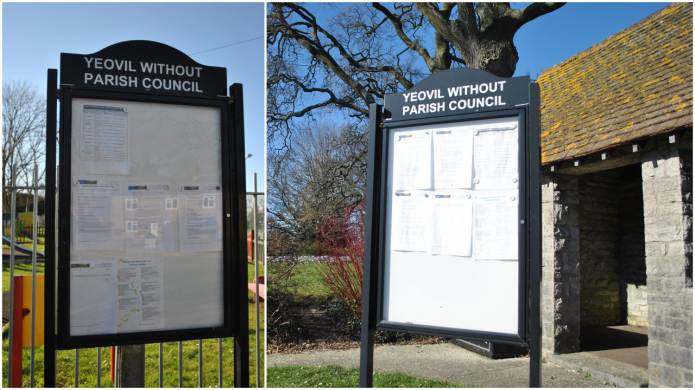 COUNCILLORS had mixed views on whether it was desperately needed during the ongoing Covid-19 pandemic to have parish notice boards regularly updated.
Some people might think that notice boards are an old-fashioned way of communicating, but they are nevertheless a good and cost-effective way of letting councils stay in touch with their parishioners.
But the question about notice boards being updated during a global pandemic certainly sparked a somewhat tempestuous debate at Yeovil Without Parish Council's meeting on February 17 which was held via the Zoom conferencing technology.
The council has seven notice boards located at Coronation Avenue, Greenwood Road, Mudford Road, Cavalier Way, Shackleton Road and Drake Road on the Wyndham Park estate and in Yeovil Marsh.
Cllr Mike Lock was concerned that the agenda for the monthly meeting of Yeovil Without Parish Council was not being pinned to notice boards and questioned clerk Dan Ledger why this was not happening.
"They should be on the notice boards," he told colleagues. "People in Yeovil Marsh are disappointed that they aren't."
He explained that internet access was not easily accessible in Yeovil Marsh, so people were not able to go online to look at the council's website and therefore relied on the parish notice board in the village.
But parish clerk Dan Ledger said that the current Covid-19 pandemic advice stated that people should avoid unnecessary trips out and that travelling round to various notice boards within the Yeovil Without parish could be deemed "unnecessary."
 Mr Ledger received support from Cllr Iris Coton who said that updating notice boards was not essential, while Cllr Margot Woodward suggested they could find willing volunteers to do the work.
Cllr Coton said: "The rules are that we are not supposed to leave our homes unless it is urgent. I don't think the parish notice boards really fit into category."
Cllr Jamie Lock said: "Why don't we put a notice up saying that if anyone wanted a council agenda each month to let us know and we could send it to them."
Cllr Graham Oakes, who chaired the meeting in the absence of Cllr Pauline Lock, said it was an "excellent idea."
It was suggested by Cllr Sharon Hackett that the council should also look at increasing its presence on social media in a bid to try and engage with more people.
Cllr Oakes had earlier said that he was frustrated that the parish council often had "big debates about little things."
Ironically, the heated discussion about notice boards came just moments after Cllr Oakes had said he hoped the meeting would proceed in a dignified manner unlike the recent well-documented goings-on at Handforth Parish Council which had gone viral via YouTube.
Yeovil Press editor Steve Sowden, who covered Yeovil Without's meeting on February 17, later quipped: "I think it would have been advantageous had the much-celebrated Jackie Weaver of Handforth fame been in attendance to have offered some advice on notice boards."
PHOTOS – TOP: Yeovil Without Parish Council's notice board in Coronation Avenue, Yeovil, at the entrance to Johnson Park (left). Yeovil Without Parish Council's notice board at the top of Mudford Road in Yeovil (right). Photos: Steve Sowden.
More local news can be found in the March 2021 edition of the Yeovil Press community newspaper which can be picked-up for free from various outlets in Yeovil such as the Tesco Extra store, Morrisons, No5 Cafe Diner on the Lynx Trading Estate, the Iceland store in the Quedam Shopping Centre and also at Palmers Garden Centre.
Tags:
News.