YEOVIL NEWS: It's a bendy tree that will bend in the wind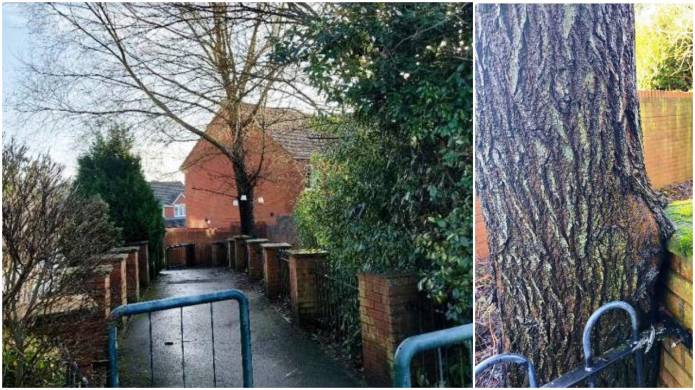 COUNCILLORS are going to ask David Wilson Homes to see what can be done about a willow tree which is feared could become a problem on the Abbey Manor estate in Yeovil.
The willow stands in a small pocket of land which the developer has retained ownership of next to a footpath leading from Elmleigh and comes out by a pedestrian crossing to the entrance of the Oak Tree Park on the main Stourton Way.
But the tree is getting bigger and the roots are growing and it is pushing into a stone pillar which lines the footpath.
Cllr David Staddon, speaking at Brympton Parish Council's monthly meeting on February 24 via the Zoom conferencing technology, said: "I regularly use this footpath and it's getting worse – it's becoming a threat to nearby houses.
"It's a problem that will affect people sooner or later – it's an accident waiting to happen."
Cllr Steven Attrill, who said he was "loathed" to remove a tree, told councillors: "But this is what trees do – they grow!"
He said that as the tree was there before the path and the housing then it should stay, but added that if it was becoming a "hazard" then it should be looked at by an expert.
And Cllr Peter Seib tried to get away from the idea that the tree was becoming dangerous.
"It's a tree that will bend in the wind," he said. "It's a bendy tree! You won't see limbs falling off it."
Council chairman, Cllr Keith Weston, said a letter should be written to David Wilson Homes asking them to look at the situation.
More local news can be found in the March 2021 edition of the Yeovil Press community newspaper which can be picked-up for free from various outlets in Yeovil such as the Tesco Extra store, Morrisons, No5 Cafe Diner on the Lynx Trading Estate, the Iceland store in the Quedam Shopping Centre and also at Palmers Garden Centre.
Tags:
News.