YEOVIL NEWS: Farewell to the life and soul of the party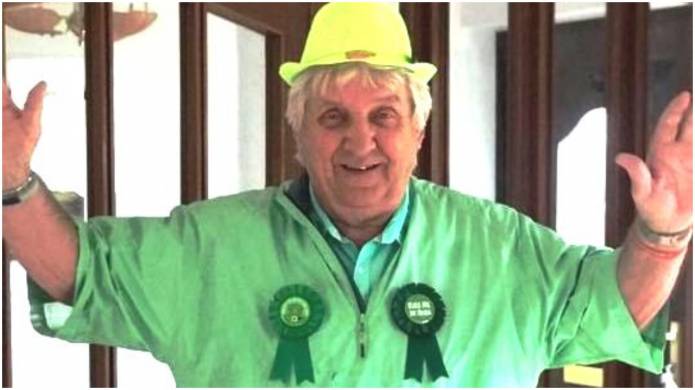 TRIBUTES have poured in for well-known Yeovil comedian Jimmy Quinn who died last month after a bravely fought battle with dementia.
Jimmy passed away at the age of 75 on February 23 at a Taunton nursing home less than three years after he was first diagnosed with the illness.
He had spent many years in the Royal Navy and had served in the Falklands War of 1982 and later spent time running a comedy bar in Tenerife.
But back home in Yeovil he had loved his football and was a regular at Yeovil Town Football Club and provided entertainment for many a social event, while he was often found out on the golf course.
Jimmy was married to Jan and they had two children Natalie and Darren.
Natalie said that it had been a very difficult time because the Covid-19 restrictions had meant that visiting her dad had not been allowed.
"We as a family have taken huge comfort from all the messages of sympathy we have received from so many people and the comments we've seen written on social media about dad just goes to show how well loved he was and that he had left a lasting memory on them," she said.
"He will be so greatly missed by so many people and it was so sad seeing him with dementia because he had always been the life and soul of the party, always cracking jokes and making people laugh."
The funeral for Jimmy will be held on Thursday, March 18, at 1.20pm at Yeovil Crematorium, but with limited numbers on people who can attend due to the Covid-19 restrictions.
The funeral cortege will pass Jimmy's old house at The Cleeve on Abbey Manor in Yeovil at around 12.40pm and then up to Western Avenue and on to Yeovil Town Football Club's Huish Park stadium at 12.50pm where people can pay their respects.
The cortege will then head to the Airfield Tavern for around 1pm where the family will walk on foot behind the hearse with a lone bagpiper leading the way to the crematorium for the service.
Natalie said that when restrictions allow an event will be held to celebrate her dad's life.
A wonderful tribute came from Yeovil Town FC who said that Jimmy had been "club's resident comedian and a recognisable face to all around Huish Park."
"During our 2013 League One play-off campaign, Jimmy recorded our official song with players and staff," said a club statement.
Assistant team manager Terry Skiverton, who knew Jimmy well, said: "I'll always have great memories after winning trophies and championships; Jimmy would be holding court, hosting the after parties and always being the life and soul of them. 
"Jimmy was always taking the mickey out of all the players and staff, all-in good-natured fun and lifting the spirits of all around him.
"Jimmy is embedded into not just the football club, but the town itself, by all he is known as a family man who gave his life to putting a smile on the face of others, he will be truly missed by all."
PHOTO: Jimmy Quinn who died last month at the age of 75. Photo courtesy of Natalie Quinn.
MORE news available in the March 2021 edition of the Yeovil Press community newspaper – available now for free from various outlets in Yeovil including the Tesco Extra store, Morrisons store, Iceland store in the Quedam Shopping Centre, and the No5 Cafe Diner on the Lynx Trading Estate.
Tags:
News.