YEOVIL NEWS: Human waste compost toilet go-ahead for allotment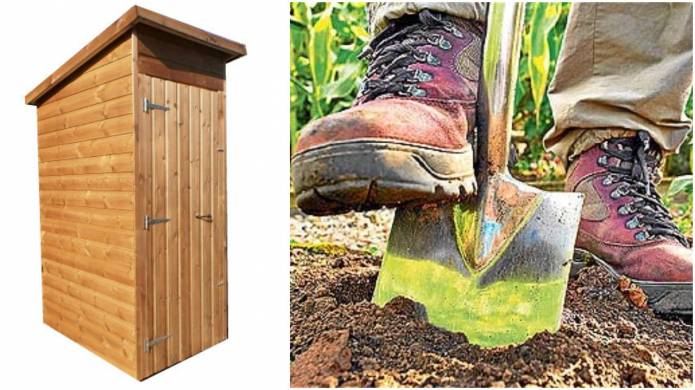 THERE are fears that the "floodgates could open" now that Yeovil Town Council has agreed for a human waste compost toilet be installed at an allotment site.
A composting toilet is a type of "dry toilet" that treats human waste by a biological process that turns it into compost-like material.
Instead of flushing the toilet people leave a layer of sawdust on the top after each use. Once the container is full with waste it takes up to two years to decompose and produces a humus-like product that can then be used to enrich soil.
The council's grounds and general maintenance committee gave the go-ahead on January 11 for a "compost toilet" to be sited on the Newtown allotment plot for use by members of the Vanessa Project gardening group.
The charity has rented an allotment plot at Newtown for the past 12 years and its keen gardeners meet there once a week throughout the year.
But the group's Faye Shorley, who works for the Mind in Somerset mental health charity, told councillors via the Zoom conferencing technology that a toilet was desperately needed.
"Since Covid-19 has hit we have been unable to access toilet provision in the halls we have previously rented and all our other support services are currently running remotely," she said. "But the Vanessa gardening project is an outdoor support group which Government guidelines strongly promote the importance of.
"With all the uncertainties and challenges Covid-19 is producing there is emphasis on how necessary groups like the Vanessa Project are. In order for me to successfully run these sessions toilet access is the fundamental priority."
Faye told councillors that "people need a toilet as it was human nature" and that she had seen some allotment-users weeing in the bushes after getting caught short.
"I am aware that other allotment sites within Somerset have successfully installed efficient compost toilets," she added.
Councillors were supportive of the proposal, although they did have some reservations.
The Mayor, Cllr David Recardo, said: "I do support this, but I do wonder whether it will just open the floodgates for the rest of the allotments?"
And Cllr Pauline Lock said: "This will be opening the floodgates. It is a good idea, but I'm wrestling with the implications of it."
Committee chairman, Cllr Andy Kendall, said: "If it causes problems we can just have it taken away."
Cllr Andrew Soughton added: "I can't see a problem with it. If it becomes a problem it can be removed; this to me is a no-brainer!"
Town clerk Amanda Card confirmed that the "onus will be on the allotment-holder to look after it."
Councillors agreed to give the Vanessa Project the go-ahead to install the compost toilet, but said the situation would be monitored.
More news is available in the February 2021 edition of the Yeovil Press community newspaper which is available to be picked-up for FREE from various outlets in and around Yeovil including the Tesco Extra store, Morrisons store, No5 Cafe Diner on the Lynx Trading Estate, Palmers Garden Centre, West Coker Garage, the Iceland store in the Quedam Shopping Centre, and the Montacute Garage.
PHOTO: Not your typical garden shed ... it's a compost toilet for allotment-holders.
Tags:
News.