YEOVIL NEWS: The January 2021 edition of Yeovil Press is OUT NOW!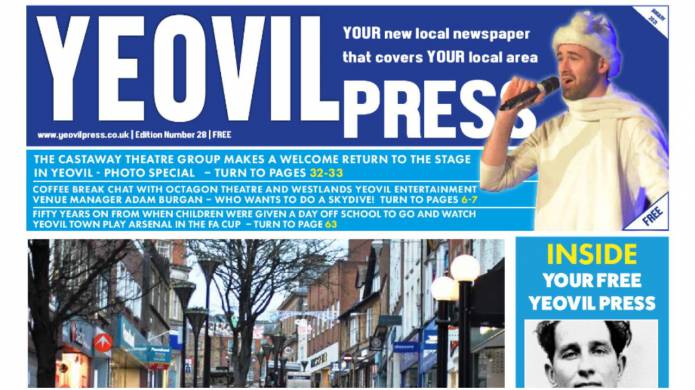 THE January 2021 edition of the Yeovil Press community newspaper is OUT NOW and available for people to pick-up for FREE from various outlets in and around the town.
The 72-page paper is packed with LOCAL NEWS, SPORT and FEATURES and is completely FREE for people to enjoy.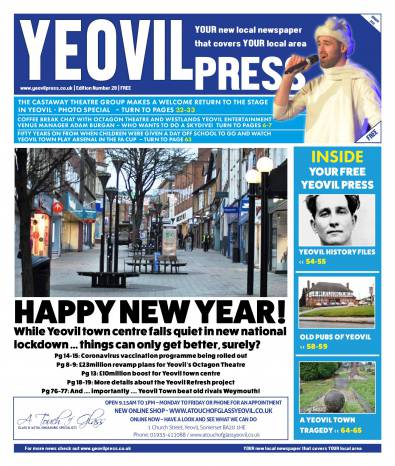 Included in this month's edition are the usual monthly features such as Around the Town, School Reunion, My Top Ten, Flashback, Down Memory Lane and Old Pubs of Yeovil.
But there is also the start of a new feature entitled Yeovil History Files – stories about the town's past, people and places.
There are photo features from the Castaway Theatre Group and the Helen Laxton School of Dance, while we also take a look back to 1971 when Yeovil Town played Arsenal in the Third Round of the FA Cup at Huish.
There is also an interesting feature in the monthly Glovers Glory section where we remember Ernest Hyman who died as a result of an injury he sustained as a player for Yeovil Town in a game against Taunton back on Boxing 1926.
We also take a look at the planned £23m revamp of the Octagon Theatre in Yeovil, more detailed plans involved in the Yeovil Refresh project, while one Coronation Street fan from Yeovil had a surprise phone call from the actor who played evil Pat Phelan in the long-running drama series.
And, not forgetting, some memories of the Carry On films from local fans and tributes from local people who met the late Dame Barbara Windsor.
The Yeovil Press is literally packed with LOCAL NEWS, SPORT and FEATURES and is completely FREE for people to pick-up.
The Yeovil Press is available this month in Yeovil from the following outlets: Tesco Extra; Tesco Express on Abbey Manor and Cavalier Way; Morrisons supermarket store on Lysander Road; the Co-op store on Stiby Road; the Co-op Garage on Sherborne Road; the community shop along West Coker Road; Palmers Garden Centre; the Iceland store in the Quedam Shopping Centre; the No5 Cafe Diner on the Lynx Trading Estate. It is also available from the Montacute Service Station at Montacute; the Co-op store in Stoke-sub-Hamdon opposite Stanchester Academy; and also at the West Coker Garage in West Coker.
Tags:
News.