YEOVIL NEWS: Council looks to fund defibrillators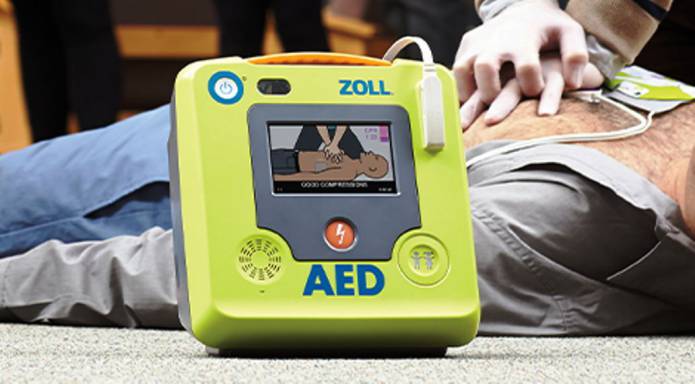 YEOVIL Town Council has agreed in principle to put £9,000 into its budget for 2021-22 to buy four potentially lifesaving defibrillators and have them installed at various locations in the town.
Members of the council's policy, resources and finance committee met on November 24 – via the Zoom conferencing technology – and agreed that this project should be backed up with supporting funding via grants and sponsorship from businesses in the area.
The item will be discussed in detail at a future meeting of the building and civic matters committee.
A defibrillator can be used in the event of somebody having a heart attack and could literally mean the difference between life and death.
The equipment is housed in an eye-catching tamper proof security box.  Crucially, the defibrillator fitted is a speaking-instructional device meaning no medical training is required to use it.
In the event of an emergency, people should call 999 and the emergency call handler will advise of the defibrillator's location - if the caller is not already aware of it. The call handler will then provide a code to access the equipment from its cabinet at the same time as they dispatch an ambulance. The call handler and the device then talk the user through what to do.
More LOCAL NEWS is available in the December 2020 edition of the Yeovil Press community newspaper which is available from the main Tesco Extra store in Yeovil town centre; Tesco Express stores on Abbey Manor and Cavalier Way in Yeovil; Morrisons supermarket store on Lysander Road, Yeovil; Iceland store in the Quedam Shopping Centre, Yeovil; Westlands Yeovil entertainment venue in Yeovil; Yeovil Library in King George Street, Yeovil; Palmer Garden Centre, Yeovil; and other outlets - the Co-op store on Stiby Road, Yeovil; the No5 Cafe Diner on the Lynx Trading Estate, Yeovil; the Co-op Garage Store on Sherborne Road, Yeovil; the shop along West Coker Road, Yeovil; West Coker Garage, West Coker; Montacute Service Station, Montacute; and the Co-op store in Stoke-sub-Hamdon, opposite Stanchester Academy.
Tags:
News.