YEOVIL NEWS: Entries needed for the Pittards Poppy Trophy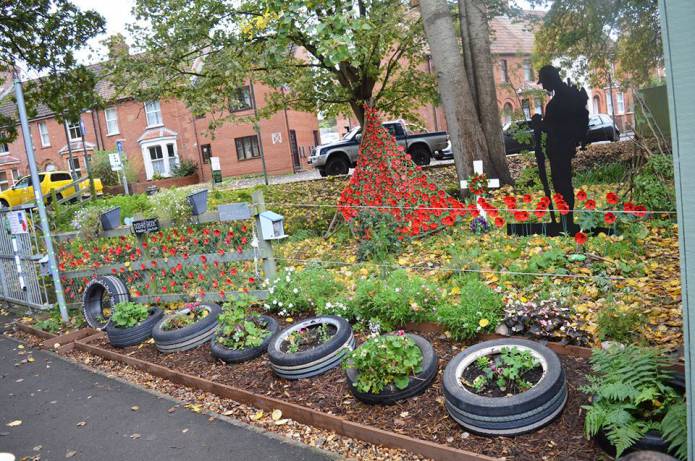 ENTRIES are wanted for the annual Pittards Poppy Trophy which is held each year to find the best Poppy Day display in and around the Yeovil area.
The competition is organised by the Yeovil branch of the Royal British Legion and the display can take any form and is left entirely to the discretion of those making the display. The trophy – sponsored by Yeovil firm Pittards - is retained for 11 months by the winners.  
Judging for the event will take place during the week commencing Monday, November 2, through to Friday, November 6.
Any business, school or private individuals who fall within the Yeovil branch of the Royal British Legion's area of responsibility can take part. The branch area covers Brympton, Chilthorne Domer, Chilton Cantelo and Ashington, East Chinnock, Ilchester, Limington, Marston Magna, Mudford, Queen Camel, Rimpton, Sparkford, Stoke Sub Hamdon, Tintinhull, Yeovil, Yeovil Without and Yeovilton and everyone is eligible and welcome to enter this annual event.
If you would like to enter this free competition, then please either contact the Yeovil branch of the Royal British Legion on its Facebook page [Yeovil RBL) or by email direct to Peter Forrester at peterf707@aol.com .
Last year's winner of the Pittards Poppy Trophy was Brookie Bridge Community Gardening Project organised by the residents of the Seaton Road area in Yeovil.
The aim of the project is to transform, improve and enhance the area around Brookie Bridge at Dodham Brook in West Street, off Huish, for the enjoyment of people who use the footpaths and, in doing so, create a haven for wildlife.
The project's Remembrance display was beautifully poignant and a worthy winner of the Pittards Poppy Award.
The area was well-known as having eight adjoining Air Raid shelters built during the Second World War which could have accommodated just under 100 people. They remained there at the Brookie for many years after the war, but have since been removed.
More news can be found in the October edition of the FREE Yeovil Press newspaper which is available from a number of outlets in and around the town including the main Tesco store, Morrisons, Yeovil Library, Palmers Garden Centre, the Iceland store in the Quedam, and the Westlands Yeovil entertainment venue.
PHOTO – TOP: The Brookie Bridge Community Gardening Project which won last year's Pittads Poppy Trophy.
Tags:
News.