YEOVIL NEWS: Doing nothing to honour our war dead is not an option says Mayor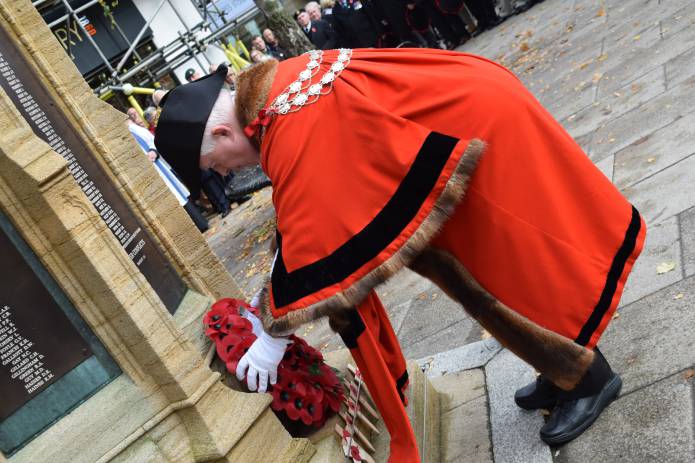 THE Mayor of Yeovil, Cllr David Recardo, has said that it would be disrespectful to the memory of those who have died in conflict if nothing was done to mark this year's Remembrance Sunday.
Yeovil Town Council has taken the decision not to be involved with the usual ceremonial aspect of the Remembrance Sunday at the War Memorial in The Borough – this year set for Sunday, November 8 - because of the ongoing restrictions brought about by the Covid-19 situation and mass gatherings.
But it will be holding a "virtual" ceremony that the council can show its respects to the war dead.
The Mayor, speaking to the council's buildings and civic matters committee on September 22 via the Zoom conferencing technology, said: "It would be disrespectful if we didn't do something. We can still be laying a wreath, but unannounced and avoid a mass gathering.
"I think the public would criticise us if we didn't do something. Doing nothing is not an option."
The Remembrance Sunday commemorations in Yeovil normally see hundreds of people gather around the War Memorial to show their respects while there is also a parade of service personnel, veterans, youth organisations and a marching band; while there is also the wreath-laying ceremony and two-minute silence.
But the council knew only too well that taking on the responsibility of organising any such ceremony this year would be a serious risk of breaking the Covid-19 restrictions.
Town clerk Amanda Card told councillors that they could not control large numbers of people from gathering or keep any sort of social distancing.
 "We know from experience that people will turn up in numbers on Remembrance Sunday," she said.
"But we can't be held responsible for a mass gathering. We could have 100s of people there and I wouldn't really want to take the responsibility for that.
"Any organisation looking to organise an event which could entice people to social gather is illegal."
Cllr Andy Kendall, himself a member of the Yeovil branch of the Royal British Legion, said that people would still gather at the War Memorial on Remembrance Sunday.
"We aren't going to be able to stop the public from coming down the road and attending," he said.
But Cllr Terry Ledlie said: "We have got to be responsible and stay safe."
Cllr Tony Lock said: "It's a risk and we cannot ignore the risk. You can't control the risk because you can't control the number of people gathering."
And Cllr David Gubbins said: "I hate to say it, but I don't think this should go-ahead this year."
The Yeovil branch of the Royal British Legion has also asked people to be sensible on Remembrance Sunday. See story here - http://www.yeovilpress.co.uk/blog/2020/10/11/yeovil-news-british-legion-urges-people-to-stay-away-from-war-memorial-on-remembrance-sunday/ .
Yeovil Town Council's virtual ceremony – see story here: http://www.yeovilpress.co.uk/blog/2020/09/30/yeovil-news-council-to-hold-virtual-remembrance-sunday-event/ .
More news can be found in the October edition of the FREE Yeovil Press newspaper which is available from a number of outlets in and around the town including the main Tesco store, Morrisons, Yeovil Library, Palmers Garden Centre, the Iceland store in the Quedam, and the Westlands Yeovil entertainment venue.
PHOTO: The Mayor of Yeovil, Cllr David Recardo, is pictured laying a wreath at the War Memorial during the Remembrance Sunday commemorations in 2019. Photo - Christine Jones, of Yeovil Press.
Tags:
News.