YEOVIL NEWS: Snakebyte & Cider will be back in 2019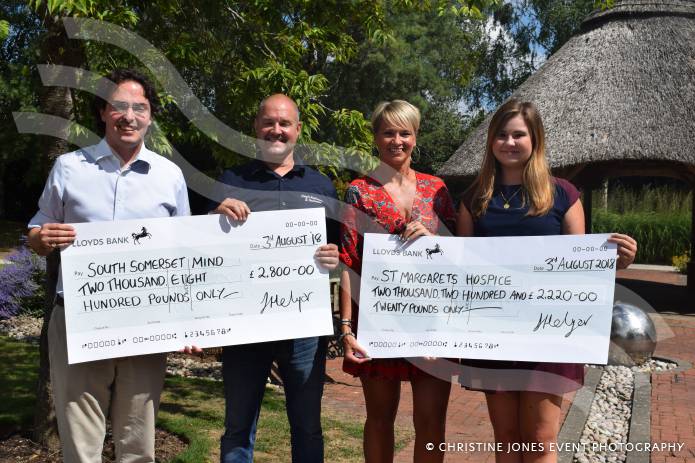 ORGANISERS of a charity night at the Quicksilver Mail pub in Yeovil have handed over a whopping £5,020 to two deserving charities.
A total of £2,800 was presented to the South Somerset Mind organisation and a further £2,220 to St Margaret's Somerset Hospice.
The money was raised during a Snakebyte and Cider event at the pub at the top of Hendford Hill where party-goers danced and drank the night away with popular local band Snakebyte along with other singers Dan King and Jack Humphries.
Organiser Jane Helyar still cannot quite believe how successful the event was on June 15 – considering she admitted she had come up with the idea while nursing a hangover!
She would once again like to thank everyone who helped to make the event such a success which was enhanced with generous match funding from Lloyds Bank.
And buoyed by the success of Snakebyte and Cider 2018 – Jane is already planning ahead for next year and raising more money for charity.
A Silent Disco is being planned to be held on March 23, 2019, while a second Snakebyte and Cider event will go-ahead in September 2019.
Already Jane has said she has got three bands lined-up to perform at next year's Snakebyte and Cider event and it sounds as if it is going to bigger and better than her first gig.
South Somerset MIND and St Margaret's Somerset Hospice would like to thank Jane and her team of helpers for doing such a good job and everyone who supported the event.
More "positive news" from the Yeovil area can be found in the September edition of the Yeovil Press - Community Newspaper. Out now for FREE from outlets in and around Yeovil.
PHOTO: Jane Helyar and her husband Ashley (centre) present cheques to representatives of St Margaret's Somerset Hospice and South Somerset Mind. Photo: Christine Jones.
Tags:
News.