YEOVIL NEWS: Funtasia fantastic for local charities
PROCEEDS from the 2018 Funtasia Charity Ball – which was held at the Fleet Air Arm Museum at RNAS Yeovilton – have been given out to charities.
A whopping £16,000 has been distributed by ball organisers, Russell and Louise Lee, and they would like to thank everyone once again for their continued support – event sponsors, supporters, those who had donated prizes and everyone who had bought tickets.
The School in a Bag charity has received a £1,000 donation, while a similar amount has been given to the diabetes group at Yeovil District Hospital.
A super £7,000 has been presented to St Margaret's Somerset Hospice and a further £7,000 has been given to the Time is Precious charity which will be used on the Rainbow Room at Yeovil District Hospital.
"Thank you to everyone that continues to support us in making a difference locally," said Russell and Louise.
The 11th charity ball organised by Yeovil-based Funtasia Entertainment Ltd was held in May and more than 300 people dined and danced under Concorde.
Each year the ball looks to raise as much money as it can to support St Margaret's Somerset Hospice and one other main local charity with the 2018 beneficiary being Time is Precious.
There was an auction, fun casino, raffle, silent auction, tombola, photo booth and other attractions including a Grab a Grand Tank and a super-yummy Bailey's Fountain, while there was live music with Fairplay.
The previous ten Funtasia Balls had raised a whopping £119,000 for charity.
More "positive news" from the Yeovil area can be found in the September edition of the Yeovil Press - Community Newspaper. Out now for FREE from outlets in and around Yeovil.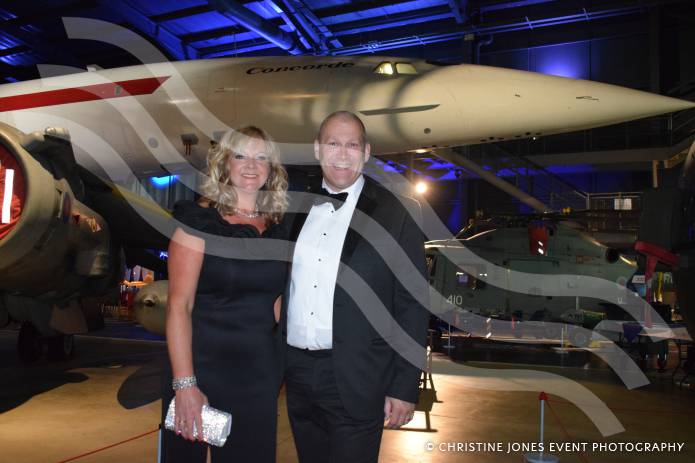 PHOTO: Russell and Louise Lee at this year's Funtasia Charity Ball. Photo: Christine Jones.
Tags:
News.