YEOVIL NEWS: Community ranger aims to increase dementia awareness in Yeovil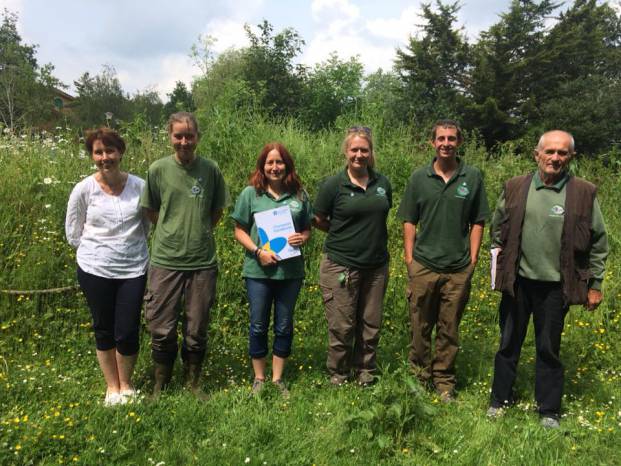 A CAMPAIGN to tackle the stigma and lack of understanding around dementia has got the support of South Somerset District Council and its countryside team.
Becky Russell, a community ranger for South Somerset District Council's Yeovil Country Park, is running a free Dementia Friends information session on World Alzheimer's Day, Friday, September 21, and is looking for local people to come along.
Alzheimer's Society's Dementia Friends programme is the biggest ever initiative to change people's perceptions of dementia. It aims to transform the way the nation thinks, talks and acts about the condition.
Dementia Friends is about learning more about dementia and the small ways you can help. From telling friends about the Dementia Friends programme to visiting someone you know living with dementia, every action counts. There are currently 850,000 people living with the condition in England.
The Dementia Friends information session will take place at Ninesprings Cafe at 2pm. Anyone wanting to attend the Dementia Friends session should contact Becky Russell at South Somerset District Council on 01935-462462 or email countryside@southsomerset.gov.uk or book online at www.dementiafriends.org.uk. Booking is essential.
Becky said: "I signed up to be a Dementia Friends Champion because I want to help local people have a better understanding of those who are living with dementia in our local community.
"It's easy to get involved. I attended a training course, receive ongoing support and I'm now proud to be part of a growing network of people creating dementia friendly communities together.
"I have already delivered the awareness training to Countryside staff and our Ninesprings Café team to ensure that all the staff in our busy parks and cafes are aware of some the challenges facing people that suffer from dementia and can help make their days out be positive and welcoming experiences.
"I can see the value in the programme in my own workplace and hope that I can help roll that out to many more people."
Jo Malyon, Dementia Friends regional support officer at Alzheimer's Society, said: "Dementia touches the lives of millions of people across the country.
"Dementia Friends was launched to tackle the stigma and lack of understanding that means many people with the condition experience loneliness and social exclusion."
People can also get involved in Dementia Friends through an online video. Go to www.dementiafriends.org.uk to find out more.
More "positive news" from the Yeovil area can be found in the September edition of the Yeovil Press - Community Newspaper. Out now for FREE from outlets in and around Yeovil.
Tags:
News.