SOMERSET NEWS: Unicyclist Ed to begin USA leg of round-the-world journey by crossing the Golden Gate Bridge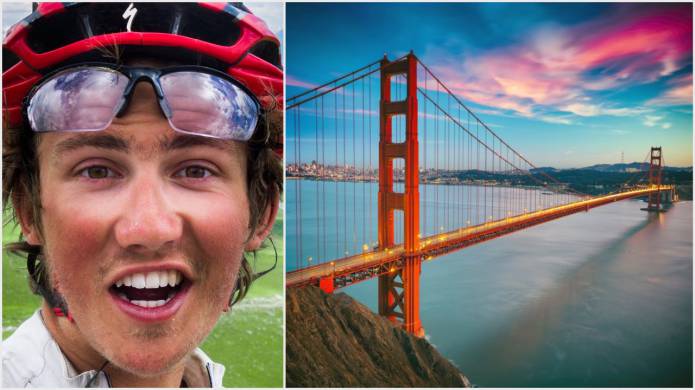 AMAZING Somerset unicyclist Ed Pratt starts the USA leg of his charity round-the-world adventure on one wheel by crossing one of the most iconic landmarks on the planet – the Golden Gate Bridge at San Francisco.
Ed will be setting off across the Golden Gate Bridge on Saturday (February 3, 2018) at 11am local time (7pm GMT) and is likely to be joined by lots of supporters and well-wishers.
After leaving San Francisco he will be riding down the coast before cutting off to Bakersfield and then onwards to Death Valley and Las Vegas.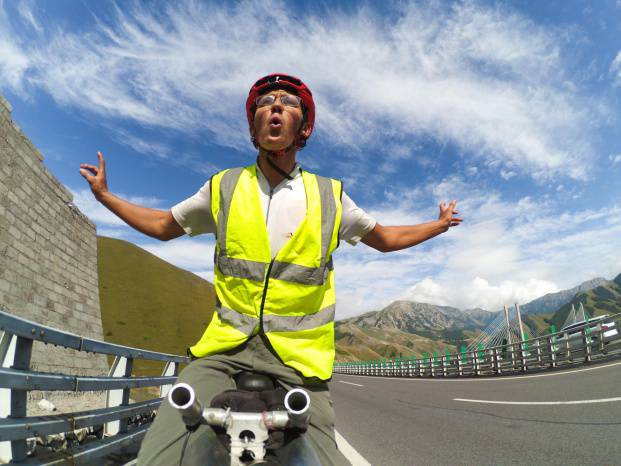 But Ed has admitted: "This first 1,000 miles to Las Vegas is honestly the only part I've really worked out. From Vegas it is pretty loose!"
Ed's epic 18,000-mile cycle ride is raising money for the School in a Bag initiative, based near Yeovil, and he is on course to become the first person to ever circumnavigate the globe on one wheel.
He has already conquered three continents on his trusty unicycle – Europe, Asia and Australasia – and is now all set for North America going from the west coast at San Francisco to the east coast and New York.
He will then return to Europe and make his way back home to Somerset in England where he will receive a triumphant welcome.
Ed originally set himself a target of raising £7,500, but he smashed through that and he would love to reach £18,000 which would equate to £1 for every one mile cycled and would be the equivalent of 900 SchoolBags.
To make a donation go to Ed's Virgin Money Giving online page at http://uk.virginmoneygiving.com/fundraiser-web/fundraiser/showFundraiserProfilePage.action?userUrl=WorldUnicycleTour .
His official website is at http://www.worldunicycletour.com or you can follow him on Facebook at https://www.facebook.com/MrEdPratt .
Ed hopes to be back in England in time for this year's Home Farm Festival at Chilthorne Domer, near Yeovil, which is planned for June 8-10, 2018, as it is the annual big money-raiser for the School in a Bag charity.
The School in a Bag charity is part of the Piers Simon Appeal which was launched following the death of former Preston School and Yeovil College student Piers in the 2004 Boxing Day Asian Tsunami.
Thousands of schoolbags - packed with everyday school equipment such as pens, pencils and paper - have been distributed to poor, starving and orphaned children around the globe.
It was back in March 2015 that Ed set off on his amazing trip-of-a-lifetime from England on his 36-inch Nimbus Oracle unicycle heading up the north coast of France to the Netherlands, then across Europe and through China before moving down through south-east Asia, Australia and New Zealand.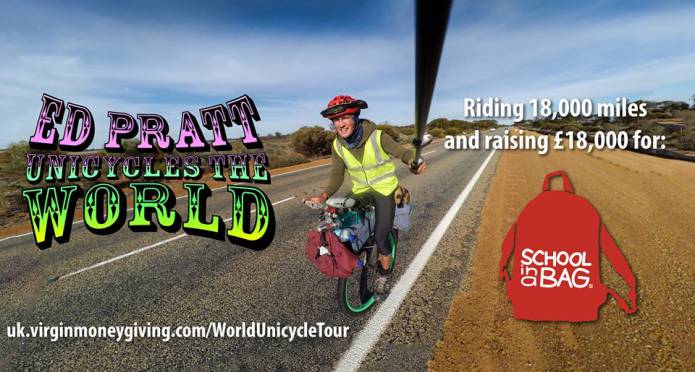 PHOTO - ABOVE: There has never been a journey quite like this one.
Tags:
News.