YEOVIL NEWS: Buskers hit the right note with School in a Bag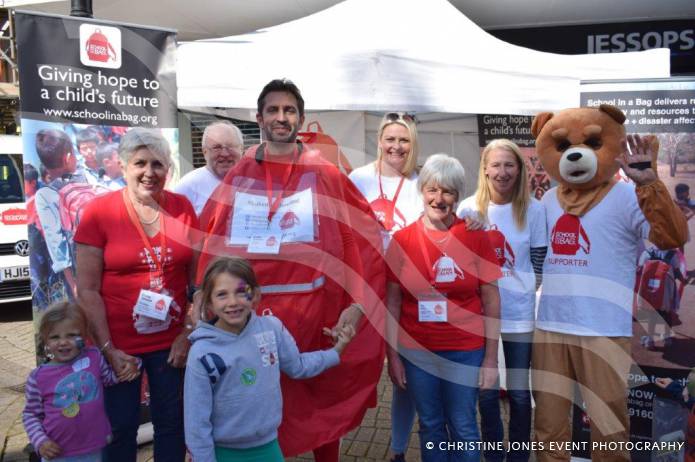 DONATIONS given to buskers who performed during the highly successful Super Saturday event in Yeovil will be presented to the School in a Bag charity.
Members of the SIAB charity, which is based at Chilthorne Domer near Yeovil, had a stand near the open air entertainment area at Lower Middle Street during the day on Saturday (September 23, 2017) and were delighted to tell passers-by more about the work of the initiative.
School in a Bag was launched as part of the Piers Simon Appeal which was first formed not long after the Boxing Day Asian Tsunami of 2004 which resulted in the deaths of tens of thousands of people including that of former Yeovil College student Piers Simon.
The initiative sees the SIAB team deliver rucksacks full of stationery, learning resources and eating utensils to poor, vulnerable and disaster-affected children around the globe.
The charity's chief executive Luke Simon was dressed for Super Saturday in his large distinctive schoolbag which he ran the Yeovil Half Marathon in earlier this year.
Also with the SIAB stand was the charity's very own cuddly mascot Camem Bear who was pleased to chat with younger visitors.
School in a Bag was selected by the organisers of Super Saturday as the "charity of the day" and collecting tins could be found at the various Busk Stops around town where musicians entertained the crowds.
Luke said: "Super Saturday was just simply a Super Saturday and we had great fun seeing what was going on and obviously getting the chance to promote over very own School in a Bag charity.
"Many thanks to the organisers of Super Saturday for choosing us as their chosen charity – we really do appreciate your support."
School in a Bag is one of the chosen charities of the year for Yeovil Mayor, Cllr Darren Shutler, along with St Margaret's Somerset Hospice.
PHOTO – TOP: The School in a Bag team with their stand at Super Saturday.
Tags:
News.