SOMERSET NEWS: Ed set off for School in a Bag's Home Farm Fest 2018 two years ago!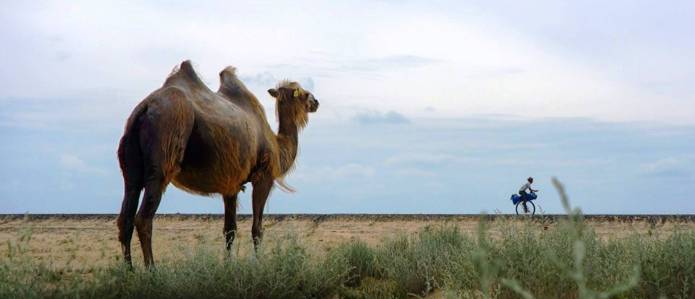 ONE person definitely planning on being at next year's charity Home Farm Fest will literally have travelled around the world to be at Chilthorne Domer.
Somerset lad Ed Pratt is currently on an 18,000-mile cycle ride – on a unicycle – and is on course to become the first person to ever circumnavigate the globe on one wheel.
And Ed, who was 6,500 miles away in Malaysia when we caught up with him via social media last month (May 2017), is raising money for the School in a Bag charity which is part of the Piers Simon Appeal which was launched following the death of former Preston School and Yeovil College student Piers in the 2004 Boxing Day Asian Tsunami.
The Home Farm Fest –held this year on June 9-11 – is the charity's biggest fundraiser of the year and Ed is looking forward to being there in 2018.
He has now completed two continents on one wheel – Europe and Asia – and will be heading for Australasia and North America before returning to Europe and a triumphant homecoming.
"I will have a bit of a rest in Kuala Lumpur before heading on to Australia, New Zealand, North America and a little bit of Europe before getting home," he said. "I guess it will take about a year, so I am hoping to make it to next year's Home Farm Fest!"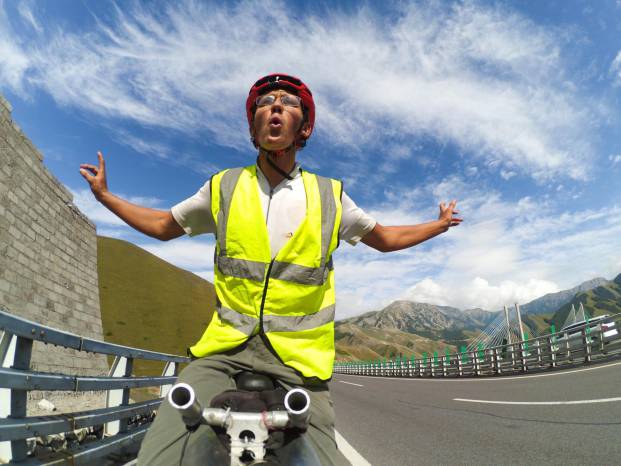 PHOTO – TOP: A camel takes an interest in unicyclist Ed Pratt.
PHOTO – RIGHT: Ed Pratt cycling through China.
It was back in March 2015 that Ed set off on his amazing trip-of-a-lifetime from Home Farm - albeit after a delayed start due to some egg sandwiches (that's another story!) - on his 36-inch Nimbus Oracle unicycle heading up the north coast of France to the Netherlands, then across Europe and through China before moving down through south-east Asia where he is at the time of writing.
His ride around Australia will see him visit Perth, Adelaide, Melbourne and Sydney before leaving for New Zealand.
From New Zealand he will need to fly to North America where he will get back on his unicycle and go across the USA from west coast to east via San Francisco, Los Angeles, Las Vegas, Denver, Kansas City, Nasvhille and New York before flying back to Europe and going across Portugal, up through Spain and France and then back on the ferry to England.
He has kept supporters informed of his amazing adventures via social media with a series of interesting and thought-provoking blogs, fantastic photos and amusing and hugely entertaining videos which show the wonders of the world and some of the colourful characters Ed has met along the way.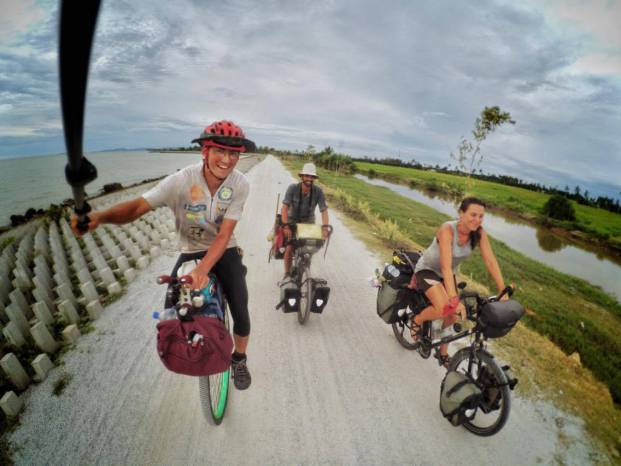 PHOTO – RIGHT:  Ed Pratt (left) with fellow cyclists Camille and Loic from France who he met last month (May 2017) while cycling in Malaysia.
But one question still remains……why? Why travel around the world on a unicycle?
"During my last year of Sixth Form I began to consider what I wanted to do next," said Ed. "I didn't feel university was right for me and I didn't fancy going straight into work.
"I wanted to see the world and, in my mind, the best way to do that is from the saddle of a unicycle."
Ed, who was first introduced to unicycling in 2012, said: "First and foremost, I love riding unicycles. It offers a great physical challenge, but also complete mental focus, because you know if you don't see a pot hole or bump in the road, that you're coming off. When you are unicycling, you are unicycling, that's it and I love that!
"Most of the appeal of the world ride comes from the fact that nobody has ever done it. To achieve the world first would be pretty special.
"I also enjoy meeting and interacting with new people on my journey and I've found that the unicycle, through the interest it creates, is a great way to do this."
Ed originally set himself a target of raising £7,500, but he smashed through that and is now nearing £10,000. But he would love to reach £18,000 which would equate to £1 for every one mile cycled and would be the equivalent of 900 SchoolBags.
To make a donation go to Ed's Virgin Money Giving online page at http://uk.virginmoneygiving.com/fundraiser-web/fundraiser/showFundraiserProfilePage.action?userUrl=WorldUnicycleTour .
His official website is at http://www.worldunicycletour.com or you can follow him on Facebook at https://www.facebook.com/MrEdPratt .
Next year's Home Farm Festival at Chilthorne Domer near Yeovil is planned for June 8-10, 2018.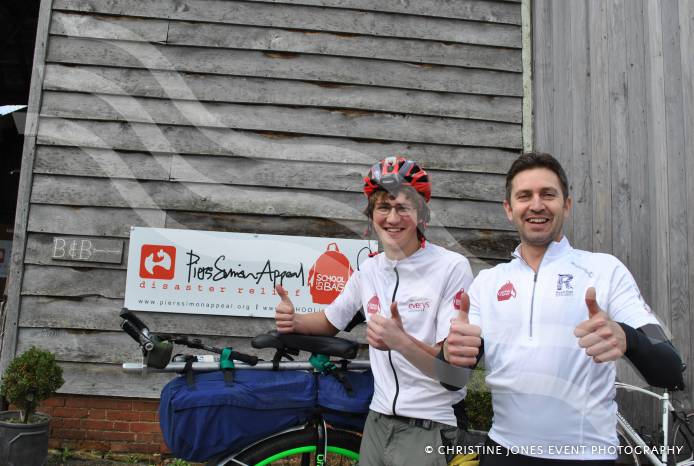 PHOTO - ABOVE: Thumbs up from Ed Pratt (left) and School in a Bag founder Luke Simon at Home Farm in March 2015 – just ahead of the start of Ed's 18,000 mile round-the-world unicycle adventure. Photo: Christine Jones.
NOTE: This story was adapted from an article which appeared in the Home Farm Fest Press newspaper which was distributed during this month's music festival at Chilthorne Domer. Anyone who would like a copy of the newspaper – please email yeovilpress@gmail.com .
Tags:
News.