YEOVIL NEWS: Preston School to close early for staff and students to attend funeral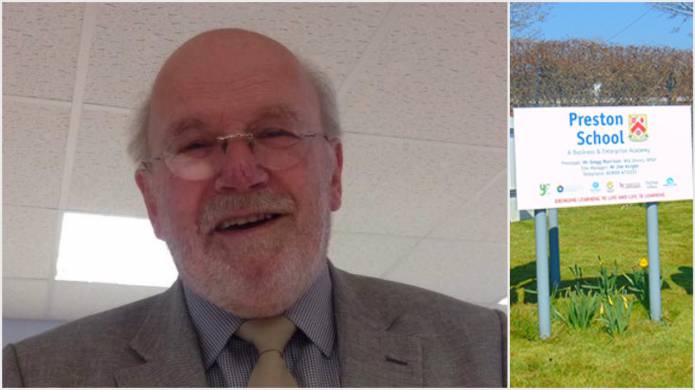 PRESTON School in Yeovil will be closing early later this month as a mark of respect for teacher Jeff Stone and to allow staff members and students to attend his funeral.
Mr Stone, who had worked as a teacher at the school since 1968, was an extremely popular member of staff and his status among the Preston School community is legendary.
The school is still reeling from the news earlier this week that Mr Stone had passed away and it was announced on Friday (May 5, 2017) by members of his family that the funeral service will take place at St John's Church in Yeovil on Wednesday, May 17, 2017, at 11.30am.
Now Preston School principal Gregg Morrison has made the decision that school will close an hour before the start of the funeral in order to allow as many people as possible to attend.
"As you can imagine, having worked in the school for 49 years, a large proportion of the current staff would like to attend the funeral and pay their respects," he told parents in a letter.
"As a mark of respect to Jeff and his family, and to allow colleagues to do this the chairman of governors and I have taken the decision to end the school day at 10.30am to allow staff to attend the funeral.
"At 10.29am there will be a school-wide minute's silence so that the whole school community can pay its respects to a much-loved teacher and colleague."
Mr Morrison added: "I realise that this may cause some inconvenience to some parents, but I am sure that they will understand the reasons behind the decision."
He has advised that if any students normally return home on a school bus he will arrange for the bus to pick them up at 10.30am unless told otherwise by parents.
"The family have said that friends, colleagues, students and ex-students are welcome to attend the funeral should they wish," added Mr Morrison.
"Whilst it remains a personal choice for parents, I would ask that if their son/daughter does want to attend the funeral that they are supported appropriately by a family member or friend of the family who takes responsibility for them."
More news on Mr Stone's funeral arrangements can be found here: http://www.yeovilpress.co.uk/blog/2017/05/05/yeovil-news-funeral-arrangements-announced-for-legendary-teacher-jeff-stone/ .
Tags:
News.