SOUTH SOMERSET NEWS: Marcus Fysh buoyed by county council results in Yeovil Constituency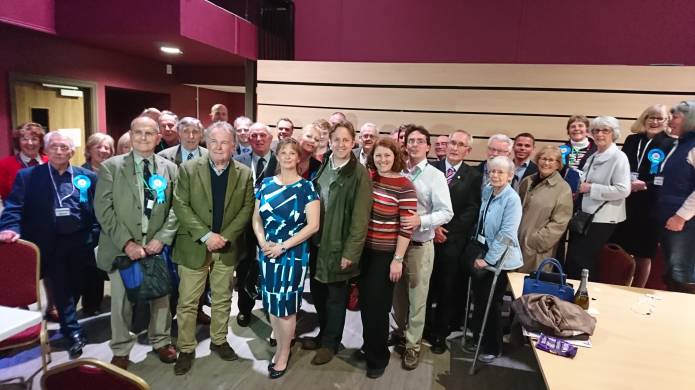 THE Conservative candidate for the Yeovil Constituency at next month's General Election has welcomed the results of the local Somerset County Council elections.
Marcus Fysh, who became the Yeovil Constituency MP for the Tories at the 2015 General Election, said it had been a good night for the Conservatives in the elections held on Thursday (May 4, 2017).
Within the Yeovil constituency, Conservatives won seats in Chard, Martock, Yeovil and Brympton, and held seats in Ilminster and the Cokers.
Mr Fysh, speaking on Friday (May 5, 2017), said: "I want to thank everyone who voted, stood, and made the process happen yesterday.
"These are encouraging results for Conservatives locally, and we held the County Council, however we must not take anything for granted.
"The General Election next month will be a higher turn-out and it is essential that we vote Conservative locally in even bigger numbers in order to make sure we get the strong leadership of Theresa May at this crucial time for our country, and keep the Yeovil constituency's interests at the heart of Government by having a Conservative MP."
Mr Fysh added: "I am so pleased for our great new young councillors: Gemma Verdon in Chard South, Josh Williams in Brympton, Faye Purbrick in Yeovil South,  Neil Bloomfield in Martock, and Mark Keating in the Cokers.
"They will bring passion, energy, perseverance and a fresh approach to our local politics, and I really want to work hard with them to get the best possible outcomes for our communities.
"We were very close to taking county seats in Yeovil West, Crewkerne and elsewhere too, so there is plenty of scope for us to do even more for local people in the future."
Mr Fysh will be hoping to retain the Yeovil seat at Westminster when the General Election is held on Thursday, June 8, 2017.
PHOTO - TOP: Marcus Fysh MP (front centre) with Conservative councillors and supporters.
Tags:
News.