YEOVIL AREA NEWS: Keep busy, be humble and have a great sense of humour!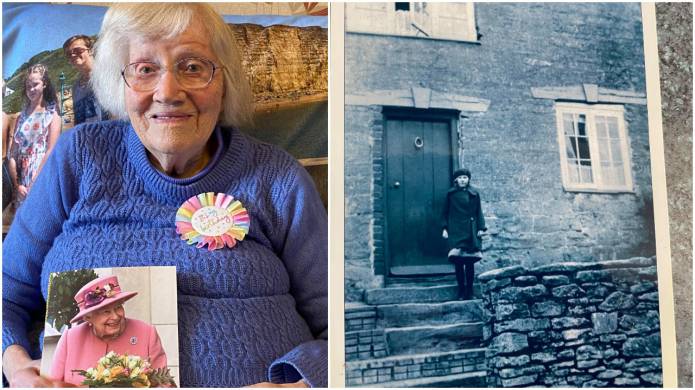 AN AMAZING woman who helped to make ropes for parachutes during the Second World War has celebrated her 100th birthday.
Back in March 1921, David Lloyd George was Prime Minister, King George V was on the throne and the First World War had been over for three years.
But, more importantly, March 27, 1921, was a very special day locally as Eileen Hawkins came into the world – born in West Coker in a house on the High Street.
Eileen, who was born Eileen Trask, has lived in West Coker all of her 100 years and she marked her big day with a Covid-19 secure small get-together with family in her "social bubble."
She married Ronald Hawkins on December 21, 1940, when he was home on Christmas leave – he was stationed in Norfolk in the catering corps. He sadly died a number of years ago.
Eileen left school at 14 and worked at the Twine Factory in West Coker where she helped making ropes for the parachutes during the 1939-45 war.
She has one daughter, one granddaughter and five great grandchildren.
Her favourite memories include visiting Weston-super-Mare as a young family after the war and enjoying family parties; plus riding pillion on her husband's motorbike for more than 30 years!
Eileen said that the secret behind 100 years of life was to "keep busy, be humble and have a great sense of humour."
Her big day was marked by receiving a birthday card of congratulations from Her Majesty the Queen.
PHOTO – TOP: Eileen Hawkins on her 100th birthday – holding her birthday card from The Queen (left) and Eileen Hawkins pictured (right) in 1930 outside her house at 29 High Street, West Coker. The house does not exist anymore as it was pulled down.
More LOCAL NEWS is available in the April edition of the monthly independent Yeovil Press community newspaper - available in various outles including the Tesco Extra store in Yeovil, Morrisons store in Yeovil and the No5 Cafe on the Lynx Trading Estate in Yeovil.
Tags:
News.