YEOVIL NEWS: Dahlia Florists is blooming for business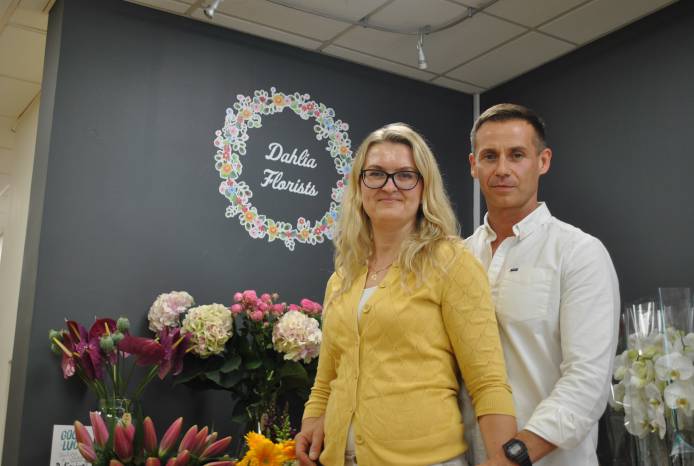 PATIENCE has been key for florist Joanna Konieczna as she has had to wait to finally see her dream of having a shop in Yeovil town centre bloom.
Jo was hoping to have opened Dahlia Florists in Princes Street, Yeovil, much earlier in the year, but everything got put on hold because of the outbreak of the coronavirus pandemic and the subsequent lockdown.
But now, at long last, just like waiting for nature to weave its floral magic, Jo has finally opened up Dahlia Florists and is absolutely delighted with the results having put in lots of work along with her husband Arek Konieczny to get the shop ready for opening day.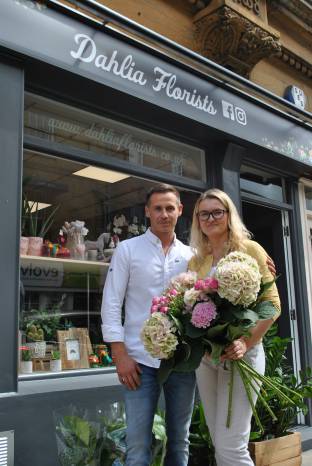 "It's taken a long time," she said. "But it has been worth the wait and it's great to be open. We've been really busy and we've had some wonderful comments from people who've popped in."
Dahlia Florists opened on August 1 and it has been a busy week for Jo settling into life as a floristry shop owner – although she has done plenty of private work from home.
Jo is a fully trained florist having learnt the craft in her native Poland, before coming to the UK and settling in Yeovil several years ago.
People may recognise Jo from her work in recent years on the customer service help desk at the main Tesco store in town where she quickly became a popular member of staff with colleagues and shoppers.
But her passion has always been flowers and floristry and she is now thrilled to have a shop of her own on the busy Princes Street.
Jo specialises in wedding flowers and funeral tributes and can create traditional, modern and contemporary designs and offer a tailored service for customers.
"Whether you are looking for a personal way to express your affection for loved ones or make that first impression which will make that special someone smile in years to come, we can provide just the right bouquet to get your message across," she said. "The artistic arrangement of colours and variety of flowers used here at Dahlia Florists means that for every occasion there is a captivating selection to choose from."
And there is much more at Dahlia Florists than just wonderful floral bouquets and fresh flowers – including plants pots, outdoor and indoor plants, gifts, greeting cards and helium balloons.
"It's been amazing to finally open and I'd like to thank everyone who has already called in to see us," she said. "Opening day was very busy, exciting and emotional and we'd like to thank everyone for all their cards, presents and messages."
PHOTO: Dahlia Florists owner Joanna Konieczna with her husband Arek Konieczny on opening day. Photo: Steve Sowden.
Tags:
News.