YEOVIL NEWS: Kaydi, four, dials 999 when she couldn't wake up her mum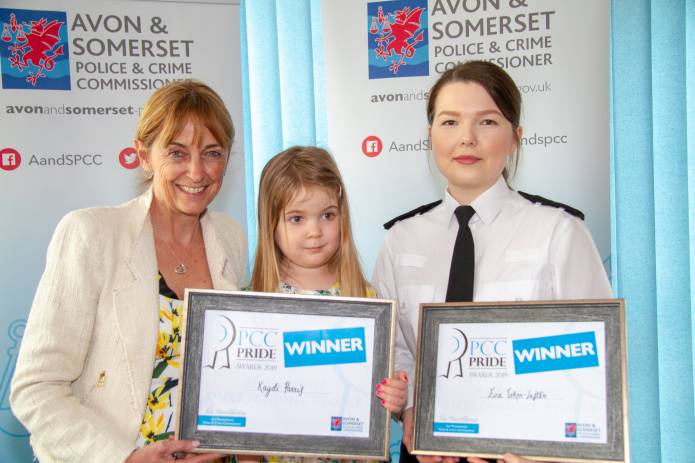 A BRAVE four-year-old girl from Yeovil has been presented with an award after she dialled 999 when her mum would not wake up.
The instinctive actions of young Kaydi Parris caught the eye of Avon and Somerset Police and Crime Commissioner, Sue Mounstevens, who has presented her with a PCC Award.
Kaydi joined 12 other worthy winners and guests at the awards ceremony held at the Police and Fire Headquarters in Portishead where they were invited to have lunch with the PCC and Deputy Chief Constable Sarah Crew.
Ms Mountstevens said: "Kaydi was extremely brave when she called 999 earlier this year when her mummy, Kara, would not wake up.
"Thankfully, working with the call handler, emergency services were on the scene within ten minutes."
Kara, Kaydi's mother, said: "I just want to say a huge thank you to the police for the way that Kaydi's call was handled.
"This ceremony was a fantastic way for Kaydi to understand how 999 works and to meet Evie who took her call. It's a great memory that she will be able to look back on this in the future."
Call handler Evie Toker-Lester, who answered the 999 call to Kaydi, recognised the young voice on the line and adapted her style to ensure a positive outcome.
Evie said: "It was an absolute privilege to be able to meet Kaydi. She was so wonderful and brave when I took her call that day."
Ms Mountstevens presented Eviewith an award as well for the way she handled the call from Kaydi.
"I wouldn't have been able to accomplish the award without her and the hard work of the fantastic team in the call centre," added Evie.
The drama happened in February this year when Kaydi phoned 999. The girl told Evie that her mum was breathing and making sounds.
Through effective questioning and gaining her trust Evie was able to get clear details. Kaydi was extremely brave in keeping calm and giving as much information as she could.
The team in the control room worked to try and get an address from the details they had while Evie kept Kaydi on the phone and was able to get the address and be on scene within ten minutes of the call coming in to take mum to hospital.
Ms Mountstevens said: "Kaydi did a fantastic job for a very young child in keeping her mummy safe and Evie, recognising the young voice on the line, adapted her style and built trust to ensure we had a positive outcome."
PHOTO: Four-year-old Kaydi Parris (centre) with call handler Evie Toker-Lester and Avon and Somerset Police and Crime Commissioner, Sue Mountstevens.
Tags:
News.