SOMERSET NEWS: Round-the-world unicyclist Ed is coming home!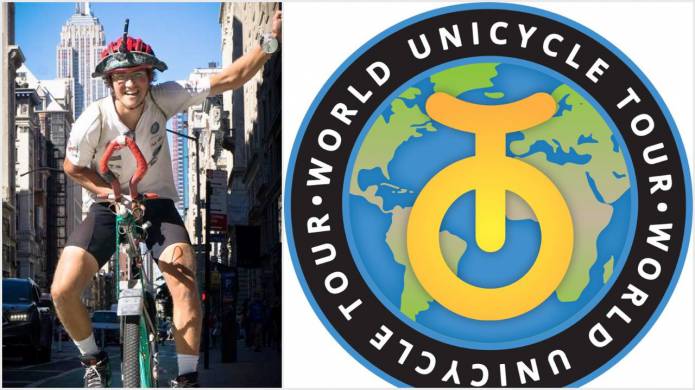 AMAZING round-the-world Somerset unicyclist Ed Pratt will be completing his epic adventure when he arrives back at the place where it all started for him over three years ago.
Ed, 22, who had the ambition of being the first person ever to unicycle around the world, is set to arrive back at the headquarters of the School in a Bag charity at Chilthorne Domer, near Yeovil, on Friday, July 27.
He set out from that spot back on March 14, 2015, aged just 19 and now more than 20,000 miles later Ed's family, friends, supporters and the School in a Bag team are planning on giving him a massive welcome home party.
Ed has so far raised more than £300,000 for School in a Bag which delivers education equipment to poor and vulnerable children around the world.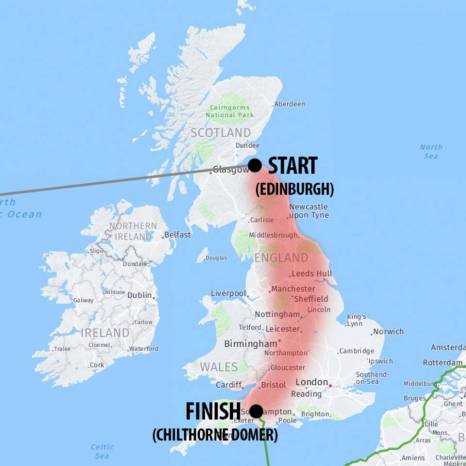 He has unicycled unsupported through Europe, then on to Turkey, Georgia, Azerbaijan, Kazakhstan, Kyrgyzstan, across the vast country of China and down through South East Asia to Singapore.
He then tackled Australia and New Zealand before moving on to the USA.
He flies from New York to Edinburgh in early July before starting his final leg, cycling the last 500 miles through the UK, back home to Somerset.
PHOTO - RIGHT: Ed's unicycle ride from Scotland back down to Somerset is fairly fluid at the moment!
Nick and Roxane Pratt, Ed's parents, said: "We always suspected that Ed would do something interesting – and he hasn't disappointed. He left school in search of a challenge and adventure. And anyone who has followed his journey around the world will know that he has created just that."
They added: "Ed has managed to combine his love of photography, film-making and adventure, all packed up on a touring unicycle to circumnavigate the world. Alongside this amazing feat he has raised a lot of money and awareness for a very deserving charity."
Luke Simon, founder and chief executive officer of School in a Bag, said: "Back in 2014, we received an email from a chap called Ed saying he was unicycling around the world, that he wanted to do it for charity, and why should he choose us?
"We were naturally intrigued and got straight back to him, explaining a bit more about the work that we do, before suggesting he unicycle over for a meeting.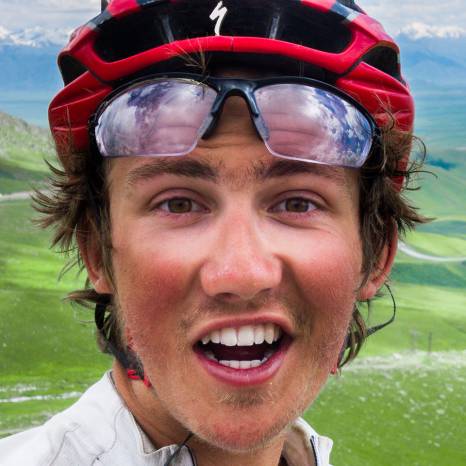 "It was then that an 18-year-old Ed turned up and told us his intentions! We caught up several more times, plans developed and it wasn't long before we were waving him off from the farm where our charity is based."
Luke added: "Alongside the incredible feat of unicycling around the world, Ed's skills in videography and his ability to capture the spirit of his adventures has made it an incredible historic story to follow – we are delighted to be a part of his epic journey too.
"He has been, and continues to be, an incredible ambassador for us, flying the School in a Bag flag in all corners of the globe and raising more money than a little charity like ours could ever wish for!
"With each SchoolBag costing £20 it means Ed's trip will directly help in excess of 15,000 children gain access to the learning materials they otherwise would not have, and for that we are hugely grateful. It's going to be quite something seeing him cross the finish line back at Home Farm and we can't wait to give him the homecoming he deserves!"
A special event is being held on Friday, July 27, 2018, at School in a Bag' headquarters  at Home Farm in Chilthorne Domer to welcome Ed home from his record-setting adventure – he is expected to return at 11.30am with people intending to be there to arrive by at least 11am.
To keep in touch with updates and how to attend, simply follow School in a Bag on Facebook: https://www.facebook.com/schoolinabag/.
You can follow Ed Pratt's World Unicycle Tour at: https://www.facebook.com/MrEdPratt/ , and his tracker can be found: http://www.worldunicycletour.com/wheres-ed/. To discover more about work of School in a Bag, please visit: www.schoolinabag.org .
Tags:
News.